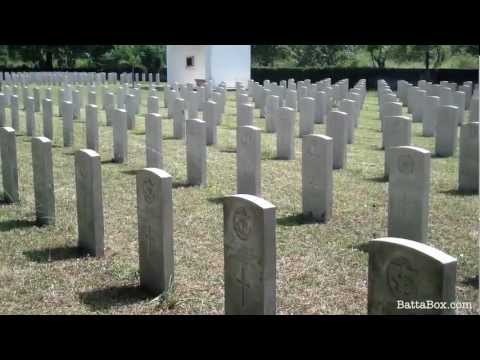 Barnaby Phillips, a correspondent with Al Jazeera, was in Nigeria to launch his book, Another Man's War. The book was based on his 2011 documentary about Nigerian WWII hero, Isaac Fadoyebo.
In 2009, Phillips had discovered a 60 page memoir written by Fadoyebo and tracked him down.  Fadoyebo was happy to talk about his experience.
Fadoyebo, who fought with the British, was saved by villagers in Burma after being injured and left for dead.  He was one 100,000 African soldiers that were forced to fight the Japanese in the Burma jungles.
Prior to the release of the documentary, The Guardian joined Fadoyebo at this home in Surulere to hear his story. Phillips successfully located the family who had saved Fadoyebo during the war.  He also spoke to people in Burma, Nigeria and Japan who fought for and against Fadoyebo, including both Japanese and British soldiers who were active troops at that time.
During his interview with The Guardian, Fadoyebo explained how he hid in enemy territory for several months until he was rescued by British troops.  Although he was recognized as a hero when he returned home, he was quickly forgotten along with the other Burma Boys.
The documentary was primarily shot in Nigeria and first aired in 2011. It won an award in the US. Phillips' book has had excellent reviews, especially in the UK.  While attending the Ake Festival in Abeokuta, Phillips aired his film to a group of school.
He was also interviewed by The Guardian. During his interview, Phillips explained that after the positive reviews he received from his film, he decided to write a book about Fadoyebo as well.  He took a leave of absence from his journalism work and researched the Burma Campaign.  He also wrote of the relationship between Britain and Nigeria throughout the last 50 years of Nigeria's history.
Phillips explained that he had lived in Nigeria for three years between 1998 and 2001 and wishes that he had learned more about the country. It was when he was visiting the Imperial War Museum in 2009 that he found Fadoyebo's memoir, entitled A Stroke of Unbelievable Luck, and decided to expand on it. He tracked Fadoyebo down the following year.
When asked about how he thought Fadoyebo felt about having his story told, Phillips thought that he was happy to be recognized and thought he would have enjoyed the fact that his story was shared with others, including children.
Fadoyebo passed away in November 2012 shy of 87 years old. Phillips noted that he is sad that Fadoyebo will not have a chance to read the book. He hopes that other Burma Campaign veterans get a chance to tell their story too.
Phillips spoke of the importance of having so many African soldiers fighting in the jungles of Burma is to Nigerian history. These soldiers were responsible for Britain defeating Japan in the jungle where many lost their lives, the All Africa reports.
When describing the reaction of the children who were shown the documentary, Phillips felt that they liked it and prompted them to ask lots of questions. Phillips hopes the experience will make them want to learn more about this period in history.
Phillips answered the questions from the students, explaining the journey that these soldiers made, why they were fighting for the British, what skills they learned and what experiences they had. He told them that even though their experiences in battle were terrible, they returned home as heroes and were prideful of their contributions.