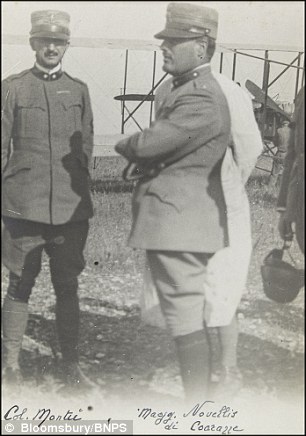 A former pilot and footballer turned the weapon that almost took his life into a piece of jewellery that he worn around his neck. Captain Carlo Montu was the first pilot to be shot and wounded in 1912 but survived the attack. And decades after the war, his bullet pendant that was worn around his neck went up for auction last month in London.
Montu who took part in several battles including World War One and the Second World War was flying a single-engine bi-planeat just 18feet over Tobruk on a recon mission when he was gun fired by an army and made him the first person to be shot on air.
With the attack and the pain he was going through, Montu did not crash. Instead, he was able to take charge of the aircraft and made it to the base where the bullet was removed and treated.
This war that was fought between the Italian and the Turkish forces was the first time aircrafts were used in battles.  And Captain Montu was among the first five pilots who made up the first ever wartime squad that was commanded by Captain Carlo Piazza, the Mail Online reports.
The battle was fought for a period of one year (September 29, 1911 – October 18, 1912) and saw the Italian having the upper hand as they ended up capturing Tripoli.The Italian forces victory was in line with the order they received to attack Tripoli.
The first pilot to make use of an aircraft during a conflict was their commander; Captain Piazza. It was on October 23 1911 and the time was 6.19am. He was on his way to survey enemy locations when the conflict took place. Captain Piazza was also the first pilot to be captured due to a faulty engine that made him land behind enemy lines in 1912. He remained in captivity until November 2013 when he was released.
The first pilot to take damage was Captain Ricardo Moizo and it happened after he discovered a base that was housing Turkish 6,000 troops who shot at him and shattered his wing by putting three holes in it. Piero Manzini became the first pilot to die, while Second Lieutenant Giulio Gaviotti was the first to throw handheld missiles on their foe.
The planes they used were specially made for gathering intelligence. The only way to use them for combat was in combination with handheld devices. The aircraft had more or less no protective covering – and when whollyloaded with pilots and arms, flew just a few miles per hour.
Montu who was born in 1869 was a footballer playing with International Turin between 1891 and 1898 before becoming a pilot and fighting in several wars that included World War One and the Second World War. As a pioneering pilot during World War One, Montu was immensely decorated for his valour.
Later on, Montu became involved in politics and sport that was his first career. In 1915, he was made the Vice President of the Olympic Committee.
Montu's collection that was sold in London on November 13 included letters from Montu to ContessaCaproni who was the wife of airplane builder Gianni Caproni. It also includes letters commenting on his early aviation training, an autobiography that talks about his war-wounding, as well as a list of his awards and achievements during World War One and others.