Editor's note: This article is the first in a four-part series highlighting the life and Vietnam War experiences of the late Roger Buchta.
In the fall of 1944, with a number of battles unfolding throughout Europe and the Pacific, Roger Dean Buchta quietly entered the world at a time when the turmoil of World War II consumed newspaper headlines in virtually every corner of the globe.
Born on his family's farm near the rural community of Lohman, Missouri, the newborn's inauspicious arrival was facilitated by a thirty-year-old Dr. Elbert Meredith Eberhart, a country physician originally from Pennsylvania who went on to practice medicine for decades from his office in the nearby town of Russellville.
Buchta's early years were similar to many who grew up on farms during this era since he and his older brother, Don, would help their father, William, with tasks around the property. As they grew older, they also assisted their mother, the former Alma Koestner, with planting and cultivating a large garden.
"There was about twenty-seven of us in our class and we started school at the first grade—there was no kindergarten back then," said Lohman resident Marvin Heidbreder, who began elementary school with Buchta in nearby Russellville in 1950.
Spending all twelve years of their schooling together, and in the same grade, Heidbreder recalls a few basic details of the personality of his former neighbor.
"Roger was also a very quiet one, kind of stayed to himself most of the time and was on the high side of average in his classes. He always enjoyed the outdoors but never was an athletic one that was involved in sports or anything like that," he added.
Buchta's brother, Don, explained that whenever Roger was not involved in chores around the house or engaged in various activities outdoors, he could be found inside the house reading and writing, often enjoying books and articles related to both world history and German history.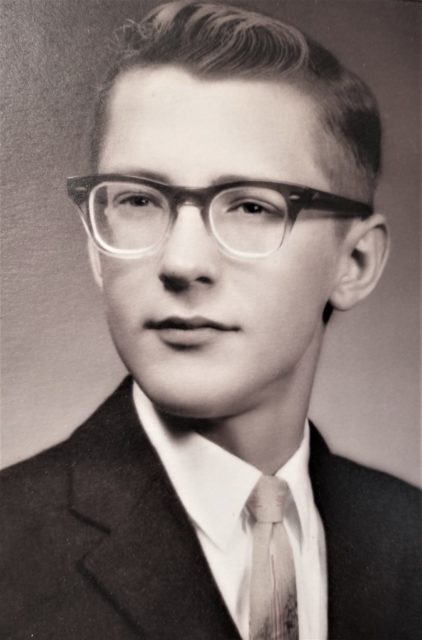 "He was very studious and became a great student during his elementary and high school years. To be honest with you, nothing much about him really stands out from his early years because he never was involved in a lot of exciting things during that time in his life."
Don further noted, "Even though he was often known to be very quiet and reserved in public, he was really quite talkative at home and around his close friends."
Shortly after graduating from Russellville High School in May 1962, Buchta made the decision to enroll in classes at Lincoln University to pursue his interest in becoming a teacher. While there, he studied the German language, having grown up hearing his mother and others in the Lohman community converse in the dialect of their ancestors.
His classes and part-time work were supplemented by an introductory level of military training through the Reserve Officer Training Corps (ROTC), which at the time was a compulsory program for men during the first two years they attended a state college or university.
Upon his graduation in the spring of 1966, Buchta was presented his bachelor's degree in social science with a minor in German in addition to having earned his certification to teach at the elementary and secondary level. This career, he discovered, would have to wait since he was compelled into a different type of public service.
The year 1966 was a busy time for the Selective Service System since a grand total of 382,010 young men were drafted into the military in support of the growing U.S. involvement in the Vietnam War, including the recently graduated Buchta.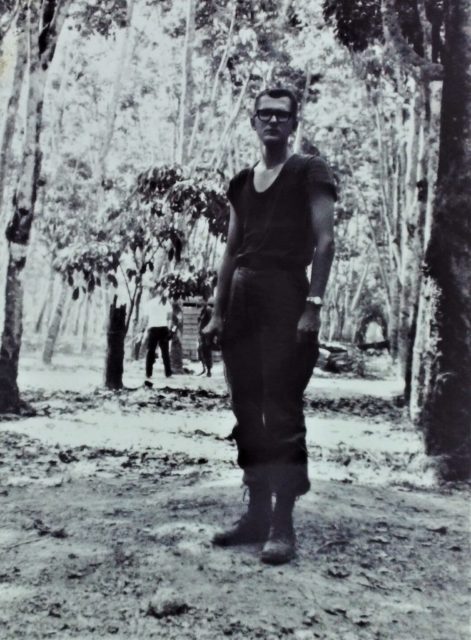 "Everybody was going (to war) back then; there were so many being drafted," said Roger Buchta during a 2014 interview, describing his reaction upon the receipt of his draft letter. "It was something that I just expected to happen."
The quiet, reclusive recruit traveled to Ft. Hood, Texas, in the latter weeks of 1966, undergoing basic training and learning the intricacies of serving as a soldier. During the latter days of his initial training cycle, the U.S. Army made a decision regarding the occupational speciality that would best suit the young private—a combat medic.
"The only medical training I ever received was delivering calves, kittens and puppies once in a while on the farm when I was growing up," Buchta once jokingly remarked when discussing his past military service.
He transferred to Ft. Sam Houston, Texas, spending the next several weeks in advanced training. There he received classes on basic anatomy, physiology, the treatment of shock and administering an IV in addition to carrying the injured, applying tourniquets and morphine.
In the spring of 1967, after completing his training as a medical specialist, he was assigned to an ambulance platoon with Company A, 47th Medical Battalion under the 1st Armored Division back at Fort Hood. The letters written home by the 22-year-old soldier described the integration into his new unit and exercises preparing them for Vietnam.
On August 19, 1967, he wrote, "I suppose I better begin by relating some rather unexpected news. I am going to Vietnam. A levy came down this week and took five of us who had basic and AIT (Advanced Individual Training) together…"
A week later, his letter home revealed the realistic training he was receiving, which would help prepare him for the next step of his military journey.
"This last week I worked at a surgical clinic at the hospital. It was very interesting work," he wrote. "All I had to do was assist the doctors when they performed minor surgery. I had to prepare the patients, assist the doctors and then clean up."
He sagely concluded, "I really learned a great deal [during] the four weeks that I've been at the hospital. The acquired knowledge should come in handy in Nam."
---
Jeremy P. Ämick writes on behalf of the Silver Star Families of America.