A British Army Warrior has crashed into the garden wall of a residential property in Paderborn, North West Germany.  The armoured vehicle is from nearby Paderborn Barracks, where the British Army has been based since the end of World War Two.
For years the barracks have been used for training tank drivers; on this occasion a trainee was learning how to drive a tank around the streets of Paderborn town.  The Warrior experienced a technical problem and veered off-course, crashing into the garden wall.
The residents of the property are an elderly couple, Ulrich and Magdalene Tilsner, who were inside their home at the time of the crash. They heard a loud bang and rushed to their window to look out and see what was happening. Then they saw the armoured vehicle had crashed into their wall, and their hedge had been flattened.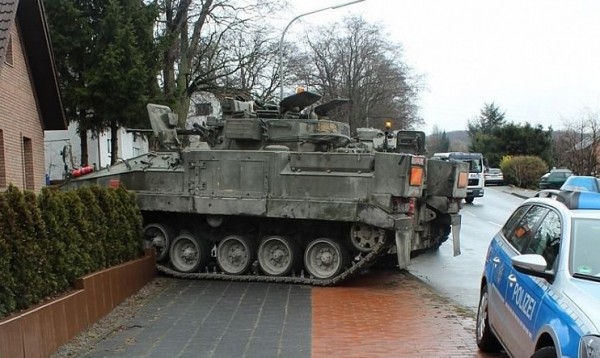 Ulrich and Magdalene were just leaving to meet with their family prior to the crash, but when they notified their family of what had happened everyone rushed over to see the vehicle.  When the family arrived there was chaos. The Warrior was stuck at an angle in amongst the garden wall and hedge, with British Army soldiers and local police arriving on the scene.  No one was injured in the crash, but it is thought that it will cost around 1000 Euros to fix the damage to the Tilsner's front garden.
The vehicles drive chain was found to be at fault. Once out of control, the Warrior veered in all directions across the street.  It took many hours for the British Army to get the vehicle working correctly so that it could be removed from the garden wall and driven back to Paderborn Barracks.
The British barracks at Paderborn consists of around 20,000 acres and was originally bought for the German Army in 1892. Kaiser Wilhelm II used the site to hold large cavalry exercises, the Mail Online reports.
During World War One camps on the site were converted into prisoner of war camps. But once the war was over some of the camps were actually used as holiday camps for children; a swimming pool was built, as well as a laundry.
During World War Two, the grounds were closed to the public and used for training German troops and housing POWs. Troops returning from the front line came to Paderborn to rest and regain their health so that they could once again return to the front line. When Allied troops arrived at Paderborn near the end of the war in 1945, most of the barracks was still intact, although supplies had been plundered.
Since then the British Army has continued to develop the site for modern military training. However, in 2013 the British government announced that it would be closing all of its bases in Germany, and all British troops would be returning to the UK.