Pensioner and wartime evacuee, 73-year-old Paul Leveene, discovered that the dusty box which had been in his care for forty years now contained some surprising memorabilia — pictures of Adolf Hitler dating back to 1939 along with other illustrations of that year.
The pictures of the German dictator delivering a belligerent speech date back a few months before the outbreak of the Second World War.
According to Mr. Leveene, the pictures once belonged in Chalfont St Giles. This was the same village where the 1971 hit Dad's Army was shot. Mr. Leveene, who was originally from Peckham was sent to the village to live with some of his relatives at the height of the war. He came to the Rance family who resided in Sycamore Road, Chalfont St Giles. After a few years of living with the family, he left and moved to Gold Hill Common, in Chalfont St Peter.
It was during this time that his grandfather handed him a box filled with memorabilia. However, he had not opened that. He just did so recently — after four decades — and was really amazed at the clippings he found inside it.
He found several pages of The Illustrated London News dating back to May 6, 1939. These sheets of paper featured Winston Churchill's plea for conscription, some advertisements during that time including a Ford car selling for just £115 and of course, the pictures of the infamous German dictator delivering his warmongering speech.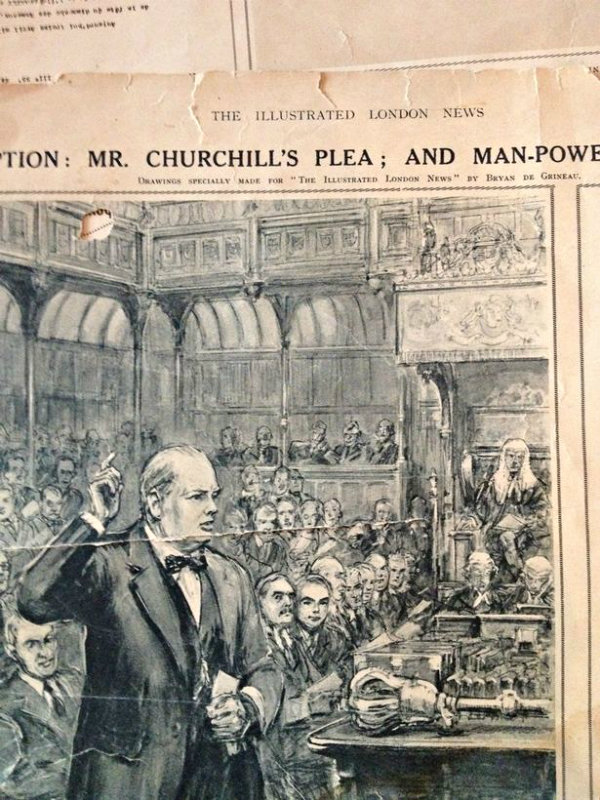 Mr. Leveene admitted that when his grandfather gave the dusty box, he had it locked up. He added that many people will find the things inside it very interesting as the memorabilia the box contains – the magazine pages and the pictures – will thrill any curious history buff.
Eventually, the pensioner is offering the box to whoever is interested in history for free as according to him, there is nothing in it for him and all its contents will just get lost if they stayed in his care.
Recounting his time as an evacuee, Mr. Leveene said that he, along with the others, had little tags in their hands as they were sent to places where they had relatives. Everything they had back in Chalfont St Peter was all knocked up; nothing was left of the properties and belongings his family once had.
Those interested with the pictures and other memorabilia Mr. Leveene has can contact this e-mail: