The last service to signify the 75th anniversary of the bombing of Darwin was recently held at Adelaide River War Cemetery attended by Second World War veterans and the descendants of those who died during Japanese air raids over Northern Australia.
Allan Godfrey, 94, was one of the veterans to join the ceremony at the cemetery, which is the final resting place for many civilians and 434 military personnel who lost their lives in the war.
Godfrey said he was only in Daly River and they could see the bombardment. They were told the Japanese were coming, so they had an Aboriginal tribe in the lead, and they were excellent.
He was tank driver at Adelaide River and part of a new reconnaissance unit in 1942, now called Norforce. At that time, the unit was known as the Curtain's Cowboys, and they watched the Top End with Aboriginal trackers, to be on the lookout for and halt Japanese landings.
Norforce Commander, Lieutenant Colonel John Papalitsas, on meeting one of the original cowboys at the memorial, gave Godfrey his own Norforce Badge from his uniform on behalf of the regiment and in gratitude for everything they accomplished and setting the regiment's standards.
Godfrey said he still stands tall and tells people he belongs to Norforce.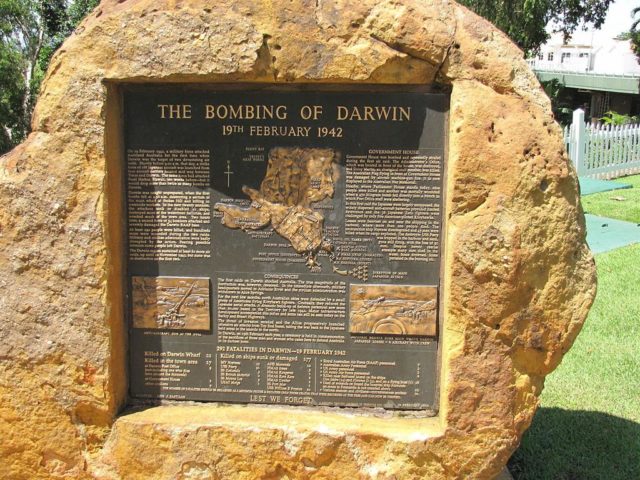 Another returning participant to Adelaide River is Anne Dawson, 94, who comes back annually, where during the war she was an entertainer and switchboard operator.
She went to the 75th anniversary in memory of Marjorie Baglin who went to Darwin to play piano after her name had been put forward by Dawson and was killed in the bombing.  Dawson had been asked to sing, as well.
The anniversary has encouraged some to dust off family history albums, like brothers Michael and Stephen Harker, who made their first visit to their uncle's grave.
Their uncle, Ron Posse, a Spitfire pilot in 549 Squadron, was killed in November 1944, Stephen said, who visited from England for the service.  Posse was inspired to join the war effort following the attack on Darwin although he was under no obligation since he was in a protected occupation, ABC News reported.
The cemetery also has a plaque in remembrance of 10 postal workers who died in the initial raid over Darwin, on February 19, 1942.