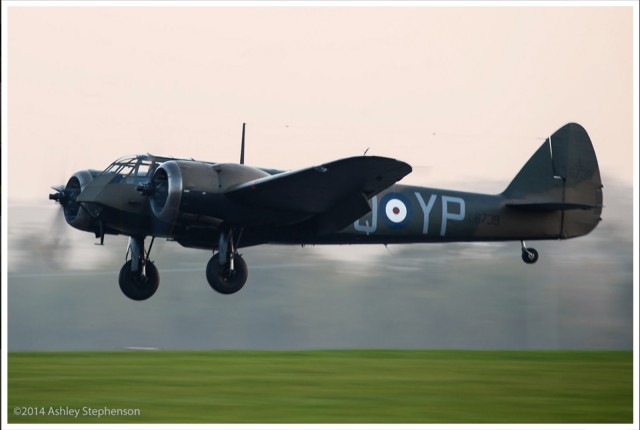 [Image via Warbirdsnews]
After more then a decade of restoration and, a World War II aircraft took to the skies for the first time in almost seventy years. The aircraft and its likes played a vital role in the Victory in Europe, and this particular plane has flown on the 70th anniversary of the Victory in Europe.
The Aircraft Restoration Company proudly managed to piece together the aircraft 'Bristol Blenheim G-BPIV', which was also the part of an Air Show celebrating the VE Day at the Imperial War Museum Duxford.
The restoration of the plane was a lengthy process, but Aircraft Restoration Company made it possible for Bristol Blenheim to once again take to the skies of Britain with full pride.
The restoration process at the ARC's complex took place under the watchful gaze of a distinguished RAF ace Squadron leader Ian Blair. Ian Blair is among the most distinguished figures in RAF for gallantry and courage. Ian Blair took part in the Second World War as an armorer on Blenheim Mark I's. Blair was awarded a Distinguished Flying Medal during the war when he pulled out the most challenging stunt in the air possible. After an Italian Fiat CR42 attacked a Blenheim and immediately neutralized its pilot, Blair took control of the plane with a great show of calmness and brilliance.
The restoration was not an easy task, since the technology and most of the parts are more then seven decades old. Engineers had to improvise and took risks while making sure the quality of the flight is not compromised. There had been a number of restorations that resulted in a huge public likeness and support. Seeing these planes fly in the peacetime brings delight to veterans and new generation alike.
The anniversary Air Show held at the Imperial War Museum Duxford paid tribute to the brave people of Britain and else where in Europe, who endured six years of chaos and destruction. Undoubtedly the resilience displayed by the people during the World War II was exemplary, and tributes like this remind us of the role these people played in helping Europe to stop the 'Nazification' of the European Contienent, the Dunmow Broadcast reports.
In the Celebrations, B-17 Flying Fortress Sally B lead the Salute of a total of seven World War II bombers and fighter aircrafts. Speeches, music, and audio recordings of the war veterans recalling the memories of the war preceded the flying display.