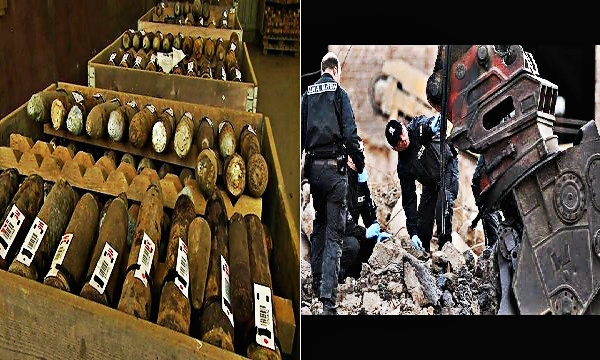 Ypres, Belgium – A WWI device, suspected bomb shell or grenade, blew up in Ypres, Belgium Wednesday, March 19.
The explosion left two dead, one in critical condition and another one wounded.
The said WWI device was found in a factory building site near the Belgian city. Several workmen tried to dig the said shell or grenade out, the action pinpointed as the cause for its setting off.
In connection with the explosion, the area where the WWI device was found – site for a soon-to-rise factory – was sealed off. Local explosives experts were also brought in to investigate the place, BBC News reports
It can be remembered that Ypres was a strategic area during WWI and was continuously shelled by Germans all throughout the Great War. Countless of WWI devices are frequently found there until now.
As a matter of fact, the Flanders battlefields where the WWI Allied troops fought against their German enemies contains a dozen of Belgian cities. Ypres was also a site of the bloodiest conflicts during the First World War.
It is believed that there are still thousands of explosives from WWI buried around and in Ypres which are yet to be uncovered. The former WWI battlefields of western Belgium bring up countless of WWI devices and other WWI armaments. Most of these are destroyed by a special Belgian bomb squad without harming civilians.
However, cases similar to the one which occurred recently still happens and has been occurring ever since WWI ended resulting to the deaths of a large number of people.
It was only earlier this year that another WWI device was found at another construction site in Ypres though the bomb disposal team was able to disarm it safely. Additionally, a large deposit of WWI ammo was found on the borders of Paschendaele and Moorslede. According to Mail Online, work in cleaning up the said site is still on going.