British warship HMS Queen Elizabeth – also known as "Big Lizzie" – docked at Portsmouth last week, following a close shave with Russian jets.
Where did this narrowly-averted international incident take place? Off the Scottish coast! The 920 ft long, 65,000 tonne carrier was leading a 2 week long NATO mission: "Exercize Joint Warrior".
Big Lizzie took to the waves alongside craft from the Netherlands and America. Joint Warrior saw the formidable assortment testing their capacity for war in the chilly North Sea. But when a couple of Tupulev Tu-160s suddenly appeared in the sky on Tuesday 13th, it seemed like the dress rehearsal might become a full blown performance!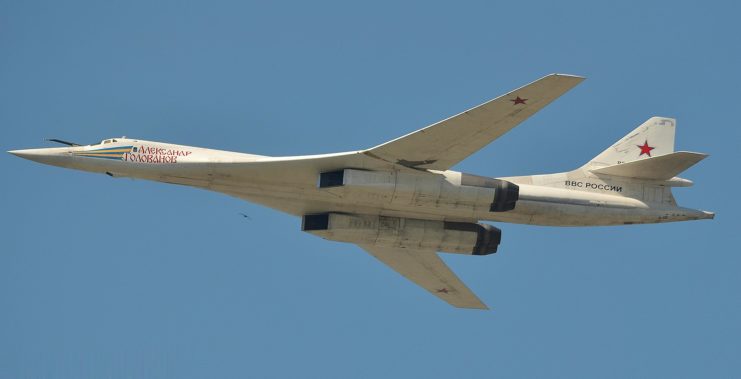 A QRA (Quick Reaction Alert) was triggered. Typhoon fighters were scrambled from Leuchars Station in Fife. With the Tu-160s (or "Blackjacks") reportedly heading for Big Lizzie, forces had to act fast. The Russian planes are designed to hold nuclear weapons. RAF Brize Norton joined the action, sending an air-to-air refueling vessel to aid the Typhoons.
According to an RAF statement, he pair "were not responding to air traffic control or broadcasting their location."
Having flown in the direction of the Shetland Islands, the visitors looped back along the Norwegian coast. Quoting the RAF, BBC News writes the Typhoons "'shadowed' the two Tu-160 Blackjack bombers until they left the 'UK's area of interest'".
The BBC note that QRAs have been launched since the Cold War. With Russian relations frostier than they've been in a long time, tensions are high. Back in 2017, a war of words flared up between then-Defence Secretary Michael Fallon and Major-General Igor Konashenkov of Russia's Defence Ministry.
What was at the centre of their spat? Big Lizzie! Fallon declared his potential foe should be envious of the Great British warship's ability. Konashenkov laughed this off. "Like with (Queen) bees" the Major-General quipped – reported by The Mirror – the £3.1 billion craft was "capable of merely releasing planes from its womb". He added that Lizzie was cushioned "by a swarm of warships, support vessels and submarines"!
https://www.youtube.com/watch?v=zMEHZURO6Bg
According to the Royal Navy and reported by the Mail, HMS QE takes pride of place in the "Carrier Strike Group". This new team is described by the Royal Navy as Europe's biggest sea-going squad in 2 decades.
It features craft such as HMS Diamond, HMS Defender and naval destroyer USS The Sullivans. 3,000 service personnel were involved in the Group. More than enough to handle a sticky situation like a couple of Blackjacks.
The Royal Navy website bills Big Lizzie as the biggest and best of their fleets. Ordered in 2008, it was launched in 2014 and commissioned 3 years later. Lizzie's flight deck is 4 whole acres. "Four fighter jets can be moved from the hangar to the flight deck in just one minute" they write. There are 9 decks overall.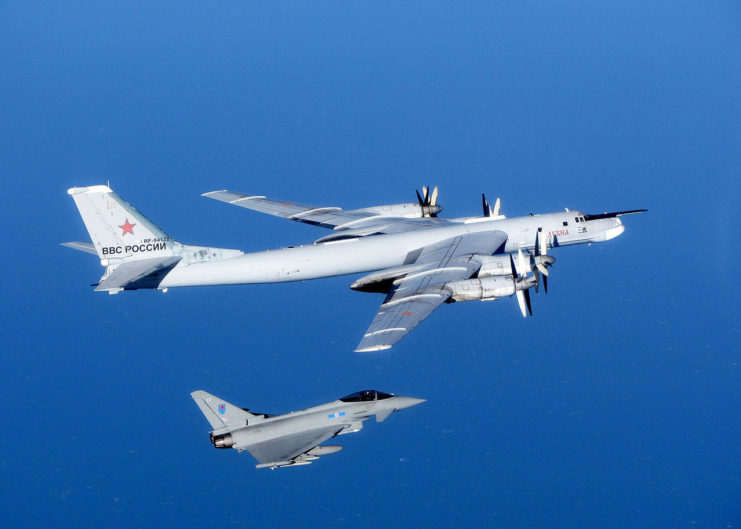 In addition to colossal firepower, the ship also has 5 gyms. Not that it particularly relies on human strength to get by. Pushing the warship along are two 33 tonne propellors. Enough power is generated aboard "to run 1000 family cars" say the Navy.
Speaking of families, the ship received a rapturous reception on returning to Portsmouth Naval Base. The harbour walls were lined with hundreds of people, as mentioned by the Mail.
It's been a bumpy ride for Lizzie overall. Before she could even head out to sea, she experienced a small Covid outbreak and delays due to bad weather. Back in 2017, sea trials had to wait because of technical issues, so it isn't the first time she's been kept hanging around.
Another Article From Us: Over 100 Napoleonic War Graves Found in Jersey
No doubt the ship will bump noses with other navies again. But this incident is a reminder of what's at stake when men and women answer the call of duty and opt for a life at sea…