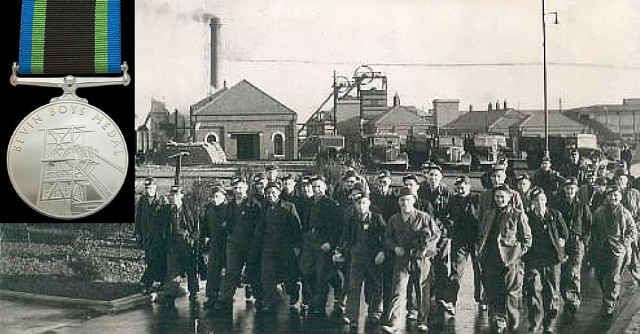 David Hewetson, a scion of the family and educated at public school, dreamed of serving his country with distinction. But he was astonished when, on Christmas Day of 1943, he was ordered to report for mining duty.
He, along with thousands of other young British men, had been conscripted into the armed forces, and with his distinguished family and education, he fully expected to become a commissioned officer in the army. But instead, he spent WWII laboring as a coal miner.
When conscription started, many of the young men working in the mines in England and Wales were conscripted along with everyone else.  They were allowed to join the armed forces and, by the summer of 1943, 36,000 men had left the collieries, going on to fight in all the theatres of WWII.
This created a massive problem back in the coal mines as it left the elderly and infirmed trying to maintain pre-war coal delivery schedules – an impossible task as the laborers left behind were strike-prone, and there was the danger of labor unrest.  Coal supplies were dwindling at a time that the country needed coal production to be at full steam or even above pre-war levels.
The government and, in particular, the Minister of Labour and National Service, Ernest Bevin, announced in parliament that they needed 40,000 men to work at the coal face.  Initially, he had a register of all retired or ex-miners assembled, which gave him around 100,000 names. But of those on the register, less than a quarter were willing or able to return to the mines.
He then put out an option to all young men conscripted – they could go to the mines instead of going to the trenches. But, again, this was largely unsuccessful and gained Bevin only a further 1,100 recruits.   After a radio appeal to all sixth form scholars to volunteer to work producing coal fell on deaf ears, the Minister was left with one option, and that was to compel somehow men to work in the mines.
Thus was born the (in)famous, Bevin's Ballot – from December 14th, 1943,  one of the secretaries allocated to Bevin's office would pull a number out of a hat.  Any man liable for conscription whose national service number ended with that digit was sent to the coal face to become one of Bevin's Boys.
This ballot made absolutely no distinction about who or where the man came from, any past experience, or level of education. If his number was called, he went to the mines.  There was a means of appeal, and the fact that over 40% of those selected appealed shows how abhorrent the idea of going down a shaft was to many of those selected.
The government was singularly unsympathetic, and of the nearly 8,700 appeals lodged, only 466 were successful – these were for issues such as claustrophobia or being completely unfit to work in the environment.   If you refused to report for duty at the mine shaft allocated to you, the punishment was three months in prison, after which you would again be requested to report for coal mining duty.
If, again, you refused, you would be jailed for another three months, and so on and so on.  135 of the men selected via the ballot system refused to work in a mine and were jailed. Of these, eventually, 19 agreed to do the duty forced upon them.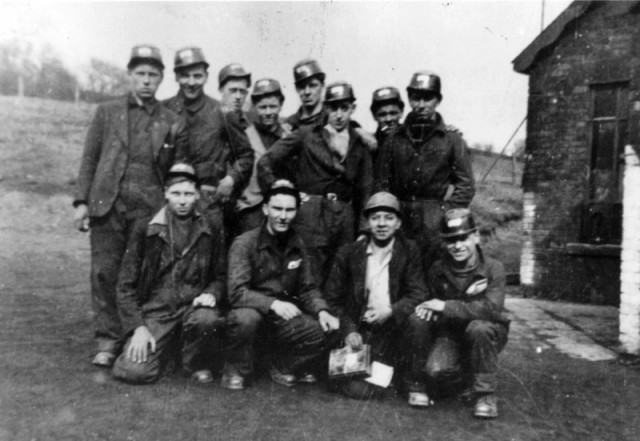 Bevin's Boys were given six weeks of training and then sent to work, with overalls, a hard hat, and a pair of boots.  They were not given tools and had to buy their own, no easy task in war time England, leading to many complaints that infantrymen did not have to buy rifles, so why should the Boys buy picks and shovels?
Not many of these conscripts actually worked cutting coal, and the majority were employed maintaining haulage systems, be they roads or rails, and managing underground transport systems.  The very lucky few who had some past electrical or mechanical engineering experience were allowed to use those skills.
These batteries of young men were thrown into an alien environment both on duty and off.  They suffered resentment from the miners' families who were compelled to billet them, as these families had seen their husbands and sons march off to war and now here was this barrage of outsiders coming to do the job.
The Welsh miners would only speak Welsh and put Bevin's Boys to work with pit ponies that only responded to Welsh commands.   The work was dangerous and to the uninitiated it was terrifying and claustrophobic. The accident rate for the period 1943-1945 was of one serious incident for every four people employed.
Bevin's Boys carried no formal form of identification, so many people did not know that they had been conscripted and took them for conscientious objectors.  They were stopped on a regular basis by the police as they were mistaken for spies, and they had to field considerable abuse from locals because young, able-bodied men should have been in the army, not working in a coal mine.
They were regularly called cowards and found white feathers tucked into their hats.  David Day, author of The Bevin Boy said, "There were no privileges apart from an extra soap ration.  Painfully there was not even a badge to wear on our coats to show we were doing our bit in a world where the man in uniform was king." Some of the conscripts were psychologically disturbed by the experience, and Maurice Sheppard, of Durham, remembers, "In 11 months in the mines I lost three stone in weight. I was sent home to see a specialist and diagnosed with 'inward claustrophobia'."
Obviously, not everything was bad, and an amusing anecdote is recounted by Geoffrey Williams, who served at Alveley Wonder Pit. "It was on this work that I got my nickname.  After holes have been bored in the coal face with a machine known as a tadger in readiness for shot firing, a peculiar gurgling noise comes from them, by subterranean water.
I asked in my ignorance what the sound was, and was told it was made by a coal frog. I peered into one of the holes, and it was immediately assumed I was looking for this mythical animal.  Soon the whole coal face was echoing with Shropshire laughter. I had been christened the Coal Frog."
When peace was declared in 1945, Bevin's Boys were not demobbed with the rest of the conscripted troops.  England still needed coal, and not all the miners had returned from the front, so it was not until 1948, nearly three years after the cessation of hostilities, that the coal-workers were finally released.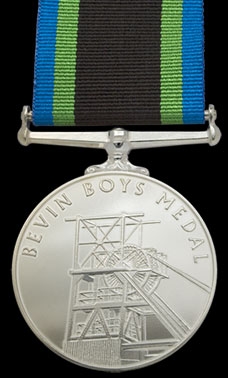 Sadly, this group of young men were most definitely the invisible and forgotten battalion of World WarII.  They did a filthy, dangerous, and inconspicuous but so hugely important job – one they had not asked for nor wanted – but they were treated abominably by the government of the day.
When demobbed, conscripts had the right to go back to their previous jobs, were awarded service medals, received clothes in exchange for their uniforms (the so-called "demob suit"), marched in Memorial Day parades, and were feted by the nation.  Bevin's Boys received none of these accolades.  If one of Bevin's Boys was killed in a mining accident, his family received no compensation and those invalided out received no pension.
The first time that any recognition was given to these men, who were every bit as patriotic as those serving in other theaters of the war, was in 1995, fully fifty years after the war when Queen Elizabeth mentioned them in a speech. But it was not until 2007, twelve years later, that the government, under Tony Blair, announced that Bevin's Boys would be recognized with a medal granted to all conscripts that worked in the mines during the war.
All official records were destroyed in 1950, so anyone that served in this unit had to apply for the medal as the authorities had no record of those that had served.  The first medal was presented by Gordon Brown on the 25th of March, 2008, the 60th anniversary of the last Bevin Boy being demobbed.
A lasting memorial to these men was unveiled by Sophie Wessex, the Countess of Wessex, at the National Memorial Arboretum in Staffordshire.  The memorial is made up of four stone plinths carved from grey Kilkenny stone which will, with age, turn as black as the coal mined by Bevin's Boys.   Harry Parkes, who designed the memorial, served as a miner and campaigned for decades for some form of acknowledgement by the authorities.
At long last these men, without whom the coal-fired power stations and drawing rooms of the British public would have been cold and desolate during the war years, have been given the recognition so long denied them.
One cannot understand how it was possible for the government to refuse to acknowledge the immense contribution made by these hidden gems to the war effort.
Now they can, as a group, hold their heads up high, march as a unit to the Cenotaph, and no longer feel ashamed by the fact that they carried a pick instead of a rifle.
If you want to know more about the Bevin boys, please visit this excellent website: http://www.theforgottenconscript.co.uk/