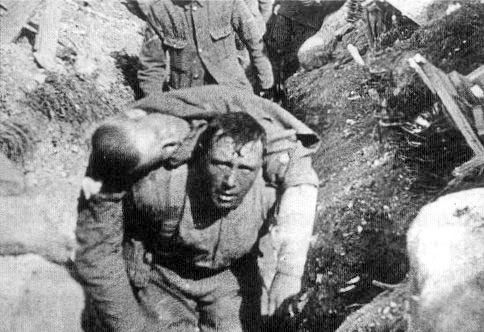 There is no question as to the immense amount of death and destruction wrought by the First World War. One popular bit of video shows the despair on the face of a stretcher bearer in the trenches of the Battle of the Somme as he carries the body of one of his comrades on his back, and this video became a noted image to historians interested in WWI. Now, that face from the Battle of the Somme may have been identified.
The suspected identity is that of Private Frederick Darkes. The soldier Darkes carried was said to have died just thirty minutes following the photography of the scene, and many thought that Darkes—assuming he is, in fact, the man from the footage—suffered a similar fate. This, however, turned out to be untrue; Darkes lived for five decades after the Battle of the Somme, going on to raise a family and live well into old age.
Of course, Darkes has been contested as the anonymous stretcher bearer, as the WWI centenary this year has brought more recent attention to the Battle of the Somme than the fight has received in several years. It was once incredibly notable, with the film that features the aforementioned footage receiving tens of millions of views just one month after it was shot. At least one other family has claimed their relative to be the featured soldier, though the case of Darkes has already been brought to the Imperial War Museum, the Mail Online reports.
Photo recognition tools have found a marked similarity between pictures of Darkes and of the man with the wounded comrade on his back. In addition, Darkes' grandson Paul has done research to find that the footage showing the anonymous stretcher bearer was filmed around the same location as Darkes' regiment during the Battle of the Somme.
Whether or not Darkes truly is the name behind the legendary face used in propaganda footage from WWI, his story from the Battle of the Somme is impressive nonetheless. Darkes was badly injured and lost the use of one arm when he found himself in the midst of a battlefield explosion, which rendered him incapacitated. He became entrenched in mud and was to lie in wait until help arrived days later. The War Office and the Imperial War Museum have not been able to substantiate the claims of Darkes' family, but it remains clear that he was willing to fight for his life as well as the lives of others during the Battle of the Somme, regardless of whether or not he was caught doing so on film.