Before World Wars One and Two when Germany pitted itself against the Allies, Germany had in fact been an ally of the British during the Battle of Waterloo in the early 1800s.
Now a preserved skeleton of a German soldier, who had been fighting with the British Allies against Napoleon's French Army, which has been on display in a museum has received calls for it to be removed and given a proper funeral.
Historians say that the soldier died fighting with the Allies around 200 years ago at the Battle of Waterloo. He was killed by a French musket ball, which remains stuck in his rib cage. The soldier is thought to be Private Friedrich Brandt.
The Waterloo Memorial museum is located in Belgium and Friedrich's remains are part of a 200 years commemoration exhibition to honour the battle and those who fought in it.
The remains had been found under a car park in 2012 near the Lion Mound where the Battle of Waterloo took place. The remains were excavated and preserved in the museum, but now historians are saying that the soldier should have a proper, formal burial.
The museum retains that the identity of the soldier is unknown. But historians say it must be Friedrich because the skeleton has a hunchback, just as records show Friedrich had. Friedrich was just 23 when he died and was a soldier in the King's German Legion. He was an exiled Hanoverian who fought with the British Army under the Duke of Wellington and would have trained in East Sussex.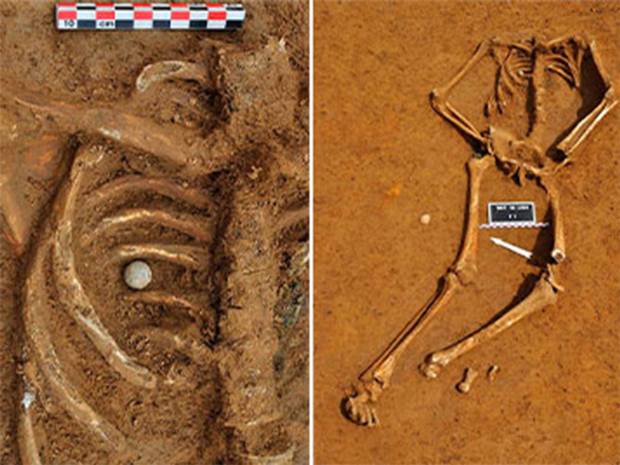 [Via]
Historians have begun a social media campaign to garner support for their proposed funeral for Friedrich. At the moment the campaign is attracting a growing fan base. They believe that there is no gain or purpose for displaying Friedrich's remains, other than making money for the museum, The Independent reports.
Supporters have now even created a hashtag for the campaign: #PeaceforFriedrichBrandt
Meanwhile the museum and Belgian authorities say that the memorial for Friedrich is about paying tribute to his sacrifice, not to shock or cause offence. The museum says it wanted to humanise the Battle of Waterloo and the era in which it took place, so that generations to come would have knowledge and understand what happened 200 years ago.
They also commented that the Memorial museum is a non-profit organisation and therefore receives no financial benefit from having the remains on display.