The Battle of Leyte Gulf was fought from October 23-26 1944 and was the largest naval battle of World War II. It may well be regarded as the largest naval battle in military history.
The battle was fought between the American forces and the Imperial Japanese Navy and took place close to the Philippines Islands of Leyte, Luzon and Samar, in the waters of the Leyte Gulf.
U.S. Troops invaded the island of Leyte on October 20th, 1944 as part of the "Island Hopping" strategy, to get close enough to Japan to launch an invasion and at the same time isolate & bypass heavily fortified Japanese positions.
After news of the invasion had reached Japan, the Imperial Japanese Navy was ordered to mobilize nearly all remaining naval ships and defeat the U.S 3rd and 7th Fleets in a climatic showdown and turn the tide of the war in their favor.
The Japanese did not succeed in achieving this far fetching objective and suffered very heavy losses. So much so that this battle marked the end of any major Japanese fleet operations, due to lack of fuel the heavy ships were forced to stay at their bases for the rest of the war.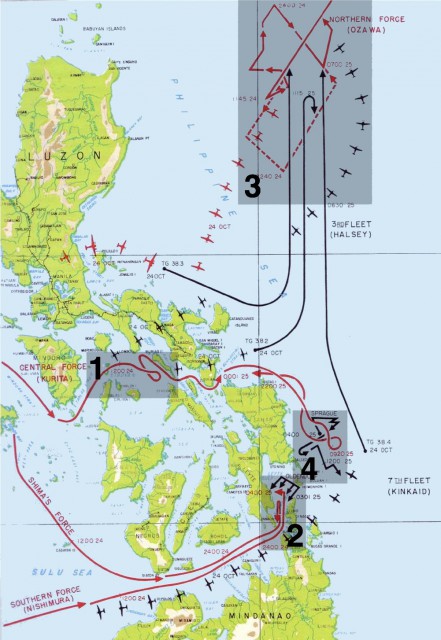 The four main actions in the battle of Leyte Gulf: 1 Battle of the Sibuyan Sea 2 Battle of Surigao Strait 3 Battle of (or 'off') Cape Engaño 4 Battle off Samar. Leyte Gulf is north of 2 and west of 4. The island of Leyte is west of the gulf. [Via]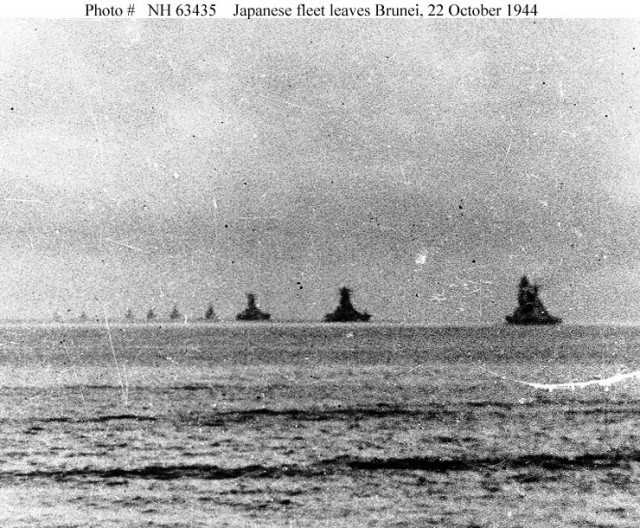 [Via]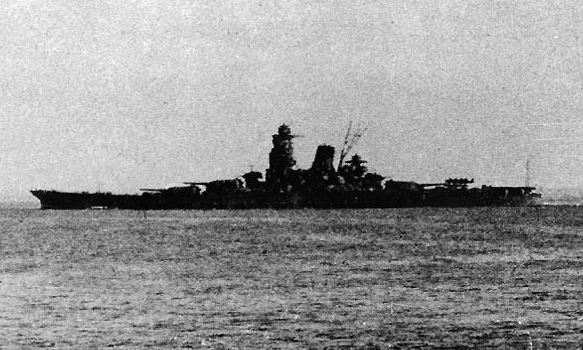 Japanese battleship Musashi leaving Brunei in 1944 for the Battle of Leyte Gulf [Via]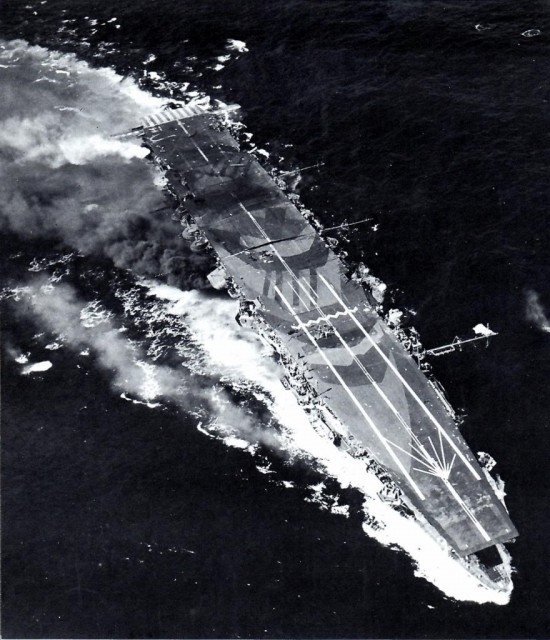 Zuiho during the Battle of Leyte Gulf [Via]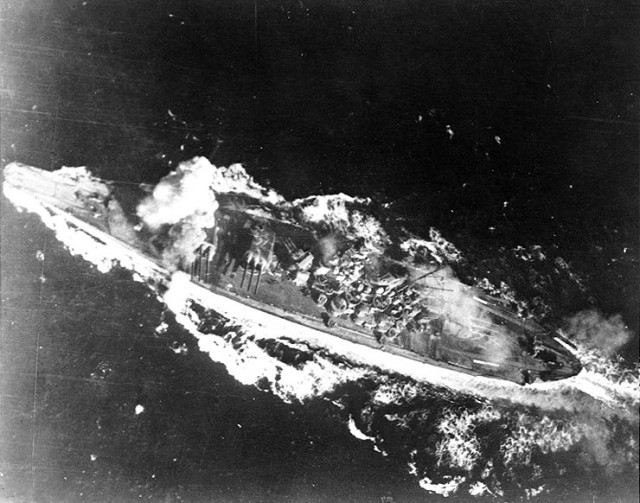 Battle of the Sibuyan Sea, 24 October 1944 Japanese battleship Yamato is hit by a bomb near her forward 460mm gun turret, during attacks by U.S. carrier planes as she transited the Sibuyan Sea. This hit did not produce serious damage. [Via]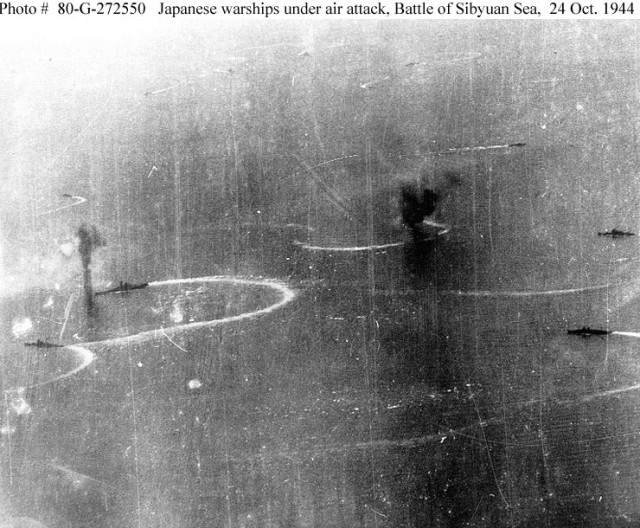 [Via]
[Via]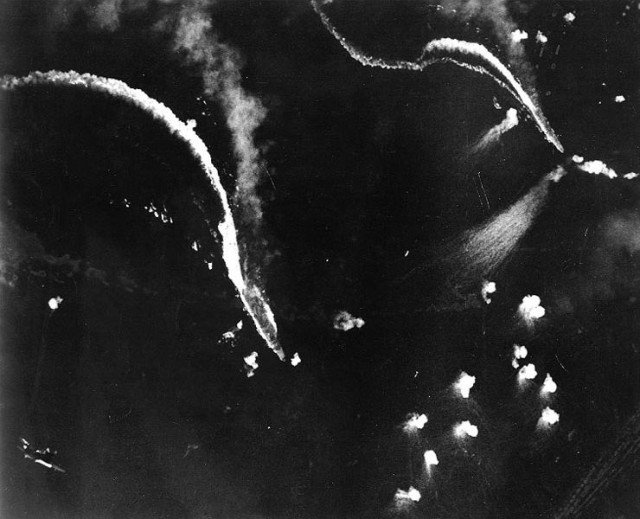 The Japanese aircraft carriers Zuikaku, left, and (probably) Zuihō come under attack by dive bombers early in the battle off Cape Engaño [Via]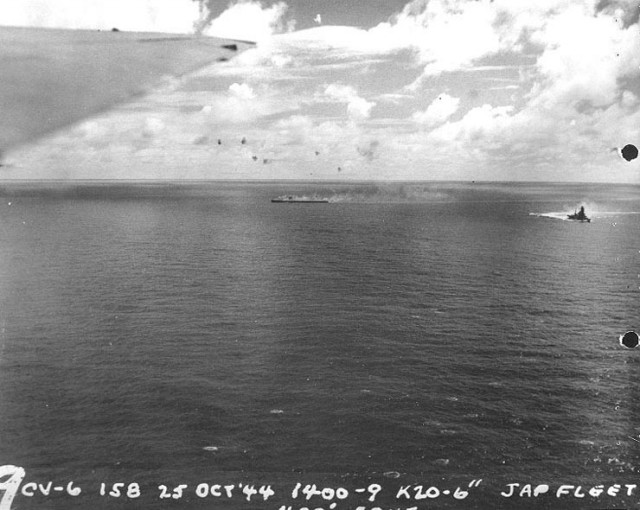 Zuikaku and Ise under attack [Via]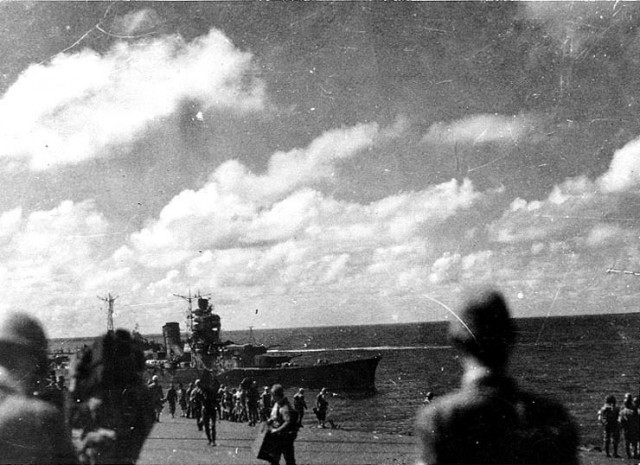 Oyodo coming alongside the Zuikaku for the transfer of command [Via]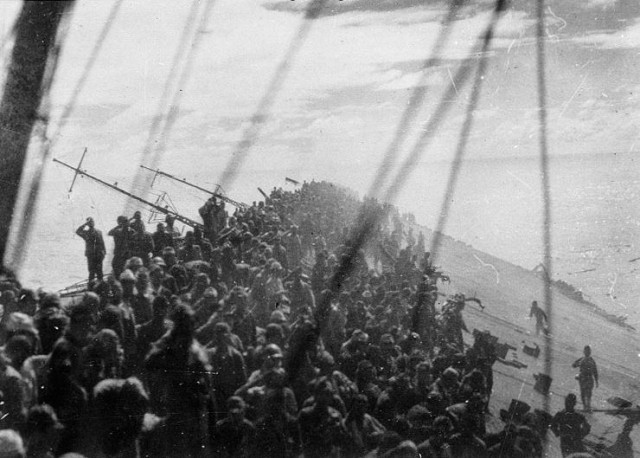 The crew of Zuikaku salute as the flag is lowered, and she ceases to be the flagship of the Imperial Japanese Navy [Via]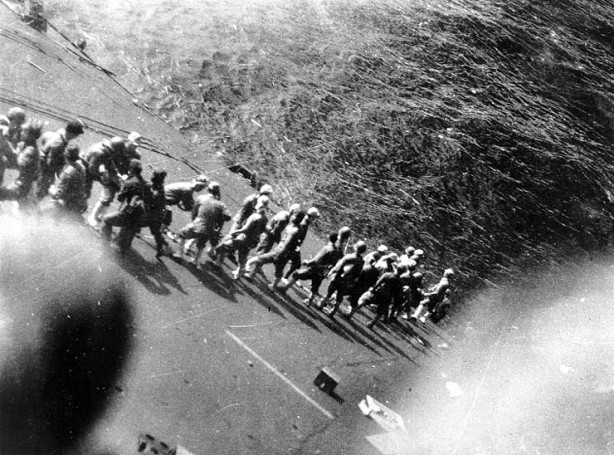 Zuikaku's crew jettisoning explosives, 25 Oct 1944 [Via]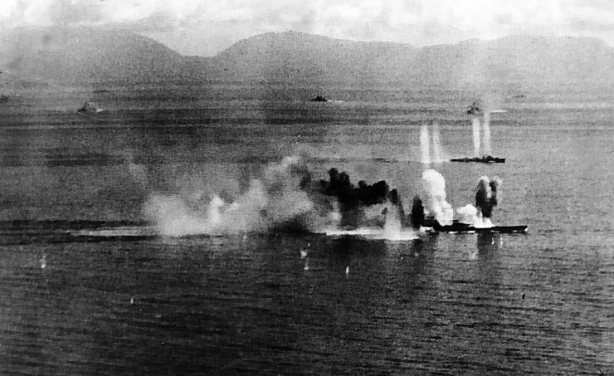 Battleship Musashi under fire October 1944 [Via]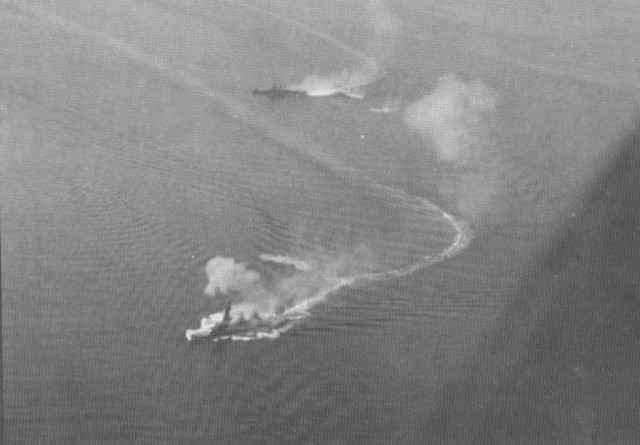 Fuso and Mogami under air attack [Via]
Next Page: The American Side
American side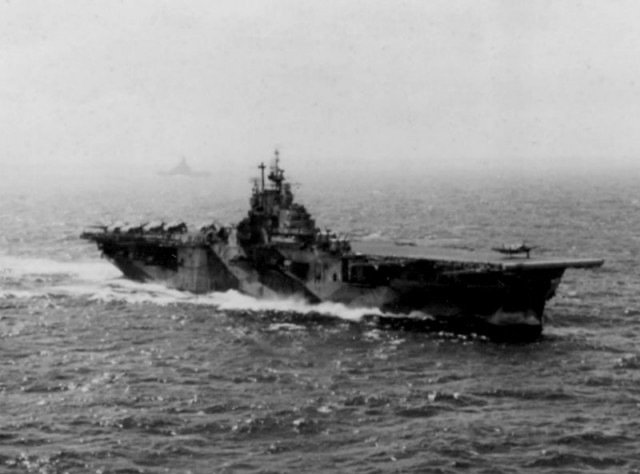 The U.S. Navy aircraft carrier USS Intrepid (CV-11) engaged in flight operations as viewed from the backseat of an Curtiss SB2C Helldiver during the Battle of Leyte Gulf. Another SB2C from Bombing Squadron VB-18 is launching from the carrier. Note the battleship in the distance. [Via]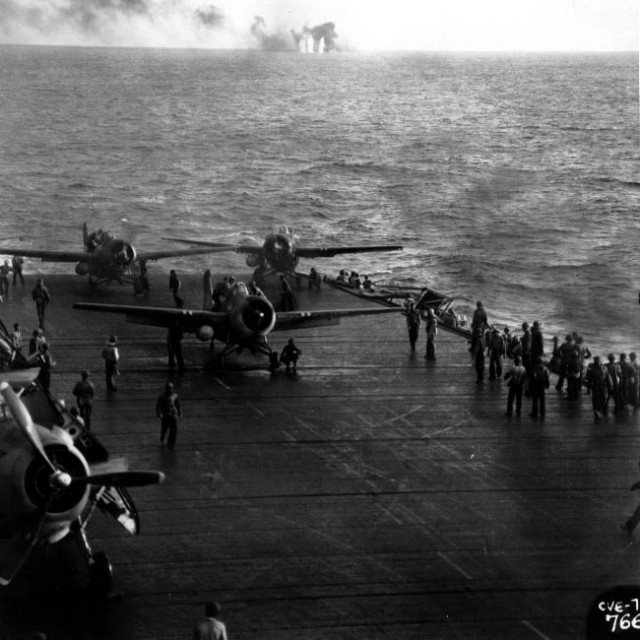 The U.S. escort carrier USS Kitkun Bay (CVE-71) prepares to launch Grumman FM-2 Wildcat fighters of composite squadron VC-5 during the Battle of Samar on 25 October 1944. The aircraft visible on the left is a Grumman TBF Avenger. In the distance, Japanese shells are splashing near the USS White Plains (CVE-66). [Via]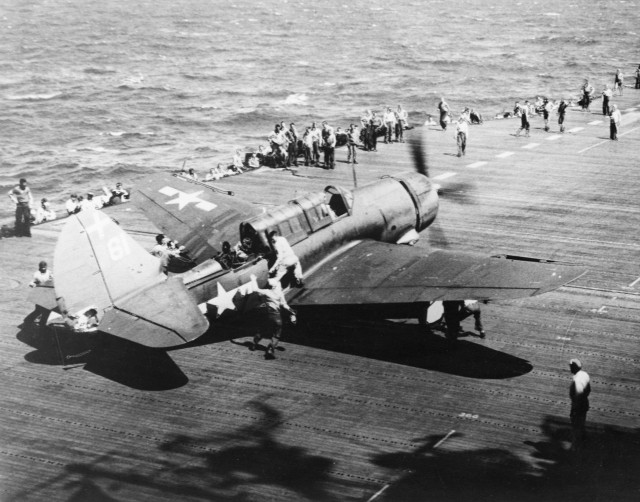 A U.S. Navy Curtiss SB2C-3 Helldiver of Bombing Squadron 18 (VB-18) "Sunday Punchers" is maneuvered into position aboard the aircraft carrier USS Intrepid (CV-11) after returning from a combat mission during the Battle of Leyte Gulf. The aircraft has suffered battle damage on the tail from Japanese antiaircraft fire. Note cross on tail of Helldiver, the symbol for Intrepid aircraft. VB-18 operated from Intrepid during the period August-November 1944. [Via]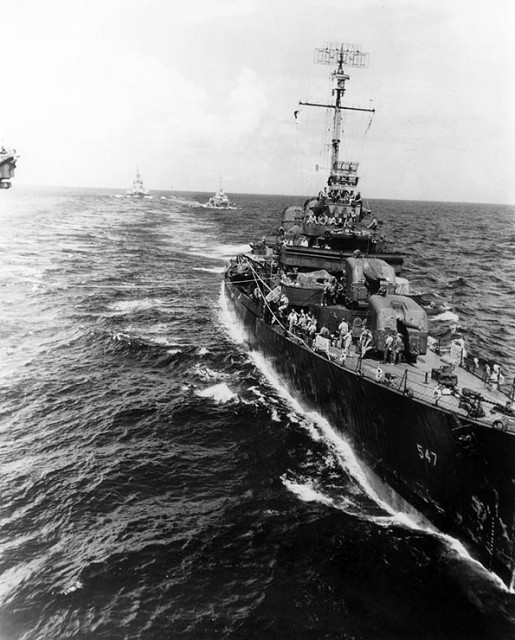 The U.S. Navy destroyer USS Cowell (DD-547) returns a pilot to his aircraft carrier, after rescuing him during the Battle of Leyte Gulf. Photo is dated 28 October 1944, a few days after the battle. The carrier may be USS Intrepid (CV-11). [Via]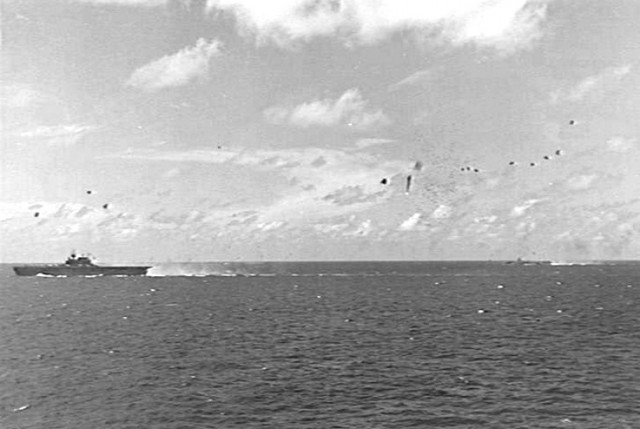 The U.S. Navy Task Group 38.4 under attack by Japanese aircraft during the Battle of Leyte Gulf in October 1944. Visble are the aircraft carrier USS Enterprise (CV-6) and an Independence-class light carrier (right), either USS Bellau Wood (CVL-24) or USS San Jacinto (CVL-30). [Via]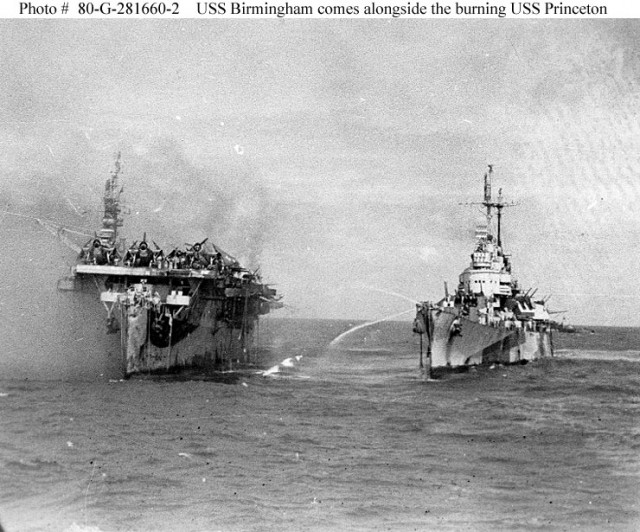 The light aircraft carrier Princeton on fire, east of Luzon, 24 October 1944. [Via]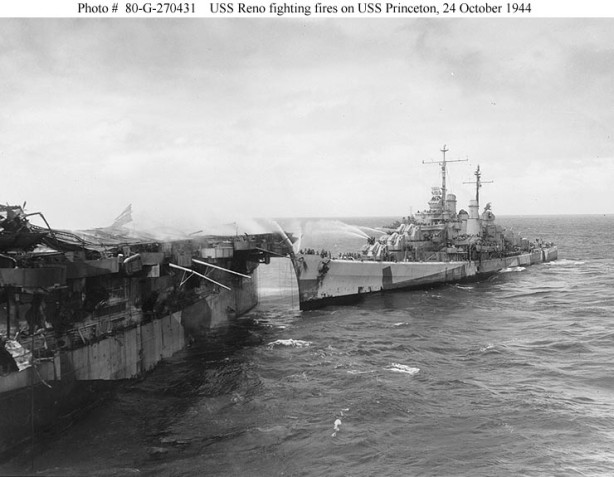 [Via]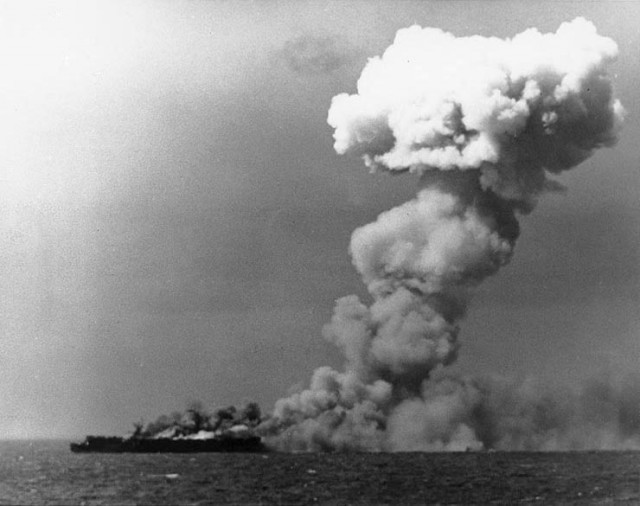 The light aircraft carrier Princeton on fire, east of Luzon, 24 October 1944. [Via]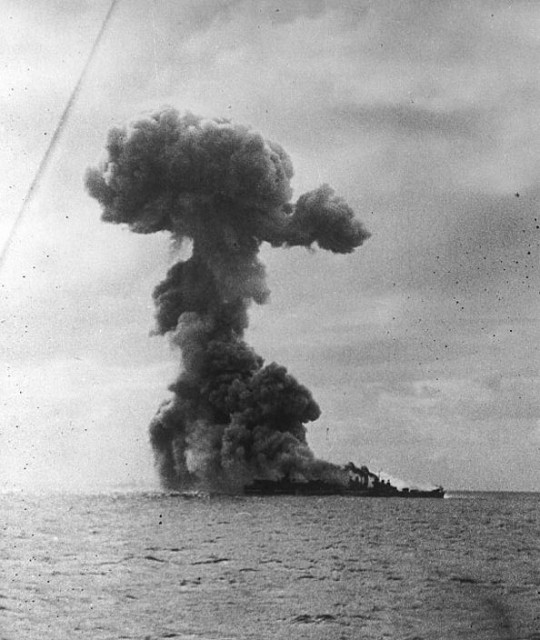 The light carrier USS Princeton explodes at 1523 on 24 October 1944 – after being bombed by a Japanese aircraft during the Battle for Leyte Gulf. The light cruiser USS Birmingham (CL-62) is visible on this side of the Princeton. Birmingham was seriously damaged in the explosion, which caused more than three hundred casualties aboard the cruiser. [This is an official US Navy photograph, probably taken from the battleship USS South Dakota [Via]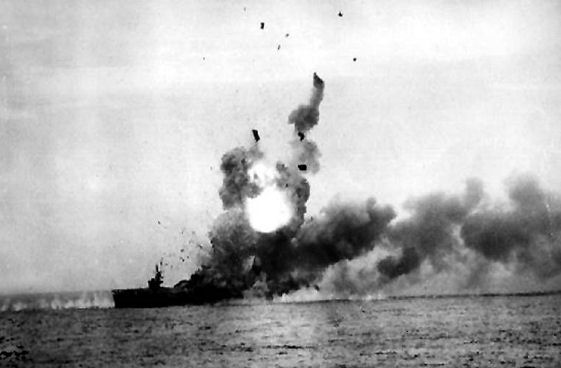 The escort carrier USS 'St. Lo' (CVE-63) explodes off Samar after being hit by a kamikaze aircraft, 25 October 1944 [Via]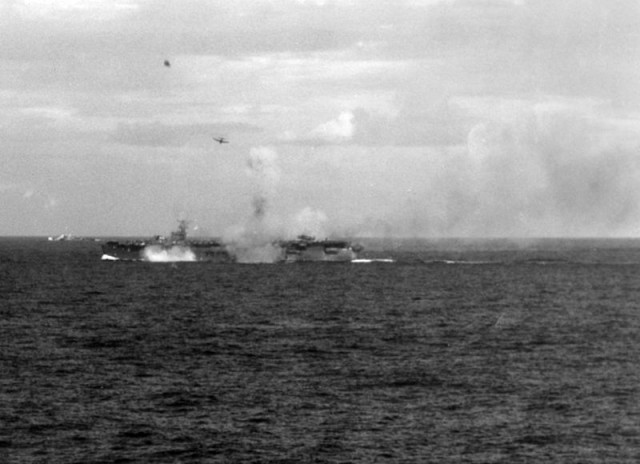 An unidentified U.S. Navy Sangamon-class escort carrier (either USS Sangamon, USS Santee or USS Suwannee) under attack by Japanese aircraft during the Battle of Leyte Gulf. [Via]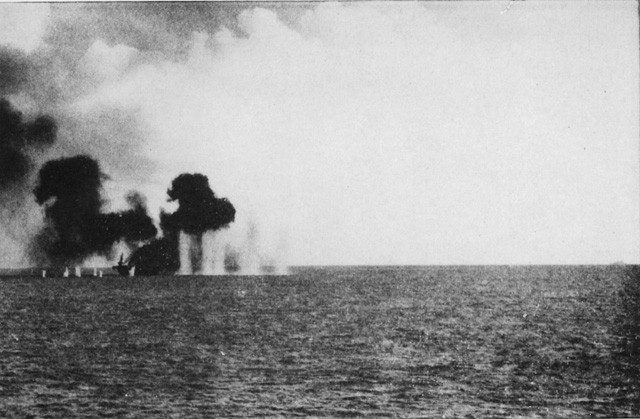 A Japanese Cruiser, on horizon, straddles U.S. escort carrier with gunfire during Battle for Leyte Gulf. This vital engagement took place in a running sea battle east of Samar Island on 25 October 1944, and ended in a decisive U.S. naval victory when all Japanese forces were defeated and repulsed in their attempt to disrupt MacArthur's invasion. [Via]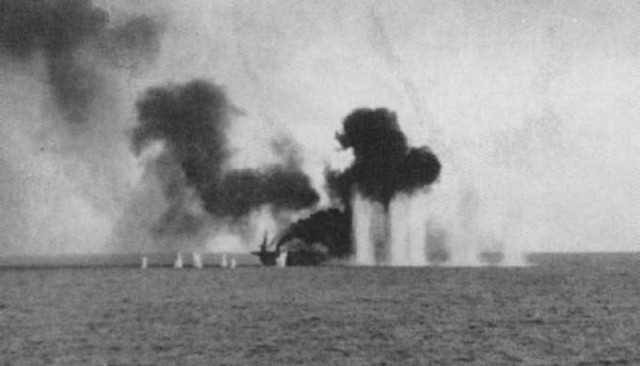 The escort carrier USS Gambier Bay was sunk by Japanese gunfire during the engagement off Samar, the only US aircraft carrier to be sunk that way in WWII. [Via]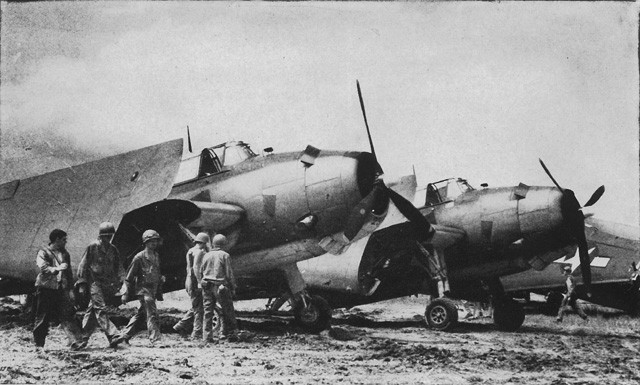 Orphan carrier planes sought refuge at Dulag Airfield, Leyte, when their carriers were sunk or damaged during the Battle for Leyte Gulf, 25 October 1944. [Via]