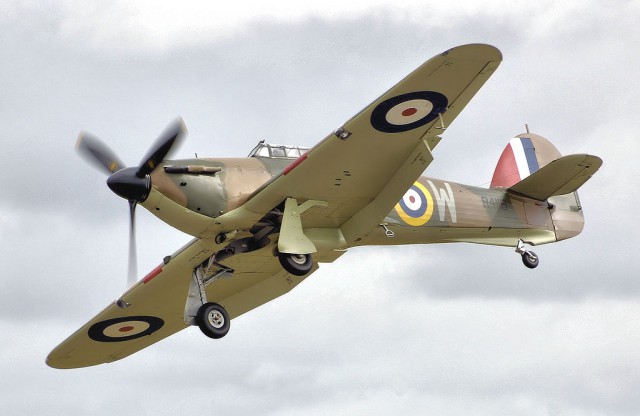 [Via]
Wing Commander Tom Neil served with the Royal Air Force during the Battle of Britain 75 years ago. Now he has launched a new memoir called 'Gun Button to Fire' to document his first-hand experience as a pilot during the most famous air battle the Allies have ever known.
Battle of Britain veteran, Tom was based at Leconfield in Yorkshire and was part of RAF 249 Squadron at the age of just 19. In July 1940, Tom and his fellow pilots were scrambled to fight off an attack from the German Luftwaffe. Tom was flying a Hurricane, which while it didn't have the speed or agility of the Spitfire, but it was strong and solid.
Shortly after taking off Tom saw an enemy aircraft through low-lying cloud. Tom says that when the German pilot saw the Hurricanes coming his way he dived towards the coast and straight into the Hurricanes' flight path. Tom and his comrades pulled up their planes to get out of his way but quickly dived again to follow the enemy.
The German took flight into the clouds and the Hurricanes hurried in pursuit and after a short chase lost him in the cloud cover. Tom says that he and his comrades were excited to have come face to face with their first enemy, but disappointed that they hadn't been able to hunt him down.
Not long after some of Tom's comrades shot down their first enemy plane with the crew bailing out and the plane crashing into nearby farmland. Tom recalls how the crash was covered in the local newspaper the next day and the whole squadron was elated that they had caught their first German plane.
Tom continued to fly for his squadron and shot down around 13 German planes during his service and says he owes it to his Hurricane, which was his friend and ally during all of his airborne battles. It wasn't until after the war that Tom discovered from German fighter pilots that they could have taken his Hurricane down easily with just a few hits from their cannon, but luckily they never got the chance.
Tom says that the entire RAF fought with only winning on its mind, they never considered defeat and would never dream of letting Hitler's air army get superiority of British skies, The Telegraph reports.
Tom is only one or two of the last surviving pilots form his squadron. He says that they all still remain strong images in his memory, even though it was such a long time ago. Tom says he can remember the laughs and jokes they would have as well as their habits which they got to know well living in such close quarters with one another. He says he also remembers the bravery of the men he flew with, and the sacrifices that so many made to keep Britain free of the Third Reich.