Van T. Barfoot was a true war hero, whose exploits saved many of his comrades' lives and even those of the enemies he captured. He continued on in the military after WWII and eventually fought in both the Korean War and the Vietnam War, retiring at the rank of colonel. For his extraordinary acts of valor during WWII, he was awarded the Medal of Honor, the United States' highest award.
Barfoot was born as Van Thurman Barfoot on the 15th of June 1919 in Edinburg, Mississippi. He would later change his name to Van Thomas Barfoot. Raised on a farm alongside eight siblings, Barfoot's beginnings were rather humble.
As his grandmother was Choctaw (a Native American people), he was eligible to join the nation, but his parents did not enroll him.
Barfoot's early military career
A lifelong patriot, Barfoot enlisted into the U.S. Army in 1940, before the U.S. had even entered the war, and before conscription began. He completed his training and first served in the 1st Infantry Division. By the time the Japanese attack Pearl Harbor in December of 1941, Barfoot had already reached the rank of sergeant.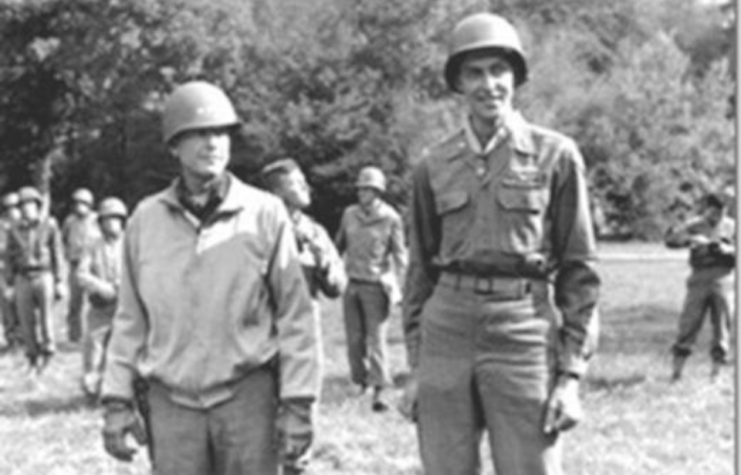 He was moved to the Amphibious Force Atlantic Fleet in Quantico, Virginia, until 1943, when the unit was decommissioned. Barfoot was then transferred to the 157th Infantry Regiment, 45th Infantry Division.
Barfoot and the 45th Infantry Division were shipped to Europe in June of 1943 and began preparations for the invasion of Sicily. The division was part of the spearhead in the assault on the island, supported by the 505th Parachute Regiment. Around this time, Adolf Hitler decided to reduce activities at the Battle of Kursk in part to divert forces to reinforce Italy.
By early August, the 45th Infantry Division was withdrawn from frontline duties for rest, having fought valiantly through Sicily. In September 1943, the 45th Infantry Division was involved in Operation Avalanche, the invasion of Salerno, Italy. After Salerno, they once again fought a tough, slow, and difficult fight at Anzio.
Here, Barfoot would display immense feats of courage and bravery.
Barfoot's Medal of Honor
After he and his comrades reached the Italian town of Carano, they set up defenses. While he was here, Barfoot had patrolled the area to assess German lines and their defenses. Soon after, he and his unit were involved in an attack against the German lines.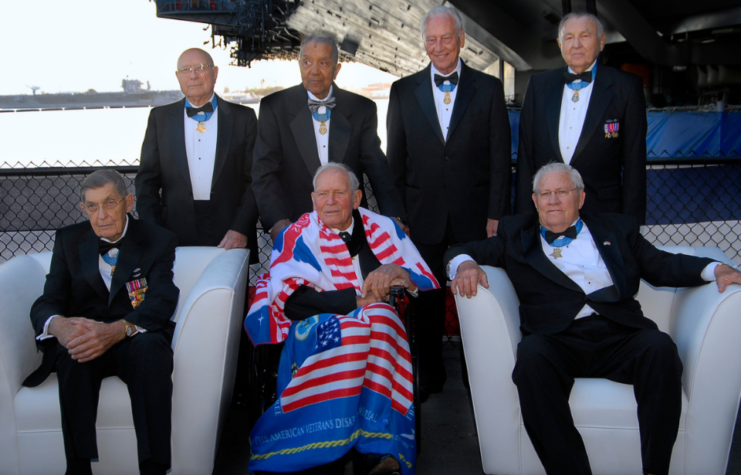 Barfoot, who knew the area and its defenses well thanks to his patrols, requested to lead his own squad into battle. Aware of a minefield ahead, Barfoot proceeded alone. He crawled past the minefield and up to a German machine-gun position, which he attacked with a hand grenade.
According to Barfoot's Medal of Honor citation, he "crawled to the proximity of one machine-gun nest and made a direct hit on it with a hand grenade, killing two and wounding three Germans."
After this he made his way to a second machine gun, which he also attacked, killing two with his Thompson submachine gun and capturing a further three. The next machine gun nest surrendered to Barfoot immediately, as well as other enemy troops nearby.
"Members of another enemy machinegun crew then abandoned their position and gave themselves up to Sgt. Barfoot. Leaving the prisoners for his support squad to pick up, he proceeded to mop up positions in the immediate area, capturing more prisoners and bringing his total count to 17."
In these actions, he captured 17 and killed eight of his enemy.
A while later on the same day, after Barfoot had regrouped with his men, the Germans launched a counterattack aided by fearsome Tiger I tanks.
His citation said: "Securing a bazooka, Sgt. Barfoot took up an exposed position directly in front of three advancing Mark VI tanks. From a distance of 75 yards his first shot destroyed the track of the leading tank, effectively disabling it, while the other two changed direction toward the flank. As the crew of the disabled tank dismounted, Sgt. Barfoot killed three of them with his tommy gun."
As if this weren't enough, Barfoot then ran behind enemy lines and disabled an enemy field gun with explosives. On his way back, the exhausted Barfoot encountered two severely wounded comrades. He helped them both back to his position, which was 1,700 feet away.
For these actions, Barfoot was awarded the Medal of Honor in a ceremony held in France, with his fellow soldiers in attendance.
After WWII
After fighting through the Korean War and Vietnam War, Barfoot returned home and moved to Virginia, where he would live a relatively quiet life.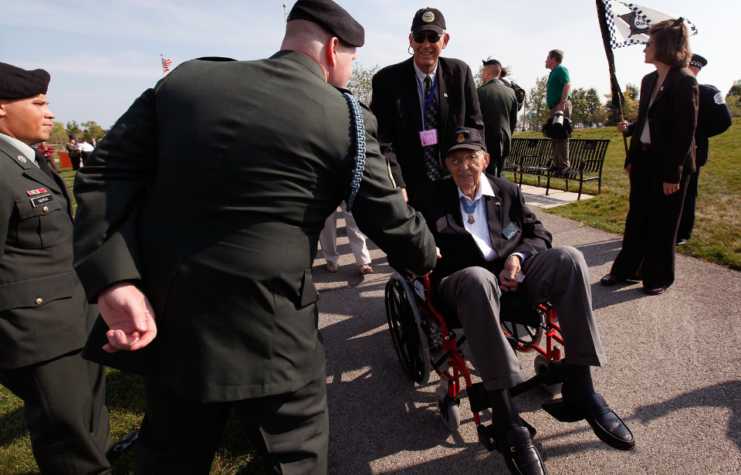 He sprung into the media in 2009 when the homeowners' association (HOA) where he lived ordered him to remove a 21-foot flagpole he used to fly the American flag from. The HOA threatened to take Barfoot to court if their order was not obeyed.
More from us: Digby Tatham-Warter: The British Major Who Disabled A German Tank With An Umbrella
The situation went viral on news outlets and across social media, with large numbers of people outraged by the demands. After a huge amount of backlash, the HOA dropped their order, settling the dispute.
The Medal of Honor recipient died in 2012 after a fall in his home in Henrico County, Virginia. He was aged 92.