Bangkok, Thailand – a large WWII vintage bomb was accidentally detonated by workers in a scrap shop in Thailand blowing the said establishment up.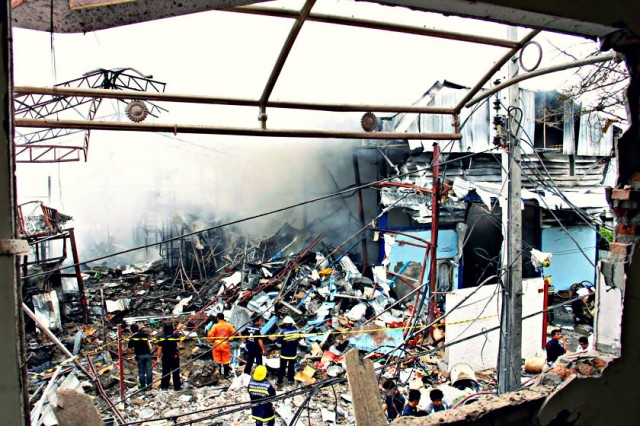 According to New York Post,  seven were killed due to the incident while 19 others were wounded.
The unidentified WWII vintage bomb weighed about 227 kilograms. Its explosion created a three meter-deep crater.
Kamthorn Auicharoen, police bomb squad chief of the city, stated that the said shell was found by construction workers at the site were they were working and sold it to the said scrap shop which is located in northern Bangkok. He further related that shop workers attempted to take the bomb apart with the use of a gas-powered thermal cutter. However, the act resulted to its blowing up.
The huge explosion which ensued blasted the scrap shop in Lad Plakao, Bangkok into smithereens. When the smoke was cleared, only the shell of the building remained standing with blood and gore scattered on the shop's floor. Firefighters doused water on the building's still burning interior.
Kamthorn then commented that the WWII vintage bomb may have been dropped by a plane during the war. It can be remembered that Bangkok was constantly bombed by US and British war planes during the Second World War as it was occupied by Japanese forces and was the Imperial Army's seat for their Southeast Asian campaigns. The Allied bombing campaigns in Thailand's capital started in 1942.
Meanwhile, construction workers doing another project in a different area in Bangkok found a similar bomb last March 29, However, this one was handed safely to explosive experts.
Bangkok is not the only major Southeast Asian city  where bombs from the WWII era are found. WWII vintage bombs have also turned out in other cities as well like Hong Kong and Singapore.