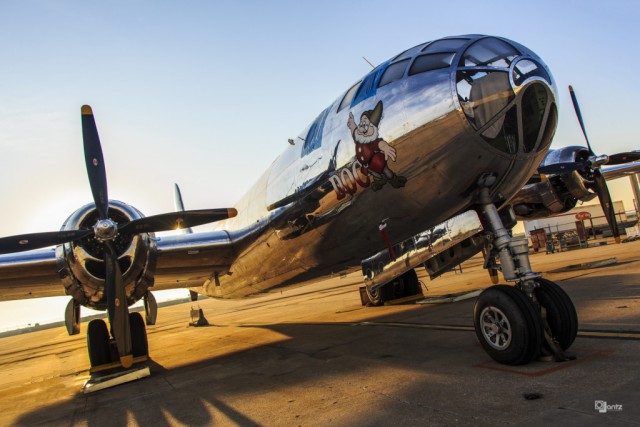 B-29 'Doc' – Courtesy of b-29doc.com
Volunteers have brought back to life an aging World War Two Boeing B-29 Superfortress bomber known as 'Doc'.
The bomber hasn't been started up again since it was last flown in 1956. Now volunteers have spent the past 15 years working on the bomber so that it can be flown again and has been fitted with four new radial engines.
The volunteer group has called themselves 'Doc's Friends' and they cannot wait to hear the roar of its engines again and for it to once again take to the skies.
The engines have been started up and this was filmed and streamed live on to the web via the website, www.b-29doc.com
Prior to the engine being started up again the fire shields, a new exhaust system and more than 35 spark plugs had to be fitted into each of the engines.
Each engine has been started individually, so that the volunteers could check and monitor each for temperature and oil pressure.
After all four engines functioned independently all four were later started at the same time.
The engines had been received two years ago and are new versions of the bomber's original 3350-57.
Doc had been part of a B-29 squadron called 'Snow White and the Seven Dwarfs'. Doc had been left to the elements in an airfield in California's Mojave desert, but was rescued by an aviation enthusiast in 1987.
The bomber was then transferred to Wichita for restoration in 2000, even though it had to be parked for a while because of lack of funds. It was in 2013 that the current group of volunteers purchased the bomber and its latest round of restoration began.
It was at Boeing's Wichita plant that over 1,500 of the B-29s were built. It was the B-29 that dropped the atomic bombs on Hiroshima and Nagasaki, the kansas.com reports.
Some of the volunteers also worked on the original B-29 production line.