Pride and dedication are going into the restoration of Just Jane, an Avro Lancaster bomber under repair as a memorial to Christopher Patton and other veterans of Bomber Command.  Patton was shot down on a bombing raid in Nuremberg, Germany, in March 1944.
His brothers, Fred and Harold, who established the East Kirkby Aviation Centre in Lincolnshire in 1988, have removed the paint from Avro NX611 to allow an airframe inspection so any problems can be corrected, in addition to giving an indication of the time required for repairs. The job is an enormous undertaking since the airplane must be taken almost completely apart, right down to individual pieces, checking every component then re-assembled.
The project has an estimated £3.5 million price tag, and Just Jane will hopefully fly again by 2020.
Fred's grandson, Andrew Patton, said overall the work is quite easy being mostly standard repairs. The difficult aspect is not having the knowledge since tradesmen with the experience needed to do riveting and aluminum skin work are disappearing. Modern aircraft now use composite materials.
The work is important and not just for the Lancaster, but for the memory of Bomber Command, and the nation, he added.
They're reliant on people who learned their craft many years ago and have the much-needed knowledge, he explained.
The main fundraiser is the offering of 'taxi rides' in the heavy bomber during the summer months, but that means interrupting restoration work for six months between May and the beginning of November.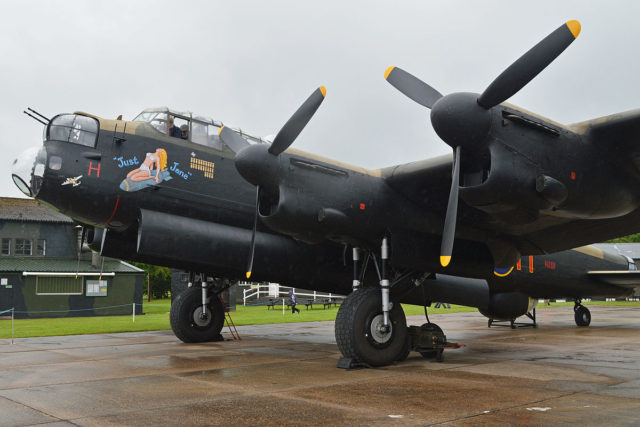 A fundraising club has been started for those who want to make a regular donation towards the project.
The plane was manufactured by Austin Motors in Longbridge near Birmingham in April 1945. Just Jane had been scheduled to become part of the RAF's Tiger Force in the Far East, but Japan's early surrender saw the warbird used by French Naval Air Arm.
One of the project's workmen, Roy Lemmon, 56, said he will be very pleased when the Lancaster is flying once again, the Mirror reported.
There's substantial corrosion that people have attempted to repair, but the repair job has been done in a way that suits a static, not a flying machine, so it's got to be taken to pieces and done correctly, he said. It's interesting work, a privilege, it's different, he said.
Fellow workman Brian Howard said that with the substantial amount of work required, a person has to think about what comes next.  He admits to missing drawings – everything has to be done in his head because of the reliance on computers these days.