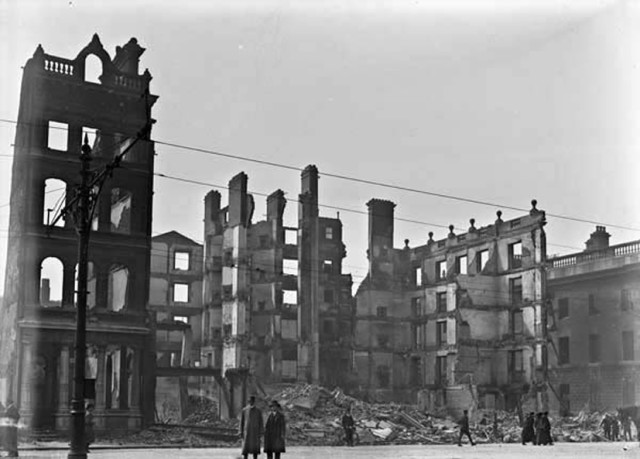 An auction on Sunday in Dublin failed to sell two 1916 Rising medals that had been awarded posthumously to Thomas Clarke and Joseph Plunkett, two of the original signees of the Proclamation of the Irish Republic.
The medal awarded to Clarke was expected to sell for €120,000 but was withdrawn from the sale when bidding stalled at €80,000. The last sale of the medal was in 2005 for €105,000.
The medal that had been awarded to Plunkett (famous for being recovered from the trash can his widow had thrown it into) was being sold for the first time. It was estimated to be worth €70,000 to €100,000. It was withdrawn at €68,000.
The medals were part of the Rising-related memorabilia being sold in Whyte's History auction.
The 1916 Easter Rising was a nationalist rebellion, that aimed to drive the British from Ireland. it was planned and organised by the Irish Republican Brotherhood. It resulted in week of heavy fighting in Dublin, that left much of the city devastated, centered around the G.P.O. building in the heart of the city.
The subsequent execution of the rebel leaders changed public opinion in Ireland and led to ever more demands for Irish Independence.
The highest sale in the auction was for an original copy of the Proclamation. It was sold to an Irish-American collector in Maryland who was bidding by telephone. The sale price of €185,000 was within the estimate of €150,000 to €250,000. It was, however, considerably lower than the price fetched by another original copy sold by Sotheby's in London in December. That artifact sold for €305,000.
On Easter Monday 1916, many of the British troops were attending the Ward Union Hunt Steeplechases at the Fairyhouse racecourse. They were therefore unable to respond quickly to the uprising. A racecard from that event fetched €4,000 at auction, 10 times the estimate.
One of only four bottles of whiskey distilled by the Dublin Whiskey Distillery in 1916, and according to Whyte's, "the oldest and most expensive Irish whiskey ever offered at auction," sold for €15,000.
Eamon de Valera's (Prisoner Q95) prison diary, written during his time imprisoned in Dartmoor, Maidstone and Lewes prisons in 1916 and 1917, sold for €5,400.
Included in the diary is a crocheted bookmark shaped like a cross, which was allegedly sent to de Valera by his mother while he was in prison.
Ironically, the auction was held in the Freemason's Hall in Molesworth Street in the capital. The building is an architectural remnant of the British Empire and is located within spitting distance of Leinster House.
The centenary of the 1916 Easter Rising has been marked by commemorative events throughout Ireland.
Images by Kaihsu Tai, CC BY-SA 3.0, https://commons.wikimedia.org/w/index.php?curid=1043162