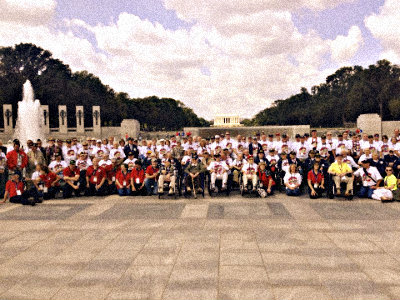 Grand Rapids, Michigan – The Mid-Michigan Honor Flight is planning another WWII Honor Flight for veterans scheduled June this year. 
The said WWII Honor Flight will be taking WWII veterans to Washington DC. The trip's itinerary include a visit at the World War II memorial in the National Mall as well as other stops that commemorate the service rendered by the men and women of what is now known as the "Greatest Generation".
The coming WWII Honor Flight is scheduled June 2 this year. This "Tour of Honor" is free to veterans with funds taken from donations made by the public.
Last year, the WWII Honor Flight made stops not just at the WWII memorial but also the Korean and Vietnam memorials as well as the Marine Corps War Memorial which is also known as the Iwo Jima Memorial. The trip was capped with a moving visit at the Arlington National Cemetery.
The WWII Honor Flight is open to all WWII veterans. For information on how to include a vet in flight, for donations or volunteering work, kindly check the Mid-Michigan Honor Flight website.
https://www.youtube.com/watch?v=q1rj4IhxBF0