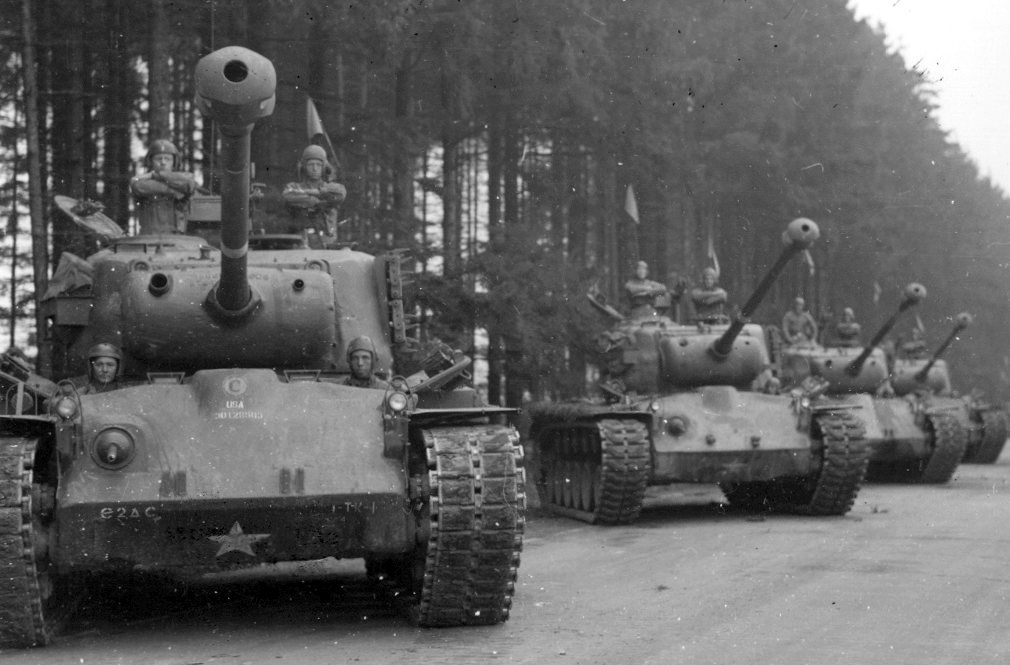 The Pershing evolved from a design programme that began in 1942. It incorporated many new features when compared with earlier American tanks including torsion bar suspension and rear sprocket drive. The first of this new generation to be shipped across the Atlantic was the version T26E3, twenty of which arrived in Antwerp in February 1945 for issue to 3rd and 9th Armored Divisions in the United States Army.
The Americans had now adopted the British practice of naming their tanks after famous generals and the T26 was christened General Pershing after the World War 1 commander in France. It was a radically different design from previous American tanks and in theory was more than a match for the heavier German types. Even so it was considered underpowered and, being larger than its contemporaries, tended to damage the military bridges it passed over.
A dozen Pershings, now standardised as M26, were shipped to the Pacific Island of Okinawa but landed too late to see combat action. Britain took delivery of a few Pershings at the end of the war, of which this is one, but never used them in action. American forces used the M26, which was the main production version, during the Korean War.
Successor to the Sherman and incorporated improvements in power, mobility and armour. Development programme begun with T20 and T26E3 was put in production (later it became M26 General Pershing). It first saw action in early spring 1945 and some saw action in Korea.
VEHICLES FEATURES
Torqmatic, 3 speeds forward, 1 reverse
VEHICLE STATISTICS
2.78m
You can get to see the Tank Museums Pershing whilst you are at the Tiger Day event in May