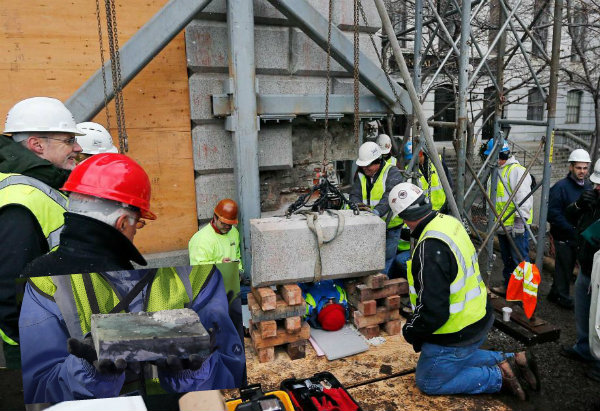 A time capsule dating back to the American Revolutionary War some two hundred years ago was removed Thursday, December 11, from the cornerstone of the Massachusetts Statehouse in Boston.
The copper case, which is as big as a cigar box, was reportedly placed in the Massachusetts Statehouse cornerstone way back in 1795 by Revolutionary War dignitaries like Paul Revere and Samuel Adams.
And though the purpose behind the putting of the time capsule inside the cornerstone of the Massachusetts Statehouse is still unclear, experts like Boston College historian Allan Rodgers believe that Midnight Rider Paul Revere and Founding Father Samuel Adams left the box for the future generations to remember what they, the patriots, had accomplished in American history.
Furthermore, according to reports, the small copper case from the Massachusetts Statehouse contains an array of Revolutionary War memorabilia like coins, documents and even newspapers. It is also believed to contain a metal plate that Revere had owned.
Its recent discovery was not the first one for the Massachusetts Statehouse time capsule, though. The said container was also retrieved way back in 1855. Originally, the box was made of cowhide and is said to have been embedded in the cornerstone of the Massachusetts Statehouse when the building of the State Capitol began — in 1795. This was also the time that Samuel Adams served as the governor of Massachusetts.
Accordingly, those who got the original box in 1855 transferred its contents to the copper case and replaced it back inside the Massachusetts Statehouse cornerstone. As a matter of fact, if it had not been for the place needing repairs, the time capsule wouldn't have been taken out from its place.
After it was taken with painstaking care from the cornerstone by conservationists, the time capsule, along with police escorts, was transported to the Museum of Fine Arts in Boston. Here, it would be x-rayed, studied and probably opened within this week.
Officials plan to return the box after the restoration of the Massachusetts Statehouse is completed, hopefully, by next year.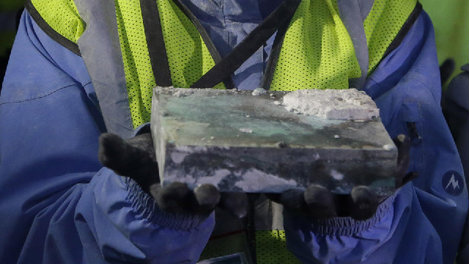 Officials and workers are yet to find out whether the items inside the time capsule are in good condition or not.
The discovery and extraction of the Massachusetts Statehouse time capsule just came months after another time capsule was found in the Old State House, the state's first seat of government. The said time capsule was buried inside a lion statue which is situated on top of the building way back in 1901 and, when opened, contained an assortment unspoiled items including a letter penned down by journalists from the period when it was buried, a book on foreign policy as well as clippings from various newspapers.