Americans faced a major toilet-paper shortage with the onset of the COVID-19 pandemic. However, this was not the first time American's nearly ran out of a product they deemed essential. In 1943, the federal government started rationing meat, and the American public was not happy about it. In fact, President Roosevelt told the American people they would have to make do with less meat during the Second World War. As a result, meat on the black market boomed.
Early Rationing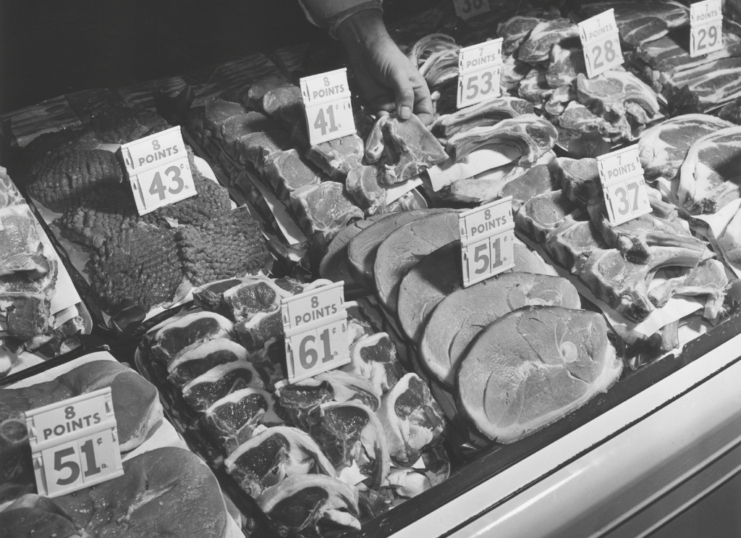 The United States began rationing supplies immediately after the attack on Pearl Harbor in December 1941. However, it wasn't until the following year that initial rationing efforts began limiting consumer goods. Initially, America's meat was being diverted to service members who needed more protein in comparison to American's at home.
However, as historian Leslie Przybylek points out, meat was not just a major component of the American diet, but also a symbol of success and national identity. It is easy to forget that the American people were fresh off the Great Depression, and many people remembered Prohibition – another period in American history when people were denied something they thoroughly enjoyed.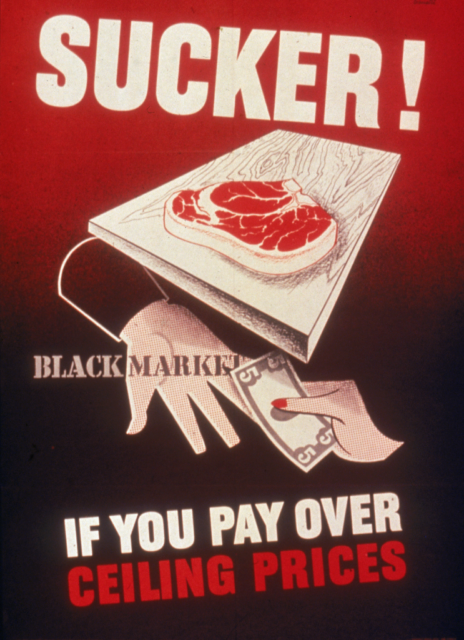 The process of an American rationing system was implemented in the spring of 1942. Rations took the form of stamps, which would be turned in for specific food items. However, the American rationing system was constantly in flux. Ration stamps and the value of papers were being changed about every four months. Sometimes a product would be taken off the ration list as a new ration book came out, which resulted in confusion over what stamps in the book could be used.
Although many protein sources were available through the rationing system (including eggs, peanut butter, soy products, beans, and cheese), the availability of meat was severely limited. The American "share the meat" campaign asked all Americans over the age of 12 to limit their meat consumption to two and a half pounds of meat per week. Although dieticians, national meat councils, and local authorities alike worked together to make protein-pack recipes to be used as a meat-filler, the American public was dissatisfied and illegal operations surrounding meat flourished.
"Meatleggers" and the black market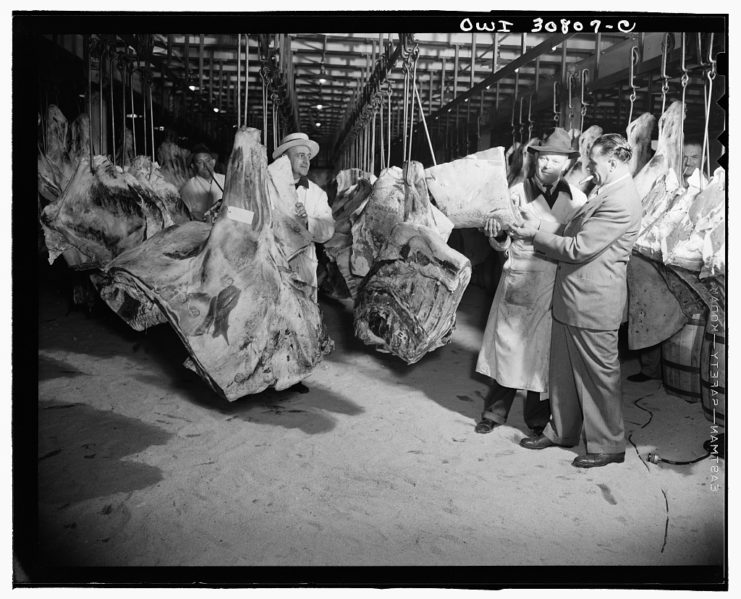 By 1943, consumers were facing shortages and limits on their favorite meats- beef, pork, veal, lamb, and especially steak. Good cuts of meat were becoming increasingly impossible to find. Independent operators began buying and slaughtering animals clandestinely, selling the meat on the black market at higher prices. These cuts didn't require consumers to waste their rationing points, and they had better access to the meat they so desired.
Legally, the unregulated killing of cows and pigs added to the criminal activity in the black market meat industry. Underhanded businessmen would attend livestock auctions and outbid legal buyers to get the cattle and then resell it to butchers. The slaughtering process for the black market meat business was also underground, meaning they were unsanitary. Thus, the meat being sold on the black market posed a health risk to Americans at home.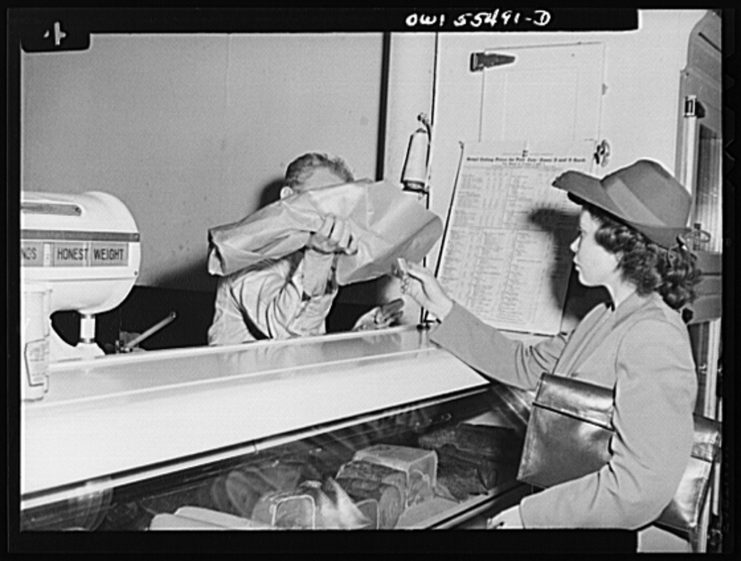 The federal government made attempts to stop illegal meat selling on the black market. A 1943 propaganda film titled "Black Marketing" focused on the illegal transactions happening on the black market. Similarly, the popular radio show "Fibber McGee and Molly" featured a black market meat storyline, in which everyone who purchased and ate black market meat fell ill. Nonetheless, the underground meat market continued to flourish in America during the Second World War.
Ray Sprigle and the case of the Pittsburgh meat scandal
Pittsburgh's black meat market was one of the biggest in America. As early as 1943, local newspapers called for the end of the "meatleggers" in their city. The black market industry was thriving in broad daylight, prompting Post-Gazette reporter Ray Sprigle to go undercover as a buyer to see how much illegal meat he could secure.
In a one-month period (March to April 1945), Sprigle was able to get his hands on more than a ton of black-market meat. His findings ran in a seven-part series on the front page of the Pittsburgh Post-Gazette and 22 other newspapers as well as Time magazine in April 1945.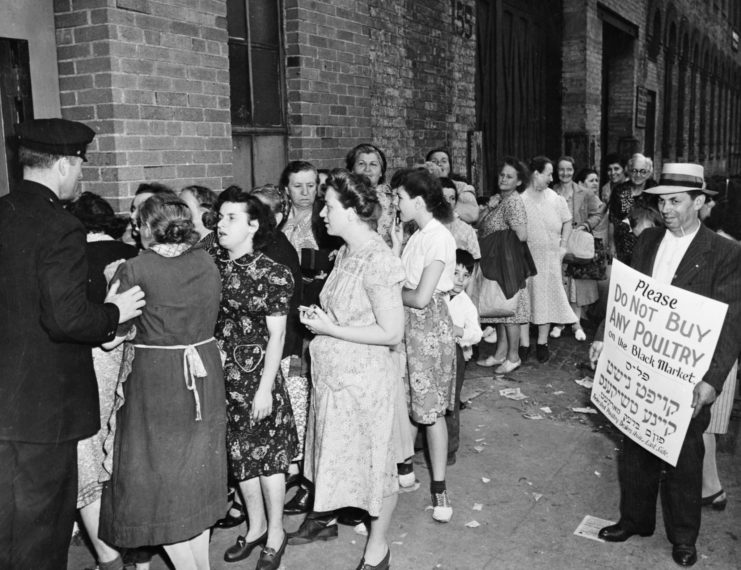 As a result of Sprigle's findings, some black market dealers were indicted by a Grand Jury, and the OPA made significant program revisions. However, while some people praised the investigation and findings, other people hated it. Consumers did not want to give up meat, especially in heavy industrial areas such as Pittsburgh.
The black market for meat remained a lingering problem in American until October 1946, when President Harry Truman finally removed meat products from ration rolls.