Anchorage, Alaska – Carbon-copy transcripts of the Nuremberg Trials, these are but some of the mementos of a Nuremberg stenographer that will be put up on sale today.
The keepsakes were contained in locked old trunk which auction house workers found in a long vacant Alaskan home they were clearing out before it goes down the for sale list. As they couldn't find a key, the crew destroyed its lock to find yellowed papers and blankets inside. having figured they were personal stuff, they took it back to the warehouse of Alaska Auction Co., an auction house based in Anchorage.
It was only back there that they discovered there were more inside the said old trunk. Among the papers were carbon copies of transcripts taken during the Nuremberg war-crime trials. Additionally, the workers were also able to find a staff directory containing the multinational tribunal who prosecuted the many Nazi leaders in the said trials. There was also a letter addressed to faithful Nazi members with the signature Heil Hitler, some personal credentials and a number of correspondence all belonging to a Nuremberg stenographer. This same person was the one who kept all these keepsakes for decades.
That Nuremberg stenographer was revealed to be the late Maxine C. Carr. And the mementos she kept in that old trunk are a featured lot in a WWII relics auction which will happen today [Saturday, September 27].
According to Christine Hill, who owns Alaska Auction Co. together with her husband, they went through the Nuremberg stenographer's mementos filled with an unsettling feeling. She further added that it was chilling going through all the paper works.
The Nuremberg stenographer's collection is being sold off as one lot without any bidding amount set. Aside from it, other WWII relics to be sold off in the said auctioning event include private collections dating back to the WWII-era — Nazi arm bands, German and Russian medals as well as a small Hitler propaganda booklet. Moreover, Alaskan artifacts are also featured like ivory carvings, old photos and even a black bear and coyote head mounts.
Knowing More about the Nuremberg Stenographer Maxine C. Carr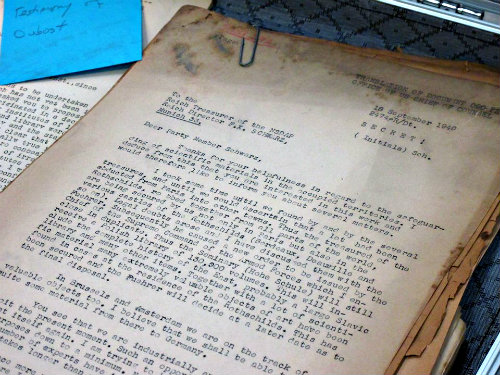 Little is known about Carr's stay in Alaska. They did find a state license for fishing issued to her name bearing the year 1951. She was 29 years old at that time. According to state records, she eventually used her married name Maxine Sud while she stayed in Alaska. Carr died at least ten years ago though the exact time of her death is unknown.
Her widower, Chand Sud, is still living, though. Already 91 years old, he lives in an assisted-living facility in Anchorage. However, he declined to comment about the life of his late wife. Hill said that he was surprised upon learning about the documents in Maxine's possession even though he already knew about her part in the Nuremberg trials.
According to an old news clipping, undated, found among Maxine Carr-Sund's belongings, she worked for two years and eight months with the International Military Tribunal staff in Nuremberg. Then, when the historic Nuremberg trials began in November of 1945 – the war crime trials where 12 defendants, including Hitler's aide Hermann Goering, were sentenced to death – where Maxine worked as a stenographer.
Interest in the Documents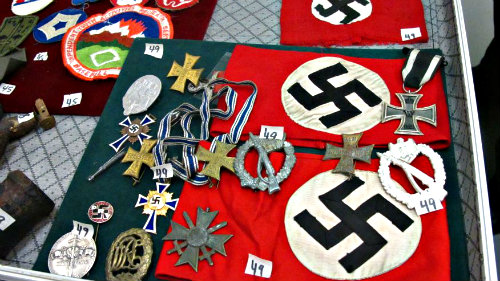 After almost 70 years since WWII ended, many institutions have gotten hold of extensive collections of the documentation of the Nuremberg trials.  As Ed Moloy, Harvard library's curator of modern manuscripts, pointed out, while Maxine C. Carr's collection is quite interesting, it is not particularly exceptional.
However, he added, he believes that it might be appealing to private collectors who want to have the said documents for their own personal acquisition.