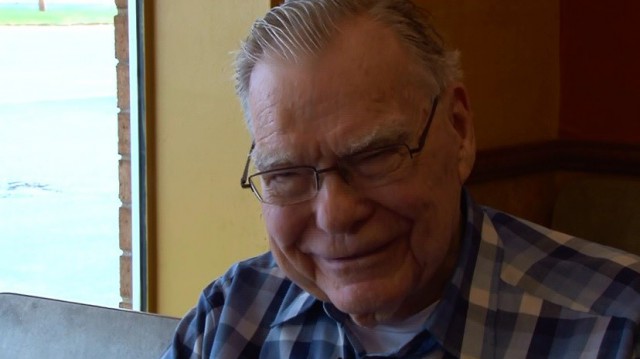 An Alabama World War Two veteran is being treated to his daily lunch by thankful and appreciative locals in North Alabama.
Mr Gilbert who is now 93 years old goes to his local Subway sandwich shop every lunch time for a turkey sandwich and to chat with his friends and other local residents. Friends and locals say that Mr Gilbert always has a smile on his face and has many stories from the war and his past that he loves to tell.
This week, however, Mr Gilbert's son was visiting and joined him for lunch.
Mr Gilbert turned 20 and within two months was enlisted in the US Army. He was immediately deployed to the Pacific theatre of war. He served for the entire war and afterwards returned to his hometown in Alabama.
By that time it was the era of the baby boomers and so Mr Gilbert got married and had two children.
It was a few months ago that one of the locals offered to pay for Mr Gilbert's lunch and since then it has become a regular occurrence as a sweep of kindness  spread across the town to say thank you to Mr Gilbert for his war time service.
Mr Gilbert isn't even aware who many of the donations come from and says he would like to thank them.
The employees at the restaurant say they are astounded by the acts of kindness in the town. They have become very fond of Mr Gilbert and love to see him every day.
The restaurant says that it is great to see its customers care about each other in this way and that they are recognising Mr Gilbert's past war service.
Meanwhile, Mr Gilbert says that he is onto a good thing eating his lunch every day for free, the WAFF reports.
Social media has even latched on to the trend with a new Facebook page launched called 'Buy Mr Gilbert's Lunch' and anyone can join.