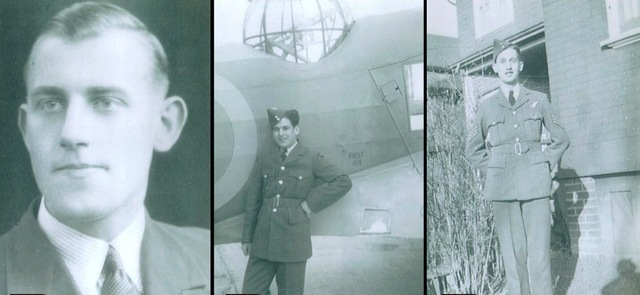 The five airmen were trapped inside the Halifax bomber for 70 years. The bomber crushed into a swamp after it was shot down during a night raid over Germany. As the missing plane was finally found, their families are now asking the Government to give them a proper burial.
"It would be a nice thing for them to finally be laid to rest in a proper burial," said Pat Davies,93, Sgt Peter Buck's sister. Mrs Davies insisted that the Government should do something about it, considering the fact that they went out there and did their jobs and protected the country. She said her brother Peter loved flying and he loved his crew and they were really good friends.
The crew on the aircraft went on a night raid over Berlin on August 23, 1943, the night the Halifax bomber HR980 was shot down. It then crushed into a swamp nearby Gollin and about 35 miles from Berlin. The Nazis were able to find two of the men before the plane vanished.
Mrs Davies said they weren't told anything at the time, except from the fact that they crashed and approximately where it happened but apart from that, nothing. On board of the Halifax bomber HR980 were Flt Sgt Harley Harber, 27, and Sgt Arthur Cox whose age remains unknown, both Australian air gunners, who were found by German soldiers and buried in Berlin.
The rest of the crew remained missing in action for 70 years. These were Australian pilot Flt Sgt. William Burgum, 21, Sgt. Roland Hill, 32, Sgt. Peter Buck, 20, Sgt. Donald Hempstock, 21, (British) and Flt Sgt. Gordon Harrison, whose age remains unknown (Canadian). As the swamp began to dry, parts of the wreckage were unearthed and recently found by German aviation archaeologists, the Express reports.
Although the crash site was rediscovered in 2002, only recently have German archaeologists received permission from authorities to recover the wreckage. The families of the five airmen are urging the British Government to support the £50,000 project.
One member of the family of air gunner Flt Sgt Harber has being collaborating with the German archaeologists, helping them to locate the crash site. John Williams expressed his regret saying that these brave men died alone and away from their families, that they went to war to fight for a better world, they died trying and that it's important to give them a proper burial. They deserve it and we owe them this.
A team is now trying to recover the bodies of the missing crew. In the meantime, the British and German Governments are yet to make a decision "as to which one is responsible for the operation," said Mr Wiliams.