Air Force One has been the famous transport aircraft for US presidents since the late 1980s. It is recognised around the world in its white, blue and gold livery, marking the arrival or departure of one of the most powerful individuals on the planet.
With such an important and unique role, it is only natural that the aircraft is packed with plenty of interesting facts and is preceded by a fascinating history. Here is a list of facts about the president's ride.
1. Air Force One isn't a single aircraft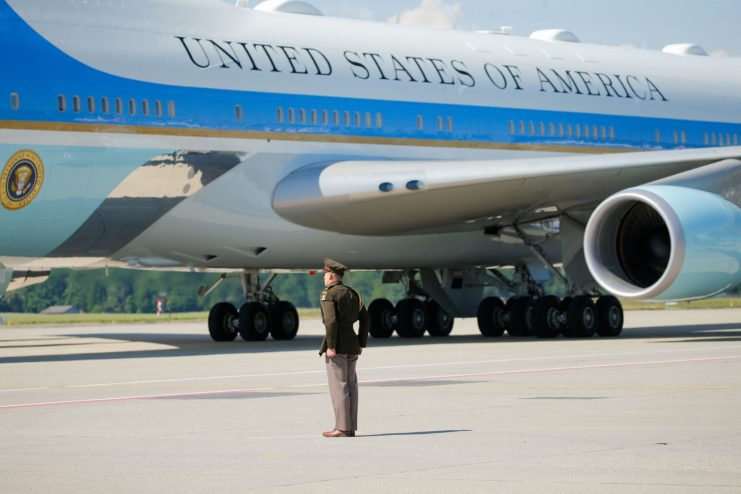 Probably the most important fact on this list is about the name "Air Force One," which isn't actually the name of an aircraft at all. Normally, the name is used to refer to either of the two presidential Boeing VC-25 aircraft, but it is in fact the call sign for any United States Air Force (USAF) aircraft carrying the president. When a president flies on a civilian aircraft, it is given the call sign "Executive One."
Aircraft designated as presidential transports before the VC-25 and any in the future all receive the same Air Force One name when carrying the president. Despite this, the two current VC-25s are referred to as Air Force One even when the president is not on board.
2. The president and vice president never fly aboard the same aircraft
For security reasons, the president and vice president are prohibited from flying on the same aircraft at the same time. Instead, the vice president flies in Air Force Two, which today usually refers to the Boeing C-32.
Joe Biden was aboard Air Force Two during a bird strike in 2012, forcing it to land. Another bird strike occurred in 2020 with Mike Pence on board. Had either of these ended in a crash with the president and vice president on board, the nation's two most powerful political figures would have been lost at once. Clearly, the rule is in place for good reason.
3. Air Force One is a heavily modified civilian aircraft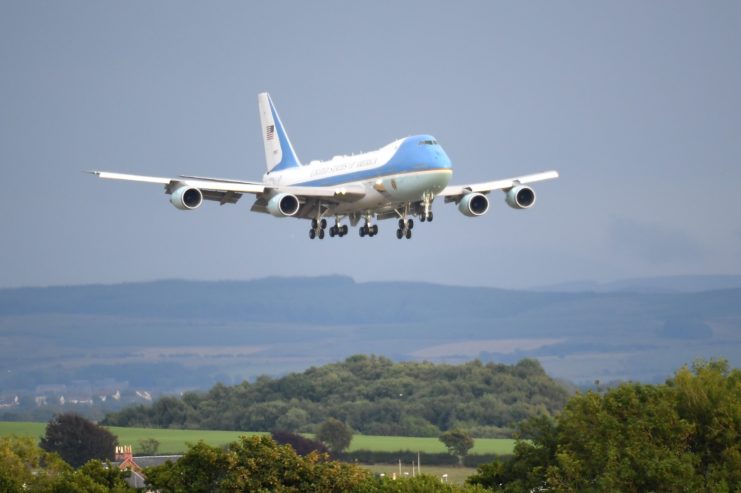 Air Force One is a VC-25; a heavily modified version of the long-lived Boeing 747 passenger jet. Only two such aircraft currently exist, and both can serve as Air Force One. They can be identified by their tail numbers, which are 28000 and 29000.
The aircraft's interior is customized to the needs of the commander-in-chief but has also been modified for the less glamourous requirements for such a role. One such change is the addition of in-flight refueling, which effectively gives Air Force One unlimited time in the air, depending on the aircraft's consumables.
Although it has this useful feature, the aircraft has never needed to use it while transporting a president.
4. All electronics aboard Air Force One are protected against attacks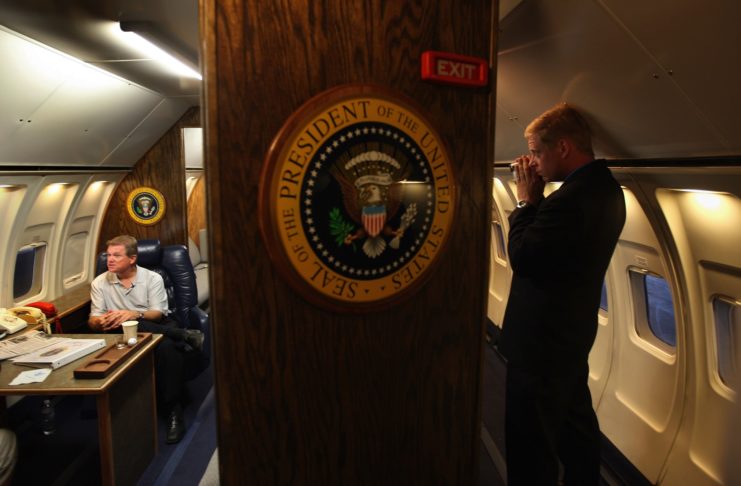 As is to be expected, Air Force One carries a huge amount of electronics for leisure, communication, and running the country. Normally, technology onboard an aircraft in the air is vulnerable to attack, but the electronics contained within Air Force One are protected against hacking and electromagnetic pulses. For physical attacks, the aircraft can deploy chaff and flares to confuse incoming missiles and its windows are bulletproof.
In addition to this, the aircraft carries a classified type of "advanced secure communications equipment." The White House guarantees that Air Force One contains everything the president needs to deal with a crisis while in flight.
5. Air Force One is quick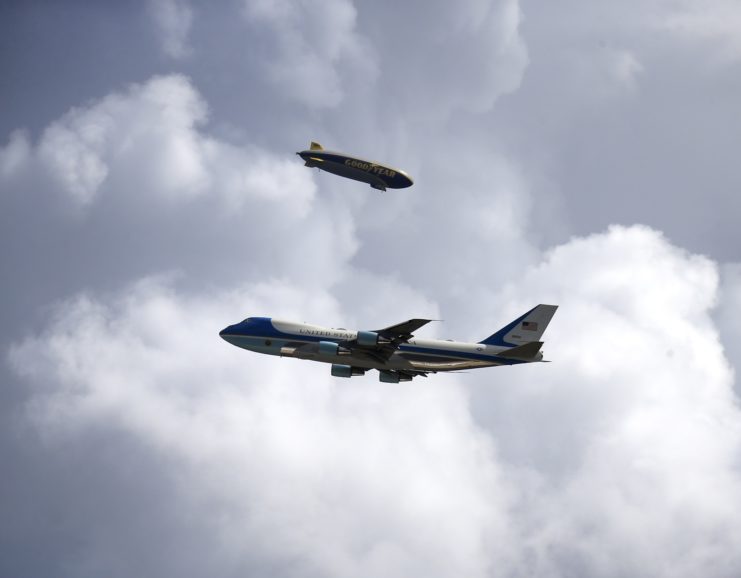 Although it has to lug around the president's entourage, their possessions and all the associated equipment to serve as the president's VIP transport, Air Force One is no slouch. It can fly at over 600 mph, faster than the standard civilian version of the 747 that cruises at around 570 mph.
6. It is like a flying hotel
Air Force One is equipped to carry 76 passengers, including the president. To cater to these needs, spread over its three floors the aircraft contains an office, bathroom, bedroom, 85 phones, and a conference room to serve as a flying Oval Office. For any medical issues or emergencies, Air Force One has its own medical room, operating room, and a doctor, who travels with the aircraft on every flight.
To cater for the many mouths on board the aircraft, Air Force One has two kitchens that have the capacity to feed 100 people at once and provide up to 2,000 meals on a single flight.
7. Air Force One will never stop at an airport terminal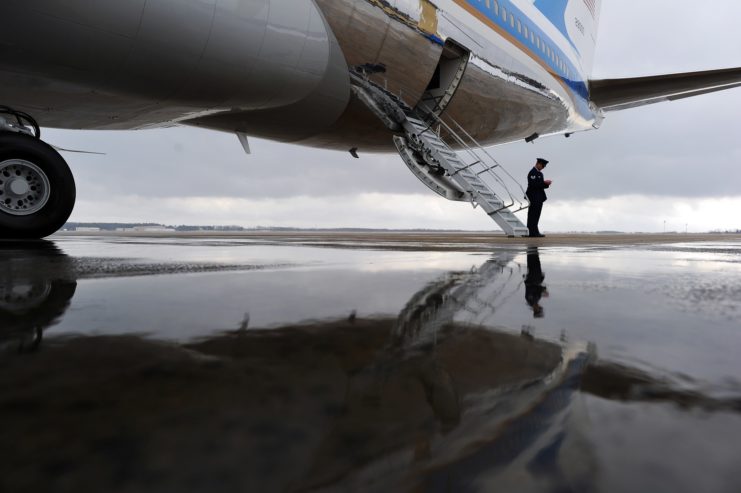 Not parking up at an airport terminal is another one of Air Force One's quirks. This is done for two main reasons; security and to enable a quick take-off if needed. Maneuvering such a large aircraft in and out of an airport terminal is a difficult process and could cost the president valuable time in an emergency.
Luckily, Air Force One has its own built-in stairs, so they don't need to rely on foreign amenities.
8. It's Painted Robin's Egg Blue because of Jackie Kennedy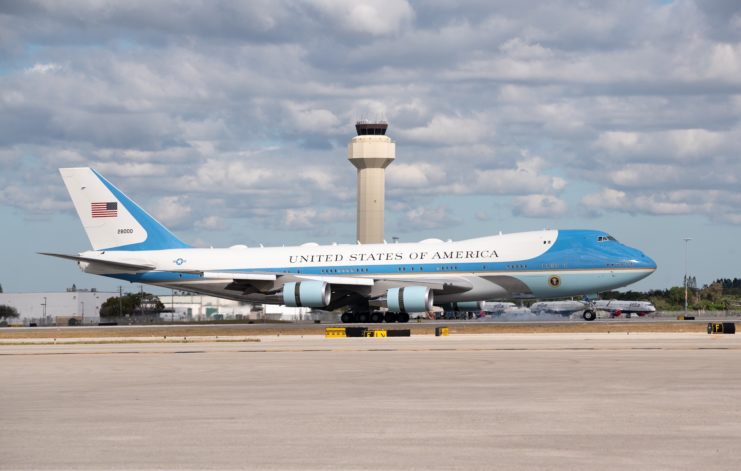 The light blue exterior color that currently adores the most recent Air Force one aircraft was the brainchild of First Lady Jackie Kennedy and industrial designer Ken Walsh. Jackie Kennedy was working on the color scheme for the plane's interior design and she was immediately drawn to the light blue that now adorns the aircraft.
Ken Walsh, author of "Air Force One: A History of the Presidents and their Planes" says Jackie Kennedy "felt it was understated but memorable, and President Kennedy agreed," he said.