By Katherine Egner Gruber,
Special Exhibitions Curator at the Jamestown-Yorktown Foundation
The Revolutionary War victory at Yorktown in 1781 wasn't an ending—it was just the beginning of a new journey for the soldiers and citizens who fought for America's independence. Follow their stories after the war in the American Revolution Museum at Yorktown's inaugural special exhibition, "AfterWARd: The Revolutionary Veterans Who Built America."
Now through November 27, 2017, the 5,000-square-foot special exhibition chronicles the post-war lives of veterans of the Siege of Yorktown, including George Washington, Charles Cornwallis, Henry Knox, Alexander Hamilton, James Lafayette, and the Marquis de Lafayette, as well as lesser-known veterans. By exploring these historical figures as veterans, the exhibit invites visitors to make important connections between the past and present.
More than 60 artifacts on loan from American and British museums bring to life Revolutionary War veterans' ongoing contributions and influences throughout history. Highlights include a large gun captured in India, on loan from the Royal Armouries in Leeds, the dove of peace weathervane that once adorned Mount Vernon, Henry Knox's original Society of the Cincinnati eagle medal, Alexander Hamilton's own portable writing desk, and a carriage commissioned for the use of the Marquis de Lafayette's farewell tour of the United States in 1824, on loan from the Studebaker National Museum in South Bend, Indiana.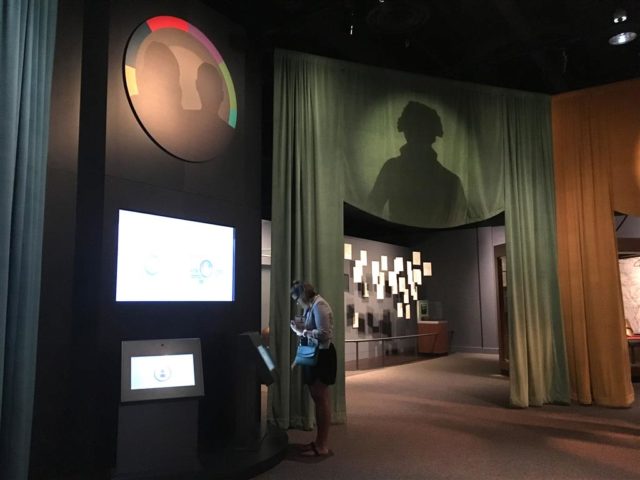 The exhibition also features a short film and two interactives, which encourages visitors to make personal connections not only with veterans of the Revolution, but with veterans today. An interactive "Legacy Wall" multimedia display will highlight stories and images of veterans from all eras of American history, from Colin Powell and Johnny Cash to Neil Armstrong and Julia Child. Visitors are encouraged to add their own stories to the wall and find personal connections to the veterans of Yorktown.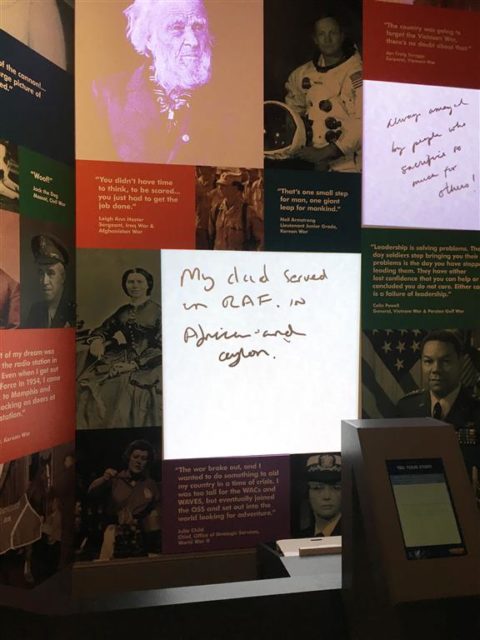 The special exhibition is sponsored in part by Altria Group, with additional support from the Virginia Society Sons of the American Revolution, James D. and Pamela J. Penny and Harry and Judy Wason.
AfterWARd' Special Programs Celebrating and Connecting America's Veterans
A variety of special programs, public lectures and presentations, made possible in part by Dominion Energy Charitable Foundation, are being presented in conjunction with the special exhibition:
June 10: "Slave Spy: The Story of James Lafayette," 7 p.m. – James Lafayette's success as a spy for American forces was instrumental in setting up the siege at Yorktown. Actor Jamar Jones presents Slave Spy, a one-man show depicting this overlooked story. Slave Spy was written by Abigail Schumann and produced by the Jamestown-Yorktown Foundation.
June 23-24: "Profiles of Honor" Traveling Exhibition, 9 a.m. to 5 p.m. – The "Profiles of Honor" traveling exhibition brings to life Virginia's integral role in World War I and II and highlights stories of people who served in both conflicts. Visitors are invited to bring personal World War I and II-related photographs, letters and documents to be scanned for inclusion in the Virginia Profiles of Honor Project. Sponsored by the Virginia World War I & II Commemoration Commission.
July 25: "Studebaker Goes to War!", 7 p.m. – The Studebaker National Museum shares the story behind the carriage used by the Marquis de Lafayette during his 1824 visit to America and Studebaker's long history of supplying vehicles to the military. Presentations by Archivist Andrew Beckman of the Studebaker National Museum and Marc Sammis of the U.S. Army Transportation Museum at Fort Eustis.
August 17: Veterans Benefits Clinic, 11 a.m. to 2 p.m. – The American Legion answers questions about benefits, process claims, and help secure I.D. cards.
August 17: "Rewarding the Soldier: Veterans' Benefits Then and Now" Panel Discussion, 6 p.m. – Explore the history and evolution of benefits afforded to America's military, from land warrants and pensions to medical service and the G.I. Bill. Presentations by law professors David Boelzner of the College of William and Mary and James Ridgway of George Washington University.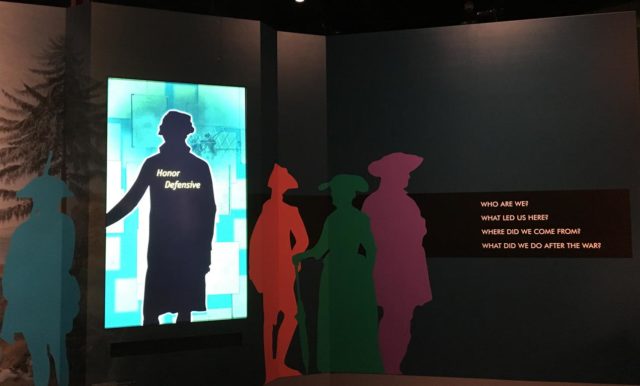 September 16: "Meet Alexander Hamilton," 11 a.m. & 3 p.m. – Eben Kuhns of the American Historical Theater portrays a young Alexander Hamilton recounting the trials and tribulations of the War for Independence.
September 17: "Alexander Hamilton: Legacy of a Founding Father" Lecture, 7 p.m. – Rand Scholet, president of the Alexander Hamilton Awareness Society, and Michael Newton, Hamilton biographer, will discuss the ongoing impact that Alexander Hamilton has had on America as the nation's first Secretary of the Treasury.
September 29-30: "The American Soldier, 1774-2015," 8 p.m. – Based on real stories and accounts from soldiers' letters written from the American Revolution through Afghanistan, Broadway producer and actor Douglas Taurel reveals the struggles American soldiers face at war and their internal struggles to come back home. The one-man show sheds light on how and why it is so difficult for men and women in the armed services to re-enter everyday life when they come home. The acclaimed production honors and exposes their flaws, their scars, their families and spirits with both humor and darkness. Tickets to the evening performance are $14.00.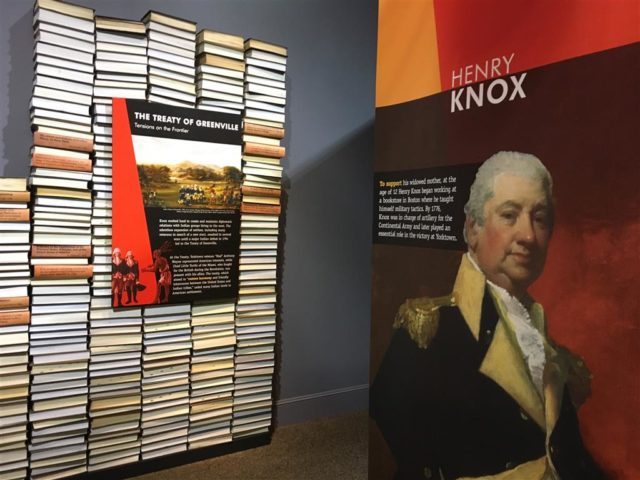 October 5: "Brothers at Arms" Lecture, 7 p.m. – Larrie D. Ferreiro, an author and Pulitzer Prize finalist, discusses his book "Brothers at Arms: American Independence and the Men of France and Spain Who Saved It." The book explores how the American Revolution's success depended on substantial military assistance provided by France and Spain. The paperback version of the book will be launched at the event and available for purchase. Admission to the lecture is free; advance reservations recommended at (757) 253-4572.
October 12: "The Revolutionary War Lives and Letters of Lucy and Henry Knox" Lecture, 7 p.m. – Phil Hamilton, history professor at Christopher Newport University, launches a new biography that delves into the personal life and marriage of Washington's chief of artillery. Admission to the lecture is free; advance reservations recommended at (757) 253-4572. Books will be available for purchase.
October 18: "Lafayette's Grand Tour of 1824" Lecture, 1:30 p.m. – Alan Hoffman, President of the American Friends of Lafayette, recounts Lafayette's momentous return to America 43 years after the end of the Revolution. Included with museum admission.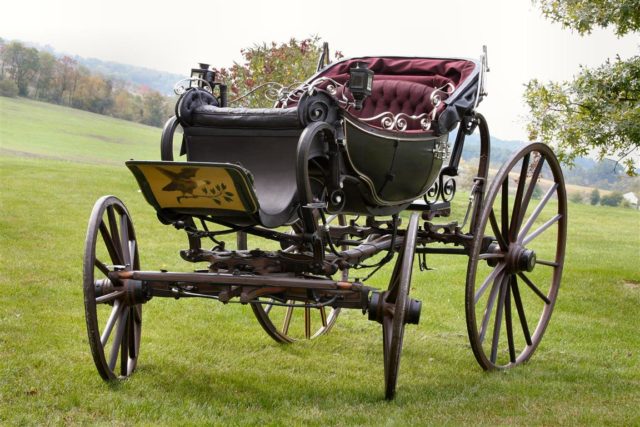 October 18: "The Lafayette Trail" Lecture, 2:15 p.m. – French historian and geographer Julien Icher will discuss his efforts this past year to retrace Lafayette's 1824 New England tour and share aspects of a new "Lafayette Trail" mobile application with the Consulate General of France in Boston to re-create Lafayette's historic journey. Included with museum admission.
October 18: "Lafayette and Human Rights" Lecture, 4 p.m. – Discover how the Marquis de Lafayette's influence in the world went beyond America's Revolution. Diane Shaw, director of special collections at Lafayette College, traces his work with human rights. Included with museum admission.
November 11: "Stand Up Comedy Night: Veterans Take the Mic," 8 p.m. – "Stand Up Comedy Night" features the talent of graduates of Comedy Bootcamp, a seven-week workshop offered by the Armed Forces Arts Partnership. Tickets to the evening performance are $14.00.
November 15: "The Legacy of Henry Knox" Lecture, 7 p.m. – Knox Museum Curator Matthew Hansbury discusses the many contributions made by Washington's chief of artillery in his post-war years as the nation's first Secretary of War. A special artillery demonstration will precede the talk. Admission to the lecture is free; advance reservations recommended at (757) 253-4572.
By Katherine Egner Gruber,
Special Exhibitions Curator at the Jamestown-Yorktown Foundation
American Revolution Museum at Yorktown