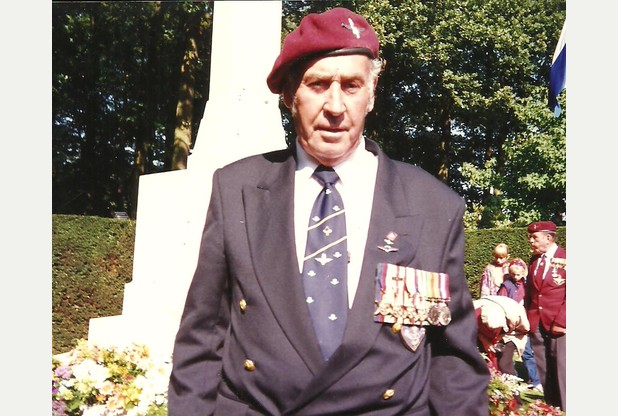 A World War II paratrooper who took part in the Battle of Arnhem has recently died. He was 90. Philip Letchford was among those paratroopers who were dropped at Arnhem to capture the bridge in the city.
The Battle of Arnhem, which was fought by the British 1st Airborne Division and the Polish Independent Parachute Brigade in and around the Dutch towns of Arnhem and Oosterbeek, was not one of the successful campaigns for the Allies.  The battle, part of Operation Market Garden, lasted for a week, from 17th to 26th September 1944. The Allied forces' objective was to outflank the German Siegfried line. after they had successfully swept the Nazis out of France and Belgium.
The goal of Operation Market Garden was to drop paratroopers along a 60 mile road and seize and control key bridges over rivers and canals, in order to facilitate the advance of the ground troops. Unfortunately, at Arnhem, the paratroopers had to land far from the bridges. They quickly got surrounded by unexpectedly strong German resistance. Only 750 out of 10.000 soldiers that had landed made it to the Road bridge, but they could not keep hold of it long enough as the planned relief by the ground forces was delayed. The rest of the Division fought for its survival in nearby Oosterbeek. After a week of fierce fighting they were withdrawn across the Rhine in what was called Operation Berlin.
Over 1000 Allied soldiers perished in the battle and the key objectives were never achieved. It took the Allied forces a bit of time to gain back the momentum they had before the Battle of Arnhem.
In the Battle of Arnhem, Mr Letchfor, part of Company C of the 2nd Battalion, fought alongside his twin brother Arthur at the road bridge.
Mr Letchford joined the King's Royal Rifle Corps when he was 17. He actually faked his birth documentation in order to qualify for the Royal Rifles, since he always wanted to be a soldier. Not long after he was accepted, Letchford joined the Parachute Regiment and served as a paratrooper in the regiment throughout WWII, the Canterbury Times reports. The brothers took part in various battles in North Africa and Sicily before being captured at Arnhem.
Mr Letchford was given a military funeral, with full regimental honours. A large number of locals gathered to pay their respects to one of their brave soldiers from WWII. It was very unfortunate that Mr Letchford could not live long enough to celebrate 70 years of Victory in Europe, in which he played an active role. During the service, Letchford's brother read the Paratrooper's Prayer and paid his respects to a brave soldier and a great brother.