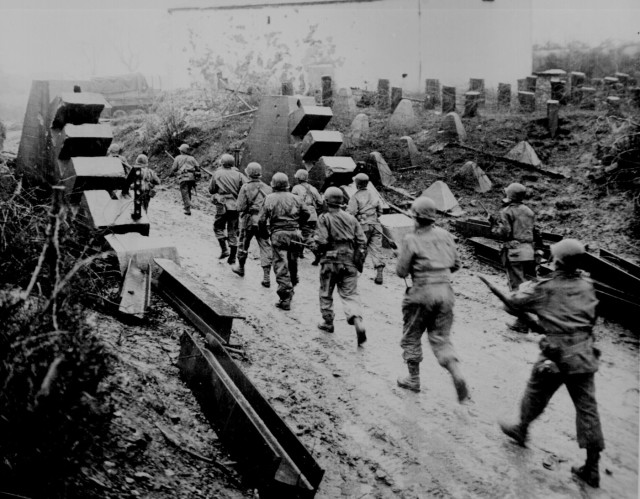 It was the middle of the night in March 1945 at the end of WWII. Leland Hortman's army unit received orders to cross the Rhine River, on Germany's western border, to fully engage with and destroy the last Germans waiting on the other side.
Rafts were assembled from railroad ties lashed together with steel cables. Each raft was able to carry six soldiers. There were no paddles, which meant the soldiers used the ends of their rifles to get across. The men tried to be as quiet as possible as they embarked. If the Germans had any inkling these men were coming they would be slaughtered, so exposed they were out in the open, they had no way of protecting themselves.
Hortman was armed with a Browning Automatic Rifle (BAR) and two bandoliers of ammunition. The men arrived on the other side unnoticed. About 1,000 yards from the river was a line of trees that needed to be reached. But then things took an abrupt turn. Suddenly as the unit approached the next target, Hortman was peppered with bullets in rapid succession.
First the gas mask that was tied to his utility belt was hit by a bullet and dropped to the ground. Then he felt another bullet strike the two bandoliers fastened around his neck. These too fell to the ground right as a third bullet cut through his field jacket into his left shoulder area. The bullet fortunately did not penetrate through the skin, but it did burn him. Despite the bullet making 14 holes in the folds of his jacket, Hortman was remarkably uninjured, aside from the burn.
Born in Cotton Valley, Louisiana, in 1925, Hortman's family moved to Minden, Louisiana, to run an 80-acre farm when he was four years old. In 1943, he graduated from a local school and enrolled at Louisiana Technical University in Ruston, Louisiana. Hortman had completed just two semesters before he reported for duty, as the war was well underway. His original plan had always been to enroll in the Navy Air Corps, but those aspirations were squashed due to a scar on his left iris. The injury was from his childhood.
The Army Air Corps said they would take Hortman despite his impediment, but he declined after hearing about all the army pilots that were killed in the Pacific while fighting against the Japanese. It would only be a matter of time before he would be drafted, so he returned home to wait for the official call. Sure enough, four months later he was drafted to fight in the infantry in General George Patton's Third Army. Before being shipped out for his tour Hortman received training at Fort Humbug, Louisiana; Camp Robinson, Arkansas; Atlanta; Camp Cront, South Carolina; and Camp Patrick Henry, Virginia.
By the winter of 1944, Hortman was shipped out with thousands of fellow soldiers on the fastest ship at that time, the Queen Mary. They all shipped to Northern Ireland and continued on to Southampton, England, to avoid the German submarines. The Queen Mary made it across the Atlantic in just three days, but the rapid and violent ride made many of those onboard severely seasick.
Once they crossed the English Channel from South Hampton to LaHarve, France, in a landing craft, Hortman's unit boarded a train to Paris. From there he went to Metz, France, to join the 90th Infantry Division. His unit was ordered to support the units already fighting in the Battle of the Bulge. Hortman knew how to operate the Bazooka, the BAR, and the Garand M-1 rifle, weapons he frequently used during the fight against the Germans.
The unit pushed on until it was about 100 miles from Prague, Czechoslovakia, a total distance of nearly 400 miles. There was an incident while crossing the Mozelle River where Hortman and his unit came under heavy fire. He jumped into the chest-high water, keeping his rifle above the water. His K-rations were destroyed, which meant he had to share his buddy's K-rations over a three-day period.
Though Hortman had crossed the Rhine without sustaining injuries from his run-in with German troops, during action shortly afterward a mortar round exploded only ten feet away from him. The power of the blast sent him and a fellow soldier flying several feet. Brick fragments were flying too and hit Hortman in the midsection. The buckle of his outer utility belt and the buckle of his inner belt were both shattered. Somehow Hortman managed to avoid injury once again. Weeks later he was left picking pieces of brick out of his skin, but he required no medical treatment. He was now eligible for the Purple Heart.
Hortman actually refused the award, because he knew it would be sent home to his mother. He felt it would put her under far too much emotional distress, or even kill her, to receive the award. Hortman and his unit pushed through many southern German towns, forcing the German army out of towns and the countryside. He did receive the Bronze Star, an honor recognizing his courage and heroism in combat, as he was frequently under fire.
Another award given to Hortman was the Combat Infantryman's Badge, which is given to soldiers who fight 45 consecutive days in combat. Hortman easily surpassed that, spending 136 consecutive days in combat during his service. General Patton was known for riding his soldiers hard during war. He gave his men a rest only when they were exhausted.
This approach was not always appreciated by his fellow commanders. However, Hortman and his unit liked Patton's push-forward approach. In their heads, it was a tactic that would get them home sooner. Near the end of the war, Patton's tactic became known as the "Rat Race," a daring effort to defeat the German war machine, quickly.
While pushing through the town of Merkers in 1945, Hortman's unit came across steel air vents that were sticking out of the ground. It turned out the vents served as a ventilator for the Merkers salt mines, where millions of pounds of gold and silver were being hidden by the Germans. Thousands of famous paintings that had been pillaged by the Germans from various cities and towns they conquered were also hidden in this mine. Worst of all, many gold teeth that had been pried from the mouths of people before they were killed were found down there too.
Hortman's unit was ordered to go through the treasure trove so it could be transported and distributed to as many rightful owners as possible. The Hollywood movie "Monuments Men" was based on the Merkers salt mines.
Finally, his unit arrived at the German town of Wendechenbach, which was home to Flossenburg concentration camp. Germans guarding the camp were forced to surrender, and those who did not were killed. The camp was liberated, and prisoners were given food, clothing, and other necessities while waiting to be sent home. The remaining German soldiers were placed inside the camp as prisoners, which served as a small gesture of justice.
Hortman saw many things in that camp he does not like to discuss. He saw furnaces that incinerated the bodies of so many innocent Nazi victims
Only the shoes of the victims remained.
An armistice ended the war just before Hortman and his unit reached Prague. He reported to Fort Bragg, North Carolina, where he was discharged on July 8, 1946.
After being discharged Hortman returned home and re-enrolled in college. Just last year he was delighted to join other veterans on a historic "Honor Flight" to Washington D.C. to view the WWII memorial.