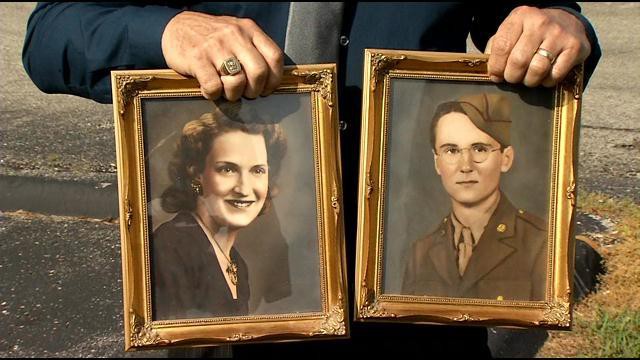 [Via]
After a family accused the Ever Green Cemetery in Louisville of a negligent mistake, a Second World War veteran and his adult son had to be reburied at a separate place to the discomfort of the family and friends.
The Veteran, Mr. Jack Dudley's son, Bill Dudley expressed his grief over the whole affair by saying that his family have to relive the moments of the loss of their loved ones due to the actions of the Ever Green Cemetery.
The police had cordoned off all the entrances to the cemetery, and no news teams were allowed in. Police officials stated that this was a private matter of the family and no outsider was allowed. This was contrary to the fact since the Dudley family had previously invited media reporters to visit and report on the issue.
This is not the first time that a member of public has a run in with the Cemetery. In the past there had been a number of suits against the cemetery regarding wrong and in some cases plain misleading information.
In the past a family was given a wrong plot number, and they did not know where their loved one was buried for more then a decade. After ten years of visiting someone else's grave the family was told that their loved one is buried elsewhere. In another incident a family bought a waterproof vault for their mother, only to find out the vault had lakes of water, while they were trying to relocate the body.
The Dudley family already had pre booked a plot for their mother to be buried alongside her beloved husband Jack Dudley a veteran of the Second World War. According to Bill Dudley, it was literally the last wish of their mother to lie beside her husband after she died. But the family later came to know that Ever Green Cemetery refused them the plot for burial for no good reason what so ever. Family now faced a dilemma to either bury their mother elsewhere or bring the bodies of their father and his son to another cemetery, the WDRB.com reports.
The whole episode of losing their mother and having to rebury another two love ones added to the grief of the family. Bill Dudley is saying that he is now planning to launch a lawsuit against the Cemetery for deception and causing distress to the families. He is adamant that the Ever Green Cemeterycannot play with the feelings of the people and then get away with it.