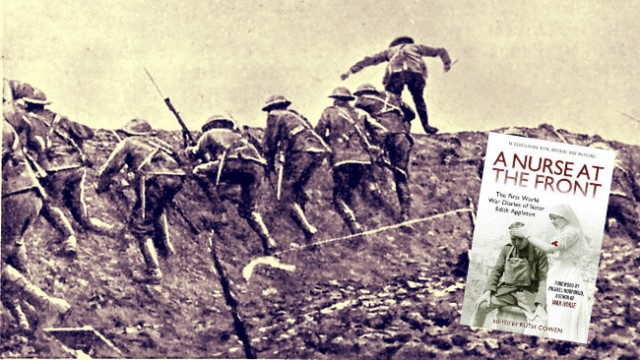 A Nurse at the Front, a compilation of the diaries kept by WWI nurse Sister Edith Appleton throughout the Great War reflects the gruesomeness prevalent all through 'the war to end all wars'.
A Nurse at the Front is the second in the series of four extraordinary Great War diaries published in partnership with the Imperial War Museums which will give its reader a perspective of WWI through the eyes of a war front nurse.
Sister Edith Appleton, the author of the diaries used in A Nurse at the Front, was from Deal in Kent. She kept accounts of the war years while working as a nurse at the General Hospital Nu1.
Her writings published in A Nurse at the Front gives readers a chilling but moving understanding of how it was during those four years of conflict, the bravery and the sacrifices made by the soldiers and the desperation felt by the medical staff in their attempts to save the lives of everyone – soldier or enemy – involved in it.
Sister Edith Appleton, in A Nurse at the Front, detailed with empathy all the events she witnessed during the said conflict. These included her account on the Battle of the Somme – which first day is considered as the blackest day of the British Army when it claimed the lives of 60,000 men, the Battle of Ypres and even when poison gas was first used.
However, Sister Appleton's accounts featured in A Nurse at the Front are not all grim. There is humor interlaced in her words and in some of her stories. She also detailed what life was like for the nurses on the front lines and what she did during her days off.
In her diaries which are the focus of A Nurse at the Front, Sister Appleton didn't just take into account the sufferings and lives of British soldiers. One example was her diary entry on October 3, 1916. Here, she talked about the German prisoners under her care and how jovial their dispositions were and were singing, laughing and talking to each other. She even noted that the German men were nice and were very grateful for what was done for them.
Sister Edith Appleton was given the Military OBE after WWI ended as an appreciation for the bravery and dedication she showed during her service as a nurse out in the battle front. She was also a recipient of the Royal Red Cross and the Belgian Queen Elizabeth medal.