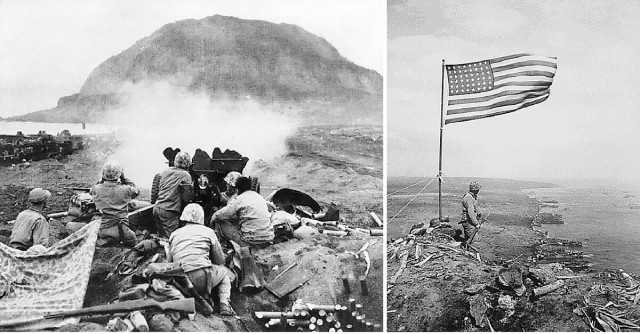 John Cyphers, a 95-year-old WWII veteran, recalls his time serving in the U.S. Navy during the Battle of Iwo Jima. Cyphers was Aviation Machinist Mate First Class on the Aircraft Carrier Anzio. The carrier provided close air support to the American Marines and soldiers trying to seize the island from Japan.
The veteran recalls, "There were no peaceful days and nights out there – no peaceful dreams – period."
Cyphers spent 26 out of his 46 months in service in the Pacific. In that 26-month period he witnessed  several devastating attacks, including those at Iwo Jima. When the Japanese blew up a U.S. carrier near the Gilbert Islands, Cyphers was on board the Anzio not more than a quarter of a mile away: "It sank in seven minutes. I think we lost about 700-800 people."
Cyphers also managed to survive Halsey's Typhoon, which struck the Pacific fleet of 187 ships in December 1944. Cyphers was in the secondary supply fleet made up of 89 ships. Three of the ships were lost during the typhoon; over 700 men were killed as a result.
The Battle of Iwo Jima began on February 19, 1945. The island was captured from the Japanese Imperial Army on March 26. Cyphers said they celebrated onboard his aircraft carrier when news of the American victory reached them:
"It took a while for it to soak in.  There was still combat even after the Japanese surrendered. Two weeks after the war was over we were under air attack. The holdouts – some of the Japanese hadn't got the message." Some of them simply refused to surrender.
Cyphers vividly remembers that it was upon overhearing his boss talking on the phone to the draft board that  inspired him to sign up.
"He said, 'it will do him good', so I volunteered. I was 22."
In 1944, when his ship returned to dock for repairs, Cyphers married his sweetheart. Mixed with these happier memories are the tragic ones. One of his two brothers, George Cyphers, was killed in Iwo Jima a mere two days before the invasion. He was serving in the same battle as his brother.
After the war Cyphers carried on his former role as an aircraft mechanic and later became a pilot and flew corporate aircraft for 20 years.
He now lives in a retirement community in Tealridge, Oklahoma. His walls are covered in war memorabilia, which includes a collection of Navy medals won by him and his great-grandfather who served in the Civil War.