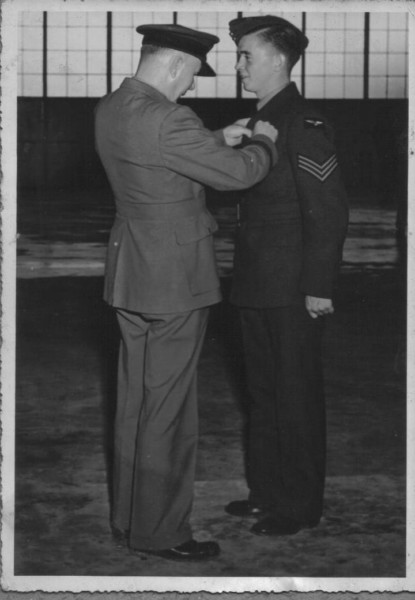 A 93 year old World War Two veteran Royal Air Force officer has died.
John McFarland was originally born in Ireland in 1922, but enlisted with the Royal Air Force in 1941 in the early years of the war.
John was sent to Scotland and joined an air and sea rescue unit, after which he volunteered to join the RAF's revered Bomber Command. So he was sent into training as an aircraft navigator and was sent to Canada to train. When he returned, John was placed into RAF 75 Squadron which was mainly made up of New Zealand servicemen.
Later on in the war, John took part in a dangerous mission where they were tasked with placing sea mines in the area around Kiel, a coastal port town in the north of Germany. When John and his squadron were returning from the mission his plane was shot down over Denmark.
The aircraft was completely destroyed, three of the crew died in the plane crash, while John and one other managed to parachute out. However John was the only survivor as the other crewman's parachute failed.
John ended up landing in enemy-occupied territory in the middle of the night. John's son David says that his father was hiding out and on the run from enemy troops for three or four days. Eventually a local farmer took John in, fed him and gave him a place to stay. He later moved in to a local teacher's house where he stayed in hiding, the News Letter reports.
Unfortunately Nazi troops found John. The teacher he was staying with was sent to a concentration camp, where he eventually died. John was captured as a prisoner of war and was sent to Stalag Luft III, a notorious camp for prisoners of war and the location of the 'Great Escape' which had taken place not long before John arrived at the camp.
As the Allies advanced across Europe and into Germany from the west, and the Soviet Red Army was closing in from the east, the Germans evacuated Stalag Luft III at the beginning of 1945. The Nazis forced thousands of prisoners to march across Germany in order to get away from the incoming Allies. The march became known as the Long March in which thousands of prisoners marched hundreds of kilometres across Germany, with many dying from the freezing conditions.
John survived and was liberated from a camp in Hamburg by the Allied forces. After the war, John returned to Ireland and finished training as a chemist. He set up a shop in Belfast and worked there until he retired in the 1980s.