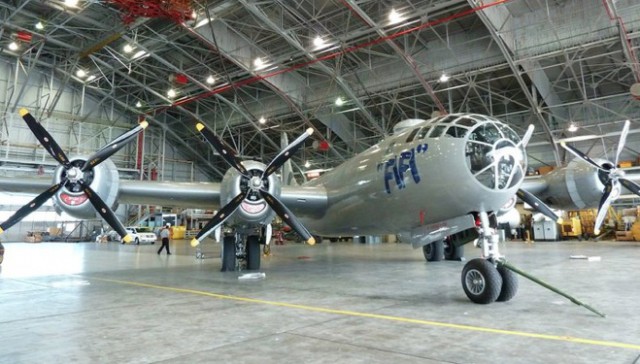 Jerry Micka is a 91 year old war veteran who has had the chance to fly one more time in the B-29 Superfortress bomber that he flew during World War Two.
The flight took place from Eastern Iowa's Airport at Cedar Rapids, where Jerry and his son, Mike, were treated to fly in the B-29. The bomber is nicknamed Fifi and is at this time the only B-29 that is still flying after extensive renovations were undertaken by the Commemorative Air Force.
Jerry's last flight in his B-29 was in 1945 just after the end of the war, when he had to make a final delivery flight that would bring vital supplies to US prisoners of war who had been liberated in China. Jerry said that his last flight was his favourite since he felt like he was helping his fellow soldiers out.
Mike was excited to be able to see his dad back in the aircraft he once flew 70 years ago. He said the Jerry definitely made the most of it and relived every moment of his wartime experience. During the flight,Jerry was able to sit in one of the gunner positions known as the Barber Chair. This was the position that could control all of the gun turrets aboard the bomber.
In total, Jerry flew almost 30 missions in his B-29 Superfortress bomber. His entire service was spent in Asia fighting in the Pacific region.
Jerry joked that he didn't have any 50-caliber shells during the flight, a reference to the munitions the bomber would have used in the 1940s. It was a perfect day for his flight and he couldn't believe the amazing view he got of Iowa State.
Jerry was trained as a pilot in the US Air Force, but when he arrived out in the Pacific the air crewmen most in need were gunners, so he stepped in to fill the role. Luckily Jerry had also had experience with computers, so he was ideal for the position of the central gun controller, since it was all operated electronically, The Gazette reports.
When the flight took off a gathering of friends, families and bomber enthusiasts were watching. Jerry's family said that they would call this his final mission. Florence, Jerry's wife was also in attendance and said that he was so happy to be able to fly in the B-29 one more time, and that it was a day he had been looking forward to ever since it had been suggested to him.
The flight was organised by the Eastern Iowa Honor Flight, which helps to organise commemoration flights for war veterans. It specifically seeks to link veterans with the aircraft that they flew in during the war.
The flight in a B-29 Superfortress bomber is extremely rare, especially because there is only one still flying.