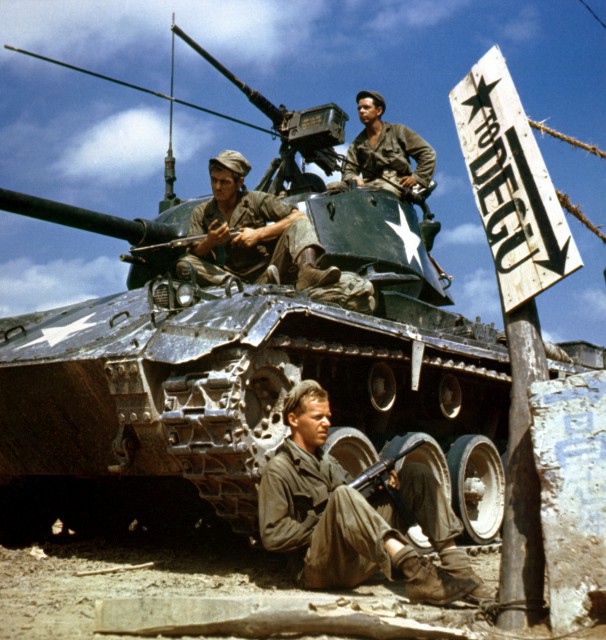 The Korean War started in 1950. It started as North Korean tanks made their way across the border into South Korea. The border had been established on the 38th Parallel at the end of World War Two and hadn't been cross by either side since then.
While South Korean troops held the line against the North Koreans, President Truman met with US officials to decide on a strategy. As days went by the world wondered how much longer the South Koreans could hold off the North without help from the US. Even the then South Korean President Syngman Rhee said that the Americans moved too slowly.
By the end of June, President Truman gathered the necessary officials and an hour later issued a statement that would commit US forces to helping South Korea fight back. It was part of a United Nations effort that was already trying to hold back North Korean troops and stop the fighting.
President Truman sanctioned the US Air Force and US Navy to help the South Koreans. Truman believed that the Communists were seeking to invade and move into neighbouring countries. He said that North Korea had ignored the directive from the United Nations, and so the North Korean forces were a threat to security in the entire Pacific region.
US Congress agreed with President Truman and a bill to fund the military action was approved.  The war lasted for three years. China and the Soviet Union supported the North Korean forces throughout the conflict.
For the first few months it looked like the Southern troops had been defeated, but the UN's Allied force led by the US, launched an attack from Inchon which cut off a lot of North Korean troops and left them stranded. Others were forced to retreat back to North Korea. China sent its troops over into North Korea and it became a stalemate between the North and South with the front lines barely moving, the TIME reports.
The Korean War was highlighted by the air offensive between North and South. North Korea was bombed heavily by UN Allies and it was the first war where air-to-air combat took place. Pilots from the Soviet Union were drafted in to fly on behalf of the North Koreans.
A peace treaty was signed in the summer of 1953 which created the Korean Demilitarized Zone separating the North and South. The two sides returned each other's prisoners of war and the border has been in place ever since.