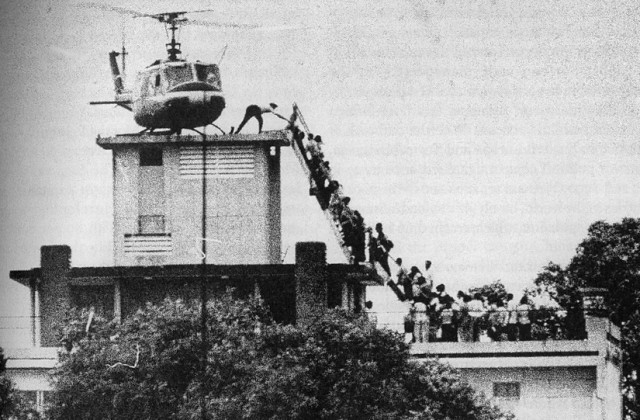 Evacuation of CIA station personnel by Air America on the rooftop of 22 Gia Long Street in Saigon on April 29, 1975. – Wikipedia
It has been 40 years since the evacuation of Saigon when the United States evacuated the last of its remaining troops and diplomats out of Vietnam.
During the evacuation around 7,000 people were flown out of the city within just 24 hours by military helicopters.
As well as Americans, hundreds of southern Vietnamese wanted to flew Saigon for fear of being arrested or captured once the northern Vietnamese gained control of the city. They waited on Saigon's rooftops to be picked up or to get on the next helicopter landing.
At the time, around 150,000 northern Vietnamese troops were making their way into Saigon.
The helicopter pilots who had to navigate the massive evacuation were highly-trained. They would have to down power the helicopters so that they could set down on the rooftops, but still had enough power to keep the helicopter's weight off of the old and fragile buildings.
Most of the time there were queues of people carrying luggage as well. The rotor blades would be left running so they had to be very careful not to stay out of their way. Most of the helicopters took around 15 passengers at a time, but it was really made to hold just nine people. The pilots would begin to take off very slowly and then could fly to a US Navy ship, which was moored just off the coast of Saigon. The journey took around 40 minutes.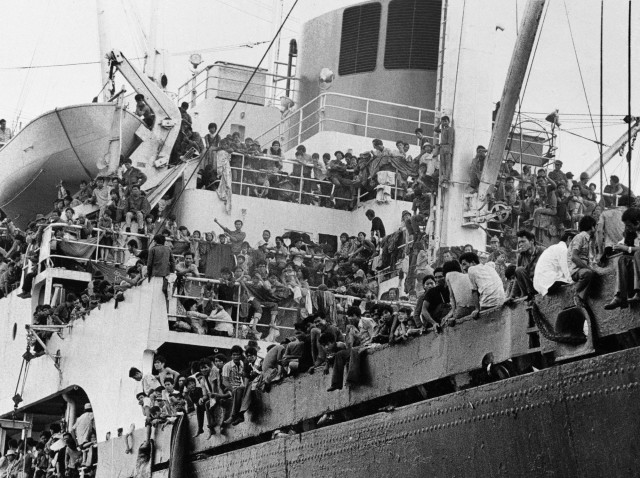 The pilots made the journey back and forth from the city to the ship over and over again to make sure that as many evacuees could escape the country as possible.
The evacuation was known as Operation Frequent Wind.
Most of the US forces had actually left the country two years earlier after a ceasefire agreement had been signed by the North Vietnamese and the south. The northern Vietnamese eventually ignored the agreement and even though US President Nixon had promised to fight back if they did, Nixon was no longer in office and the northern troops saw it as an opportunity to take the south, the CNN Edition reports.
As it became evident the northern troops were advancing on Saigon, US authorities in the area had to decide when and how to leave and who should go. Chaos ensued with the local people scared that the communist troops would make mass arrests and penalise the people for siding with the West.
The evacuation finally went ahead as the North Vietnamese attacked Saigon's airport, ruining runways and preventing anyone getting out of the country with ease.