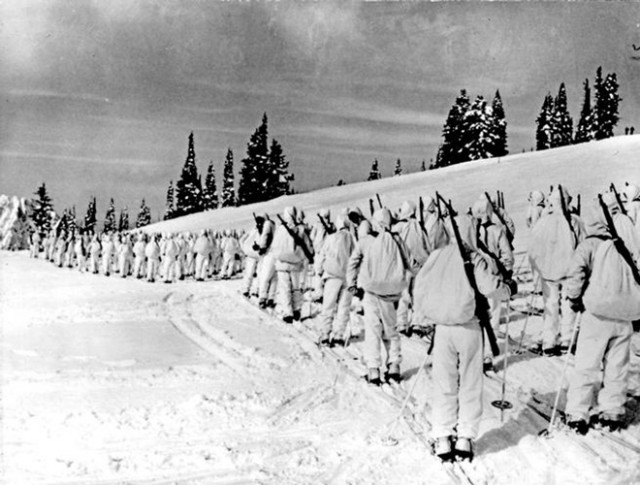 World War Two veterans from the US Army's 10th Mountain Division have been reunited on Colorado's slopes for a ski day in commemoration of the division's taking of Riva Ridge in Italy.
The veterans, all in their 90s, make the annual ski trip together every year to ensure they stay in touch and to remember their colleagues and the sacrifices made during the war.
The division was trained at Vail, Colorado, in the early 1940s as part of an experimental 'Ski Troopers' division.
The veterans say that their training at Vail bonded them forever. It was tough and rigorous, and at its limits meant they had to live in the snow and ice-laden terrain for six weeks.
Camp Hale near Leadville was their base, and for almost 40 years the veterans have been returning ever since.
The veterans say that over the years their numbers have dwindled, as more and more of their comrades have passed away. But one, Dick Dirkes, says he can still ski better than he can walk.
Today there are just three veterans who came together at Vail and skied down the run known as Riva Ridge – Hugh Evans, Dick Dirkes and Jimmy Nasser.
Dick says that once you learn to ski, it's like driving a car – you never forget.
This year is the 70th anniversary of the division taking the Italian mountain peaks of Mount Belvedere, Riva Ridge and Gogalesco. The division were vital in pushing back the Nazi troops in northern Italy.
The 10th Mountain Division was unique because it could scale and get to locations that were inaccessible to other divisions. While the division suffered many losses at the hands of the Nazis, the division are remembered for their success in fighting off the Nazi advance in Italy and other mountainous regions of Europe, the CBS Denver reports.
Crucial to their success, the division was constantly able to rely on the element of surprise, since the Nazis simply didn't expect the Allies to be able to climb up to the altitudes that the 10th Mountain Division could.
When World War Two ended, it was the veterans of the 10th Mountain Division who returned to their original training ground and helped to establish the ski slopes and now booming tourism industry that it has become today.
The three veterans have already planned next year's reunion, and are hoping to come together once again for the 71st anniversary of the taking of Riva Ridge.