The story of an underage US Marine who fought in the Vietnam War has been uncovered.
Dan Bullock joined the US Marines so that he could join the fight against the Viet Cong during the Vietnam War. However, it wasn't uncovered until years later that he changed his own birth certificate so that the Marines' recruiters would believe that he was older than he was. When he was accepted for the Marines, he was just 14 years old.
After one year of combat in Vietnam in 1969, Dan was tragically killed in the conflict.
It was when journalists visited Dan's family in Williamsburg that the story emerged.
A friend of Dan's, Franklin McArthur said that it is about time that Dan is recognized for what he did during the war, and that he was so young when he took part in the action.
Franklin would like for Dan to be remembered since hardly anyone knows his story. A picture of Dan now adorns a wall at New York's Vietnam Veterans Memorial and a street in his old neighborhood of Brooklyn has been named after him, along with a Veterans of Foreign Wars post in Honolulu.
Dan was buried in North Carolina, and his gravestone was donated by Sally Jesse Raphael, the famous talk show host.
All of these memorials have been brought about by Dan's old friend Franklin who has spent many years trying to get Dan more recognition for his actions.
Dan had first tried to apply for the US Marines at the Albee Square Marine recruiting post in Brooklyn, NYC. He could easily have passed for being older than he was since he towered above other teenagers at five foot nine inches and he weighed around 160lbs.
By the time he had gone through the Marines' boot camp Franklin remembers how exhausted Dan was and how he had struggled to keep up. Franklin had met Dan at the boot camp and took Dan under his wing.
Once they had finished training the two trainees were split up, and Dan was sent to Vietnam as a rifleman in the 2nd Platoon of F Company based in Quang Nam Province.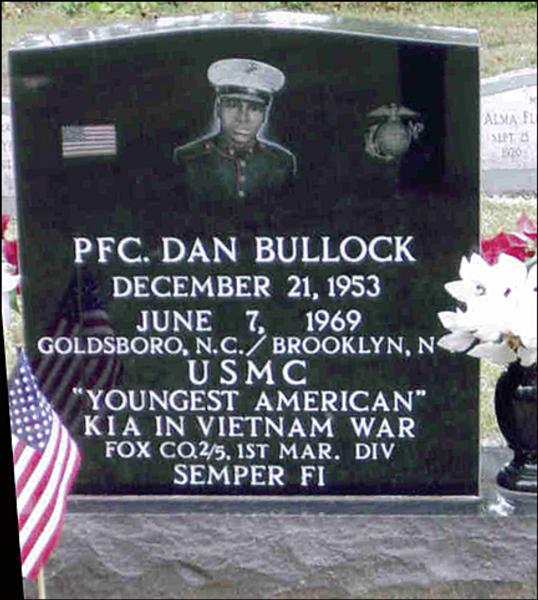 It was during a nighttime firefight that Dan had to maintain the troops' ammunition supply. He had constantly been open to enemy fire but continued to keep delivering the much-needed ammunition to the frontline. It was after around an hour that Dan was hit by enemy fire and died on the spot.
Franklin feels a mix of guilt for helping Dan keep up his training and admiration for his courage.