The My Lai Massacre was one of the most horrifying, brutal, degrading, and disgraceful acts committed against civilians throughout the entirety of the Vietnam War, and U.S. servicemen were behind it all.
Accounts vary as to how many innocent children, women and old men were slaughtered by members of Company C, 1st Battalion, 20th Infantry Regiment, 11th Brigade of the 23rd (Americal) Infantry Division. Numbers range from 347 all the way up to 504.
The lucky ones were executed by machine gun fire. The unlucky, gang raped, tortured, or both. During the whole sordid affair, not one shot was fired on the men of Company C – and the cover-up that ensued could have been the subject of a fictional novel.
The massacre took place in two hamlets, marked on American maps as My Lai and My Khe – within the Viet Con (VC) held area that was codenamed Pinkville.
This hamlet was thought to be a stronghold of the National Liberation Front (NFL) or the VC. As a result of this, it was frequently a target of U.S. and South Vietnamese bombing raids.
During March 1968 Company C were sent word that communist guerrillas had taken control of the settlement, and so Lieutenant William Calley and his unit were sent on a search-and-destroy mission. Those were orders Calley interpreted quite literally, and he destroyed everything in his path.
As the brutality of the soldiers was slowly exposed to the American public, it helped fuel the fire of anti-war sentiment and divided the nation in regards to their opinion on whether or not the conflict should continue.
To make matters even worse, only 14 people were ever tried for the horrific crimes carried out that day – and only Calley was convicted to life imprisonment. He ended up serving just three years while under house arrest after a pardon from President Richard Nixon.
At the time of the assault, morale among the U.S. soldiers was on a fast descent to rock bottom. The North Vietnamese Tet Offensive had been launched two months earlier and was taking its toll on the men.
Company C's strength was down to just over 100 men, and they had lost 28 to injury or death as a result of the attacks by the VC. As a result of this build up in guerilla warfare, commanders had advised that anyone found in the My Lai area could be considered VC sympathizers or even active Viet Con members.
One of the main areas of dispute with the massacre is whether or not Calley or his commander, Captain Ernest Medina, told the men to go in hard and kill all enemy combatants, and suspects, as well as to destroy wells and livestock.
Some accounts of the briefing the night before the attack say that Medina ordered the men to destroy anything in the village that was 'walking, crawling or growing.' He is also said to have stated that the civilian residents of the hamlet would be at the market by 7 am, and so anyone left behind were NFL combatants or sympathizers.
On the morning of March the 16th, about 100 soldiers landed in the area after an artillery and helicopter barrage. They were not fired upon after their feet touched the ground. At 8 am, the 1st Platoon, led by Calley, and the 2nd Platoon, led by 2nd Lieutenant Stephen Brooks, entered the area.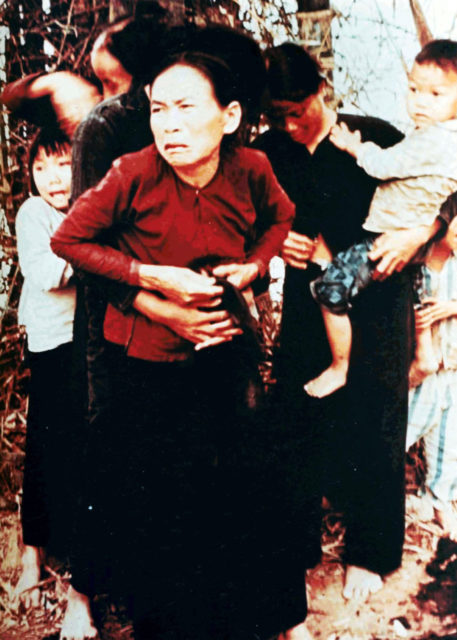 The villagers did not run away. They had no need to. They were getting ready for market; they had not fired upon the American soldiers, and they didn't even have any weapons on them. None of that saved them from execution, rape, and torture.
The killings started without warning when a man from 1st Platoon gutted a Vietnamese villager with his bayonet, while another GI pushed a local into a well and threw a grenade down after them.
Another small group, consisting of 15 to 20 people, was found kneeling and praying by a temple. They were burning incense, crying and praying. In fact, they were the exact opposite of a threat. The result? Killed by shots to the head, execution style.
A further group of around 80 people were rounded up by 1st Platoon and pushed into an irrigation ditch that lay to the east of the hamlet. These were all killed by machine gun fire on the orders of Calley, who joined in the shooting.
One Private First Class reported that he had used several M16 magazines during the slaughter and that women were crying out 'No VC' while trying to shield their children. In the same breath, he said they were shooting into women holding babies as they thought they were booby-trapped with grenades.
Another Private First Class, Dennis Conti, said during the subsequent prosecution that women had thrown themselves on top of the children to protect them, but then Calley walked around, killing them one by one.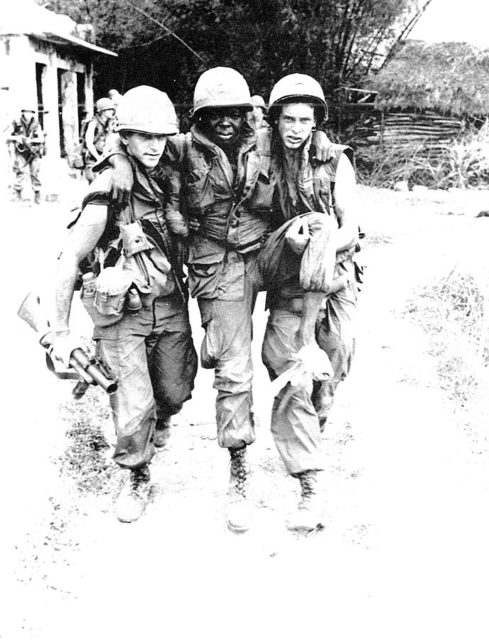 Another horrific incident saw American soldiers walking a group of around 15 down a road, they had their backs to the men, before GIs mowed them down with M16 fire as well as M79 grenade launchers.
The whole gruesome episode only ended when an Army helicopter pilot, Warrant Officer Hugh Thompson, was on a reconnaissance mission and landed his chopper in between villagers and those trying to gun them down. He even threatened to open fire on his own countrymen if the killing continued.
Not only did Thompson help to halt the murder, but he also rescued a number of Vietnamese civilians – including a four-year-old girl that was so covered in blood and gore that she was initially mistaken for a boy.
The coverup was nearly as disgraceful as the day's events, and it wasn't until Ron Ridenhour, who was a soldier for the 11th Brigade, gave his story to a journalist called Seymour Hersh in November 1969 that news broke about the affair.
An inquiry was then released in March 1970 and recommended that 28 officers were charged for their involvement. Only 14 were, and only Calley was found guilty.
When the news of the My Lai Massacre got out, morale among American soldiers dropped even further – especially because of the extensive cover-up. It increased anti-war sentiment back home and made the battle to win local hearts and minds impossible to achieve.