Apparently printed books are making a comeback because, although digital is more convenient and often cheaper, it just isn't the same. I saw a post on Facebook where a chap said the kindle sphere is no good for illustrated books and that any electronic version just doesn't have the connection that ink and paper does. I agree. I am no Luddite, but I have never bothered with electronic books. They have none of the presence a traditional book enjoys. To illustrate my point we only have to see this stunning piece of work by John Fredrickson.
The author takes us through the formative and wartime years of North American Aviation, a company that designed and built some of the most iconic aircraft of the last century. We are taken into just about every aspect of the company's operations and learn a 'warts 'n' all' history told with clarity and honesty. It is fair to say this book is nothing less than a celebration of something that could only be possible in the United States – where the desire, resources and sheer will were there to see it done. It is also true that the book offers the reader a window on wartime America itself, because the story encompasses the social and economic change the war brought to the United States. This makes the book essential reading.
Unquestionably the whole enterprise has been assisted by some quite wonderful archive photography. There is an awful lot of it. I have to marvel at the forward thinking of the people doing this work. They were not alone by any means and many companies and organisations maintained diligent programmes recording their work at every level. (To confirm this look for Charles K Hyde's Images From the Arsenal of Democracy reviewed a while back by WHO). This aspect of corporate identity is not so prevalent today; certainly not in the world I work in. NAA, however, were really very good at it. They used skilled photographers and had a real sense of what they were doing.
We also have to thank the archivists who preserved all this stuff down the years from NAA to Rockwell and then Boeing. There has to be a commitment to doing this and it comes from the top down. It shows that vision extends beyond what the company produces to wider and deeper issues. It costs money. This may be background stuff, but without it there would be no books like this one and more importantly the histories of the products – the aircraft in this case – would be incomplete.
North America built a trio of World War II classics and progressed into the Cold War with the wonderful F-86 Sabre. Without doubt, the most talismanic aircraft is the P-51 Mustang. There are countless histories of this aeroplane, but the story of how it came to be built and the work done to make it supreme opens up avenues of wartime history beyond the production line. I come back to my earlier point about how this could only have been done in the United States. This truth was recognised before America had even entered the war. Sexy as the Mustang is, the most important aircraft made by the company must surely be the AT-6 and it's relatives – Texan, Harvard, Yale – pick a name – this series of aircraft trained thousands of pilots who would win the war. The B-25 Mitchell is another aircraft about whom a forest of books have been written.
Mr Fredrickson looks at other aircraft built by the company and while it is the products that engage us there is so much more. This is a fully rounded story looking at labour issues, the fabric of the huge production plants and their regimes. The author considers the men at the top and how they led their company to greatness. The glue in all this is Dutch Kindelberger, he seems to be part of every facet of this story but the author takes care to highlight the importance of others to show the company was not a one-man band.
This book offers aviation, company, wartime and broader American history served up in an accessible and really quite beautiful package. It is good to read and stunning to look at. Mr Frederickson is a lifer in the aviation industry. He is steeped in it. Within my industry, we say that such people have ink in their veins so perhaps he runs on kerosene. At first glance, this one had 'book of the year' written all over it. I didn't rush in to a review; I kept it back for slower appreciation. This may not suit the PR departments of publishers but I know the people at Zenith Press are really going for it to produce books of this standard. They are winning. The NAA archive was a gift from heaven and they didn't pass it up. Nor should you. John Frederickson and his publisher have presented us with a masterpiece. More please.
Reviewed by Mark Barnes for War History Online.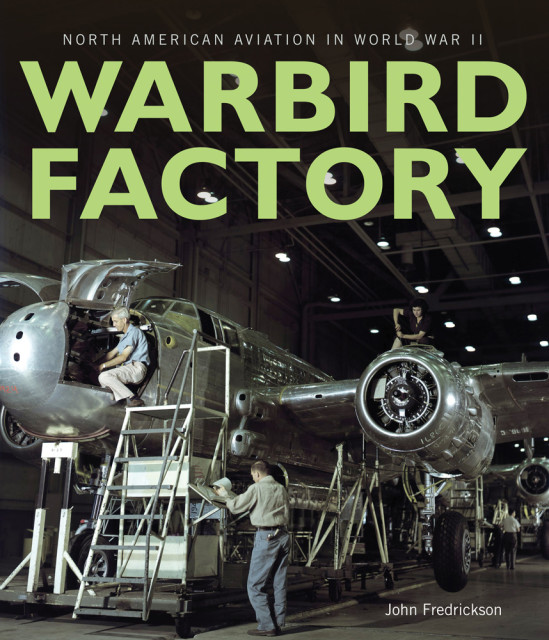 WARBIRD FACTORY
North American Aviation in World War II
By John Frederickson
Zenith Press
ISBN: 978 0 7603 4816 1