We have in front of us two books by the American historian Michael Green in the Images of War series from Pen & Sword. If you don't know these books they are keenly priced softbacks extending to vast range of titles over the years I have been reviewing them. Some have been genuinely outstanding while others have been competent.  If that sounds harsh then please consider the number of authors that go with the range and the concepts they brought to editorial meetings that led to their book getting into print. My overall impression has remained consistent throughout; this is a super range of books and the editions I have really liked have stayed in my library.  There have been very few that I have redistributed.
There is no danger of me letting these two books by Michael Green go. His attention to detail and writing style has impressed me on previous occasions and he continues in that vein here.  I have had the occasional word with him via social media and he is clearly someone who has done a lot of networking to access the people, knowledge and archives he needs to make books like these. It is also important to register the point that he clearly loves this stuff. It matters.
First up we take a look at US military helicopters. I sit in my office in the East End of London where just about every day there is a flypast by a Chinook or two or maybe even some Apaches heading northwest from where I am watching. Where they are going and what they are doing is unknown to me. It has reached the point where I have schooled some of my colleagues to recognise the throbbing sound of a Chinook and they can nearly all tell an Apache from a British Merlin as it passes over our rooftop. These are people with no interest in military stuff; they leave all that to me, but it says something for the Chinook and the Apache that people more at home talking about soccer, pubs or cats can point one out.
The world of military helicopters has been dominated by the United States and some, such as the UH-1 Huey have become iconic. I can quite correctly say the same of the Westland Sea King in my part of the world, keeping in mind it is derived from the Sikorsky S-61/SH-3.  But there are many other famous and not so famous types covered in this entertaining book. I always get jealous when I see Ospreys because I am yet to see one in the flesh. Friends of mine see plenty on their adventures photographing military exercises held in England and others find time to linger in the Welsh mountains watching all manner of hardware scream through the valleys. Ospreys are seen regularly. On the two days I spent with them we saw sod all. Another sticking point is the Blackhawk. The only time I have seen them was a view of a high-flying pair over New York City back in 2013. Books like this get me chaffing at the bit over the military stuff I haven't photographed. I have a long 'to do' list and will have to do with the pictures in Mr Green's book for the time being.
The quality of the images is top drawer and the careful mix of colour and mono works well. I'm not going to waste your time picking favourites or going through a list of types appearing here. Mr Green does not mess about nor does he go in for padding. All the images are included for a sound reason and the level of detail in the captions makes this book a useful reference tool.
Next up we have a look at Axis tanks of World War II.  The book mixes archive photos with shots of armour in preservation and these include close ups of some interesting details. The book is good to look at and is thoroughly straightforward. Mr Green doesn't confine himself to German hardware, going to lengths to look at Italian, Japanese and the armour built by junior partners within the alliance. He also considers the vast amount of captured enemy tanks that made it in to Axis service. A book like this will never include every variant down to the most obscure, but this is a decent compendium of armour and you are doing pretty well for just US$23 or £16 if you have the sense to buy a copy.
I really like this book but might have been more impressed if it had included some of my photographs. That aside… and I was (sort of) kidding… both this and the helicopters book are perfect stocking fillers at this time of year and will always be welcomed by the military photo collectors or model makers in your family. There is a lot to look at. While you're recovering from eating half a turkey and way too many roast potatoes on Christmas Day you can sneak off to have a good read of two excellent books and you may even escape doing the washing up.
Michael Green is totally reliable. His books are worth having and there are plenty of them. I used the word straightforward earlier and that just about sums up these two and his previous titles in this range perfectly.  There are a lot of books out there that don't merit being called straightforward and I would take it as a compliment if I got similar reviews for my work.  Buy these books. You will not be disappointed.
Reviewed by Mark Barnes for War History Online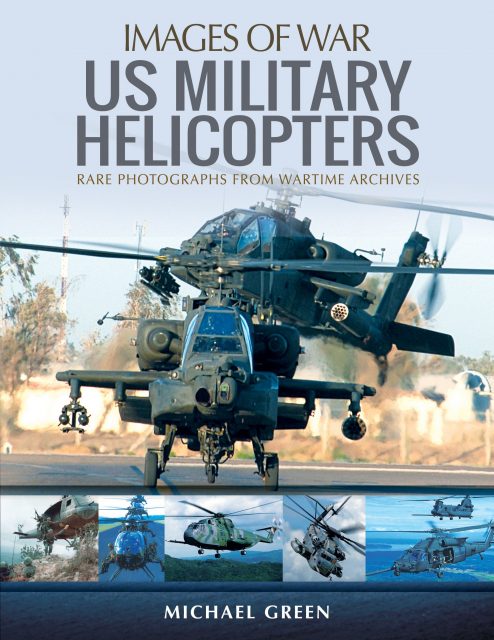 US MILITARY HELICOPTERS
By Michael Green
Pen & Sword Aviation
ISBN: 978 1 47389 484 6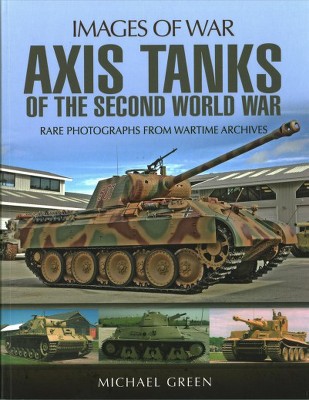 AXIS TANKS OF THE SECOND WORLD WAR
By Michael Green
Pen & Sword Military
ISBN: 978 1 47388 700 8