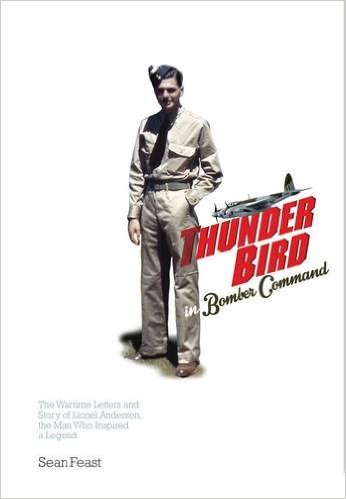 I'm of the right age to have spent my formative years enthralled by the work of Gerry Anderson. I don't want to turn this review into a longwinded story of happy days watching Stingray, Thunderbirds, Captain Scarlet or Fireball XL5 on the telly; but the programmes and the splash of comics and merchandise associated with them were a big part of my childhood.
This is the story of Anderson's older brother Lionel who was killed piloting a Mosquito during World War II.  The book is effectively split in two; with the first half dominated by Leslie's letters while the second offers a straightforward account of his combat service and death.
Lionel learned to fly far away from home in Arizona where he loved the climate, the American lifestyle and a number of local ladies. He was an extra in the 1942 movie Thunder Birds and made friends with several actors. Lionel loved his time in America but had to return home for the war.
Back in Britain he flew with the RAF's 515 Squadron operating specially adapted Boulton Paul Defiants for electronic countermeasures against German radar.  The Moonshine and Mandrel missions used different methods to jam Freya radar sets. A number of aircraft were lost to night fighters on what was a far from easy job. The squadron was due to convert to the fearsome Bristol Beaufighter but the Mosquito was better suited and it was on a sortie with one of these that Lionel failed to return.
This is a nice book. Lionel's letters are entertaining and very much of their time.
He embraced American culture and lifestyle in a big way and he enjoyed a life far from his childhood in Westcliff On Sea. Lionel mentions streets and places I walk through almost every day and this added a comforting dimension for me.
Gerry Anderson was devoted to the memory of his brother and the author is at pains to find connections between Lionel's service life and elements of Gerry's programmes. You may have to be of a certain age to engage with this, but the book's heart is always in the right place.
This is another solid book from Fighting High. The photo section is as good as always and the prose rattles along. It can never be easy to work with a limited amount of reference material, but thankfully Lionel's letters are pure gold and help develop the story. The publisher seems able to punch these books out with ease and I have others to get through. There is a lot to like here, the air war stuff offers something a bit different from the norm and, all in all, the book is enhanced by the strong reliance on the US connection. Good stuff.
Reviewed by Mark Barnes for War History Online
THUNDER BIRD in Bomber Command
The Wartime Letters and Story of Lionel Anderson, the Man Who Inspired a Legend.
By Sean Feast
Fighting High
ISBN: 978-0-9926297-7-6