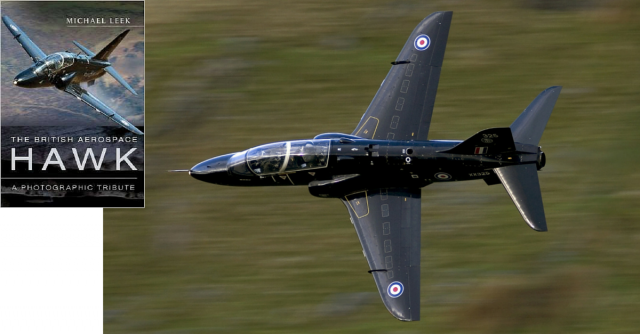 We tend to shy away from modern warfare on this website. Some events are just a wee bit too recent or too raw for some tastes and the pull towards the world wars and other conflicts is safe enough for a place like ours and the viewing stats vindicate the decision. In eschewing modern conflict our principal aim is to steer away from the quicksand of politics and the kind of nationalistic stuff that fills social networks already, without any help from us.
The quandary is what to do when a book like this one by Michael Leek arrives. Although it isn't a record of warfare the book does quite deliberately raise prescient points about the state of the UK's defences. As such, it cannot be ignored and there is an argument that diversity is what helps keep sites like ours on the ball.
This is a multi-layered book in every sense and not simply what it says on the jacket.  Mr Leek begins his book by delivering a sometimes withering assessment of the decline of British air powerin the age of austerity we live in. This had been my area of concern when deciding whether to review the book. While I don't believe for one minute anything I write might influence a voter in this years General Election in the United Kingdom. I know from social networks and talking to people that the defence cuts implemented by our current government have caused a great degree of despair, anger and quite a bit of embarrassment. I do wonder how just bad things will have to get before someone will accept that enough is enough. You might think the lessons of the inter-war years would have been learned, but… A senior government minister tells us defence doesn't win votesand that may be so, but he should know it could also lose them. I'm afraid this book arrived in the wake of an episode of Channel 4's Dispatches that looked at the state of our defences that left me shrouded in gloom.
The author casts is eye over the RAF and Royal Navy and asks valid questions about cuts that saw the Harrier fleet sold off on the cheap to the US Marine Corps and numbers of Tornados and Typhoons either scrapped or mothballed.  The pilots for these aircraft were trained at considerable expense of time and effort and at the centre of all this was the Hawk, a truly beautiful and immensely effective fast jet trainer and probably the last great indigenous military aircraft to come from the UK.
The Hawk may well do all the things the taxpayer paid for, but it is also sleek and pretty continuing a fine tradition going back to the propeller age. Unfortunately the need for a large fleetof these magnificent aircraft has died with much of Britain's fast jet capability and although we wait the arrival of the controversial F-35B with some nervousness, the need for a large number of Hawks, given the limited number of Lightnings the UK has ordered has pretty much vanished. That this is painfully obvious is not made easier in the telling.
The central function of the book is to show the widest range of Hawks from different squadrons and units as possible from within the scope of the photography that is based on a succession of magnificent low-level shots taken in Wales and elsewhere.  The range of Hawk units seemsextensive, but it isn't made easy by the majority of them coming in the same all over black paint scheme.  The author does not avoid this point.  I haven't seen many in the flesh, myself, save for the odd one zooming across the Lake District a couple of spring times ago or even further back to 2001 with a visit to Culdrose on a filthy day when the squally weather didn't stop the civilian contractor pilots from simulating attacks on warships out in the Atlantic. It was stirring stuff in it's own way, watching the jets heading off into a blanket of slate grey nothingness.
This brings us to the wonderful Red Arrows aerobatic display team, the crème-de-la-crème in the field.  I don't know many people in the UK who haven't seen them at least once. There were classic summers when they would routinely appear at the Southend Air Show, making full use of the Thames Estuary display line to put on outstanding displays with some aircraft passing close to the roof of my house.
Thirdly, this is a photographer's book, pure and simple. The author makes it clear that exposure and camera setting information is far more important than recording aircraft numbers. I have to say these elements represent a master class and really please me. I learned an apt saying as a trainee soldier a good while ago: perfect planning prevents piss poor performance.
As for the photography itself, the quality is often quite breath taking. There is artistry and technical skill in abundance and there are so many genuinely lovely images by Mr Leek and a few of his friends that it is pretty impossible to attempt selecting a favourite. I can't do it. I do have to say, however, I found the sheer mass of images a little overpowering. I fully understand the concept and what he is trying to achieve, but less is moredoes come to mind. But this is just me. I know lovers of fast jets who would want to see a much bigger book but suspect their appetites will be sated by what is on offer here.
The author confines himself to the low-level photography he has built a solid reputation for. This sort of stuff is not easy to achieve, let alone having the consistency to get top results on a regular basis and can only be done with hours of practice. He is honest enough to know he must have dozens of near misses in his library. The learning curve will always be steep, but getting the quality catches is a wonderful feeling. For an analogy I can compare it to spending time with the regular bunch of lads who do photography on Salisbury Plain, the British Army playground. I have managed two days in half a decade while some of them are out every week, often for days at a time and it really shows in the quality of their work and more so in their knowledge of locations and the way the Plain runs.
Mr Leek's book represents something of a bold departure for Pen & Sword. It doesn't actually look like one of their books and the scale and style of it shows a willingness to up the ante and this can only be to the good. The author plans two more volumes on the Tornado and Harrier and I am really looking forward to them while admitting I would perhaps have preferred to see the Tornado available first.  But, this is nit picking. This quite amazing book is fast jet porn from first to last. But there is nothing trivial or simple about the package whatsoever. This book is deadly serious in every sense of the word for all the reasons I have given. It isn't entirely about pretty pictures.
Beautiful aircraft, stunning photography and timely and informed commentary make for a genuinely impressive package. This is an uncompromising book rushing up to us just like a Hawk screaming through the Welsh mountains. It has been put together with care and a strong attention to detail. The next two volumes promise to be equally as good and I hope these sort of photographic books that fulfil any number of roles will become a regular feature in the P&S catalogue. A standard has been set here that will be difficult to improve on. But we can relax and see how that one pans out. It's a win-win situation, either way, as far as I can tell.
Reviewed by Mark Barnes for War History Online.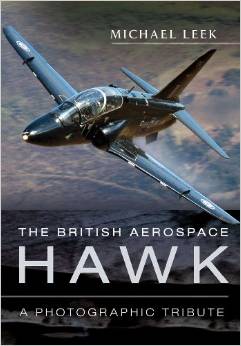 THE BRITISH AEROSPACE HAWK
A Photographic Tribute
By Michael Leek
Pen & Sword Aviation
ISBN: 978 1 78159 294 6