I am by no means a hardened veteran of the airshow circuit, but I have snapped quite a few aircraft in my time.
These days I make do with the multipurpose lens I use to photograph tanks, cars and all the other nonsense that moves me, but I have chums on the circuit who wield enormous artillery to get their photographs.
I am occasionally jealous. All my snapping has been done with my feet planted firmly on the ground but I have one or two shots that stand up to serious scrutiny.
I am learning to be a hard taskmaster, rejecting shots with even the slightest trace of camera shake and always considering the position of the cockpit and other essential details that have to be just right.
That's all very well, but what about doing it hundreds of feet up and at speed? Air to air photography is an art, and I have always admired the people who do it.
The great Charles E Brown is probably the standout snapper of the plate camera era and he also worked when film was starting to prove more practical for his kind of work.
Newspaper photographers Bill Warhurst, Cathal O'Gorman, and Stanley Devon were all pretty good at getting a decent air to air. Cathal came to specialise when the work was there but like his colleagues, he was pretty good at anything.
Stanley left the print to work for the Air Ministry at the start of World War II, and RAF pilots who met him decided to call him Glorious Devon. You will have seen his snaps many times. After WW2 the aforementioned Mr. Brown was still in his pomp while other snappers were gradually coming through.
I worked with a chap who knew Charles E Brown, and I like having that connection to a man whose Camera Above the Clouds books form a monument to his genius. The modern era belongs to John Dibbs. He is prolific as he is passionate and, above all, he is a very knowledgeable guy. For proof look no further than this beautiful book.
The photography is sumptuous. Make no mistake, however; this is not just a photo book. It offers histories of the aircraft featured packaged with fascinating archive images and recollections of men who knew the aircraft in their early lives.
The result is as much an homage to the veterans as it is to the people who keep the planes in the air for us to enjoy today. Airworthy Spitfires are hardly common, and the amount of effort needed to restore and operate the aircraft is quite staggering.
The book wins because it doesn't take too long telling us about each aircraft while giving vent to the stories of the people who have known them. Gorgeous as the planes inevitably are, this is a book about people.
The Spitfires are a prop: a device to tell human stories. The book is clearly aimed at a wider audience than just aircraft fanatics and to achieve success it had to offer something more than dry stats and technical bumf.
But the importance of the minutiae is not ignored and between Mr. Dibbs and co-author Tony Holmes lots of it is offered up with a keen eye on keeping the reader engaged. The text is handled as well as we might expect from someone of Mr. Holmes' calibre.
This book is a very comforting read. Aesthetics are important and I found myself diverted by information on roundels and lettering on the aircraft. The devil is in the detail. You really do feel like you are in safe hands here.
That this is a quality product is evident from the look and feel of the book. It is both substantial and beautifully laid out. The photography is really quite stunning, and the effect is to make it into a rapid page-turner. The variety of angles and scenes used to create backgrounds for the images is impressive.
Mr Dibbs makes a point, early on, to allude to the beauty of the Spitfire and how photogenic it is. There are no poor angles in this book. Each image brings out the best of the Spitfire. It really is a pretty aeroplane.
Ok, it's yet another Spitfire book, but not just another. The authors have a connection with the aeroplane the rest of us just dream of. There is an affinity seeping from the book that comes from many years of involvement with Spitfires, their pilots and engineers. It has the feel of a love letter. Instead of perfume, there is glycol.
Picking books of the year is always an invidious task and happily we don't make a big issue of it here at WHO. But if I had to this book would be a serious contender.
Books like this aren't written to acquire non-existent accolades on websites. They mean much more than that. Collect as many of the other Spitfire books as you like, but if you are serious about the old bird you really must have this one.
Reviewed by Mark Barnes for War History Online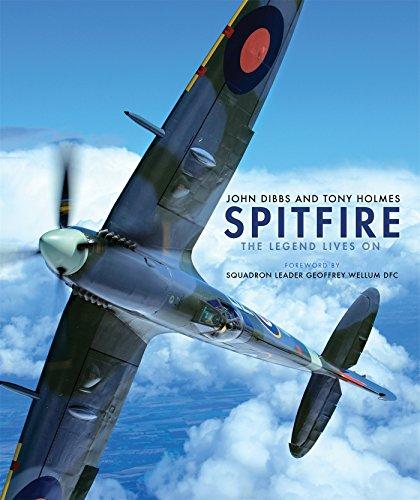 SPITFIRE
The Legend Lives On
By John Dibbs and Tony Holmes
Osprey Publishing
ISBN: 978 1 4728 1549 1