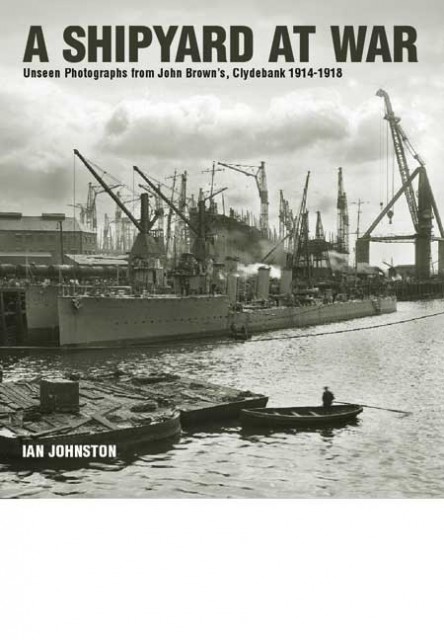 I found it immensely hard not to have the odd shiver of dewy-eyed regret while leafing through the pages of this magnificent book.  It represents a period of time when shipbuilding, as with so many heavy industries, was the backbone of Britain. That age has gone. Only recently one of the broadsheets was reporting that even the specialised world of British tank manufacture had been surrendered to foreign imports. Nothing lasts forever, but you do wonder how creating call centres and logistics hubs can be seen as a replacement for making things.
None of this was on the horizon for the men of the Clydebank shipyards during the period of this book. Despite costly setbacks and some disappointments the Great War demonstrated that Britannia continued to rule the waves and her navy and merchant marine were ever hungry for new toys to play with. The shipyards were more than happy to oblige.
The book takes us through the wartime output of John Brown's, a name perhaps most synonymous with shipbuilding on the Clyde and who built some of the finest and often most historic ships of the twentieth century.
Perhaps the most impressive thing about this book is not so much the subject matter, although they are often glorious; but rather the idea that a shipyard would employ a team of photographers and assistants to record everything in such detail. This illustrates a confidence we can now only marvel at and happily the National Records of Scotland have maintained the photographic archive for us to appreciate.
You don't just get pretty photos of great ships, but; forgive me; you also get great photos of pretty ships. The quality of the photography is outstanding. The images were made on 10×12 and half plate negatives, so the technical quality is immense. The point was to record construction in detail as a reference, but the snappers also found time to note aspects of shipyard life along with the pomp of launches and official visits.  The range of shipping is wonderful. It would be easy to be drawn to the great battleships and battlecruisers, including Hood and Barham, destined for tragic ends in the next world war.  But the real power of this book is in the huge number of destroyers built by John Brown, many of which can be seen in all phases of construction. That an image of destroyers is used on the cover speaks volumes. There are Clyde puffers, ocean liners,Dazzle Ships and cargo vessels to add to a huge slice of entertainment.
Through decades, all manner of companies in a whole range of industries have taken the enlightened approach of showing what they do best through photography. I've seen it with diverse places such as London Transport, The Times newspaper and the Bank of England. These things were about projecting achievement and a unity of purpose – in effect that word, again: Confidence.
There is no question that there was plenty of confidence in the shipyards of Britain a century ago. While it was obvious the end of the war would see a cutback in certain types of shipping, there was bound to be a return to rebuilding what had been lost.
The book does something else. It reveals that, in the case of battleship production, things were about to stand still. As said, Barham and Hood, late products of the dreadnought age, were still in service twenty years later, mainly as a consequence of fiscal paucity as much as results of the well intended limitation treaties that only served to hinder the Royal Navy in WW2. Another ship, Ramillies, is seen on the stocks here and although she was pretty much obsolete by 1939 she was ideal for bombarding German positions at Sword Beach on D-Day.
Here again is the wonderful Repulse, last seen in our reviews section going down fighting against the Japanese in December 1941 and there are plenty more big ships.
So, in the end, I was drawn to the capital ships and I make no apology for that. They were triumphs of engineering before they fired a shot and this book shows us why. 8483Ian Johnston doesn't just bring us a collection of pretty pictures. He gives us an idea of how long ships took to build and, in effect, we get the wartime life of the shipyard in focus. He takes pains to acknowledge the skill of the photographers who made his book possible and is keen to confirm how preparing captions for the images is not as straightforward as things might seem.
All in all this is a genuinely super book put together with skill, diligence and passion. I don't think I could ask for much more and I wish, now, I had seen two previous works by this author on similar subjects.
Picture archives have been a big part of my life and learning about them is a joy.
With this excellent book Ian Johnston has ticked all the right boxes for me and if you have the slightest interest in either warships or photography, you can get yourself a double whammy here and I can safely say you will not be disappointed.
Reviewed by Mark Barnes for War History Online.
A SHIPYARD AT WAR
Unseen photographs from John Brown's, Clydebank 1914-1918
By Ian Johnston
Seaforth Publishing
ISBN: 987-1-84832-216-5