Fascination with the Battle of Britain is still very strong after all these years and you only have to see the reaction to the sight and sound of a Hurricane or Spitfire to appreciate this is never likely to change. There have been an awful lot of books about the battle, and I am quite sure there have been a lot of awful books as well but rest assured this is not the case with this fast-paced and deeply respectful biography of one of the great 'unknowns' of the Second World War, Eric Lock DSO, DFC & Bar.
Small in stature, but with the heart of a lion; Lock achieved greatness during the Battle of Britain, finishing as the leading ace with twenty confirmed victories and seven probably destroyed. What is more remarkable is he achieved all this in the space of just a few weeks. He got his first 'kill' on 15th August 1940 and his twentieth on 20th October that year. That is some going!
Eric was a Shropshire lad and is one of the county's greatest heroes. He grew up in a happy environment working on the family farm and learned to drive cars and lorries at an early age. He was a good student and a keen sportsman who made up for his lack of height with determination and ability. He caught the aviation bug after a flight in one of Sir Alan Cobham's circus aircraft and although his parents did their best to persuade him otherwise, Eric joined the new RAF Volunteer Reserve and quickly took to flying. He flew Spitfires with 41 Squadron throughout the Battle of Britain and scored his first thirteen victories in a calendar month.
Lock was severely wounded on 17th October 1940 and endured a protracted period of treatment including plastic surgery carried out by the pioneering Archibald McIndoe. He returned to combat operations in July 1941 and had taken his confirmed victory total up to twenty-five, seventeen of them Messerschmitt Bf109s when he was killed. He was last seen attacking ground targets on 3rd August 1941, and no trace of him or his Spitfire has ever been found. He was twenty-two years old.
This fine book meets head on the obvious problem of having a subject with a far from lengthy career. The authors manage to tell us quite a lot about Eric Lock while surrounding his story with accounts of the men who flew with him. This isn't a new device by any means, but Messrs Brew and Bradbury handle things with real care achieving a decent balance between their main man and his friends. I remember a few years ago when Eric Lock was back in the news and having trouble convincing my picture editor that the library I work in didn't have a huge file on a man who he assumed was well documented. As it happens, the cover image for this book came from where I work, but I didn't handle the research of the original negative.
The spine of the book is a breathless hour-by-hour history of the air battle Lock and his comrades fought against the Luftwaffe. While I appreciate that a lot of dedicated people have spent years building up the research a book like this is reliant upon, it has to be said the authors have managed to tell a story I might superficially label "well-known" in a really fresh and entertaining manner. It amazes me how any new books on the Battle of Britain can actually add something new to the story and don't just parrot all the standard stuff. But we have one right here.
The authors question why Lock was plunged straight back into combat while other airmen were given more time. Perhaps if he had been treated more sympathetically, his early death might have been avoided. But "if onlies" don't change the history, however sad it may be. Lock had lost much of his sparkle when he went back to combat flying, and there is an air of inevitability about his fate. His loss was, indeed, a ruddy awful waste.
Fighting High are an intelligent publisher who know how to get the best out of stories that would often just be footnotes in bigger affairs. The life of Eric Lock is by no means a footnote. He deserves all the respect and praise we can heap upon him. This lovely book builds the perfect foundation for such an enterprise. It is well-written, extensively researched and has all the cool house style we have come to expect from Fighting High. One again I find myself looking at the mythical WHO Book of the Year shortlist and will have to make it a bit longer by adding this one to it.
Eric Lock was a brave young man and one of the great aces of the Second World War. We can speculate as much as we like about what might have become of him had he lived to make older bones, but he didn't. He has an element of mystery about him that builds his appeal, and this book will surely help enhance his reputation even further. I do hope so. Fighting High have always been about honoring the people who appear in their books, and this one is no different. The authors have resurrected one of the greats and made him real. We really can't hope for much more than that, can we?
Reviewed by Mark Barnes for War History Online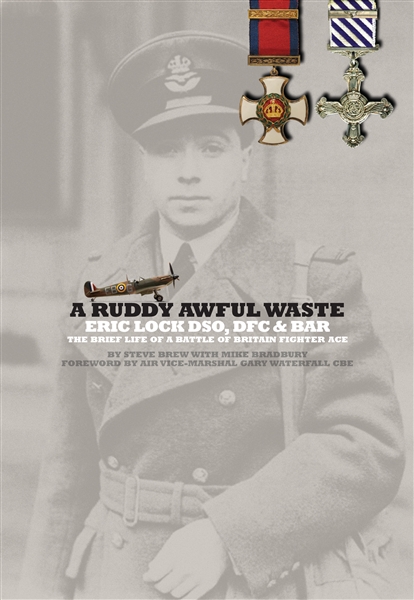 A RUDDY AWFUL WASTE
Eric Lock DSO, DFC & Bar
By Steve Brew with Mike Bradbury
Fighting High