Good histories rely on reliable source material and you cannot get much better than the contents of this compelling read assembled by Martin Mace. He has gathered together a number of reports made by the ships captains and other naval officers who took part in the Dunkirk evacuation in 1940. The result is to present a quite incredible story of great depth allowing us to get a real grip on Operation Dynamo in ways movies and overviews cannot match.
These personal accounts build a picture of events, especially when narratives overlap bringing ships and people together through the eyes of the men working in often intensely dangerous and stressful situations for days at a time. Getting an impression of the shipping losses is one aspect of the story, but understanding the tragic nature of some of them adds a grim complexion to the accounts.
If you were to walk along the coast from the port of Dunkirk today it would not take a great deal of time to arrive at Bray Dunes where you can pay your respects to the men of HMS Crested Eagle and the Devonian when their wrecks are accessible at low tide. The former was a one-time pleasure ship bringing Londoners out for day trips to the Essex and Kent seaside but her loss on 29th May 1940 was horrific in the extreme with the ship ablaze from stem to stern with a great many stretcher cases below. Up to six hundred men are thought to have perished in the inferno. She had only just taken on men from the Finella and was manoeuvring away from Dunkirk with all guns blazing when four bombs found their target. Her captain, Lieutenant Commander BR Booth RNR, beached her but his ship was on fire and still under attack as men attempted to get off her up gangways never designed for such a rush. You can work the rest out for yourselves. Booth's report is a lesson in understatement.
This book is brimming with heroics performed by men of all ages and ranks. The ships range from destroyers to minesweepers and tugs in addition to a catalogue of assorted vessels taken up from trade. But it isn't all about stiff upper lip. There are accounts of individuals and crews of certain vessels who were worn out by events having to be replaced. Others were quite unprepared to take serious risks. The Royal Navy had ways and means of dealing with such situations. We read accounts of naval officers and military policemen with pistols drawn to ward off groups of soldiers attempting to rush boats. Some shots were fired. There were inevitable opportunities for misunderstanding between the British and the French, but for the most part people were getting on with it and it is interesting to read the totals of men who were evacuated by often humble vessels flying the White Ensign. There is a nice moment when a rescued French general awarded the Croix de Guerre to a couple of gunners after they engaged German aircraft.
Many of the people and ships mentioned here went on to have other adventures in the war to come. Perhaps the best known is Captain Bill Tennant, the Senior Naval Officer at Dunkirk who commanded HMS Repulse when she was lost off Malaya with Prince of Wales in December 1941. Another man present was my grandfather, a 47-year-old naval engineer whose ship, the tug HMS St Olaves receives a fleeting mention when it towed in a stranded vessel. My granddad and his comrades were doing a lot of that sort of work and a surviving letter of his records towing Thames barges filled with two hundred soldiers apiece.
This fantastic book is a researcher's dream and on top of this it allows us to get very close to the Dunkirk story with a range of accounts, many of them beautifully written by men who had only just been to hell and back. It is interesting reading of all the technical issues and how the nature of the tide and surf at Bray and La Panne had such an impact on the use of small boats. It all helps to show how nothing is black and white. Above all we get to admire some remarkable people.
That the army had to be evacuated in such a way underlines the nature of the defeat suffered on the battlefield in 1940. While The Darkest Hour has created a ripple of renewed interest in Winston Churchill, I can't claim to be a massive fan of his complete record in politics; but he saw Dunkirk for what it was and the evacuation was a costly but huge success for the Royal Navy. Evacuations do not win wars but living to fight another day is a victory of sorts. I have several contemporary Dunkirk books in my 'library' including the much-admired account of the artillery officer Gunbuster and the eulogy of the nine days wonder by the poet John Masefield. They add to the detail and atmosphere of the drama in their own way but this new book adds a superior dimension to the big picture.
I can't recommend this book highly enough. Martin Mace knows how to handle this sort of stuff using the lightest of touches. He has done a superb job bringing all this material together but he deliberately fades into the background allowing the men who were there to speak for themselves. There is no interpretation – the reader gets one per cent authenticity. The result is an enthralling compendium of histories that dovetail together in the best of ways. This is a Dunkirk book everyone should read.
Reviewed by Mark Barnes for War History Online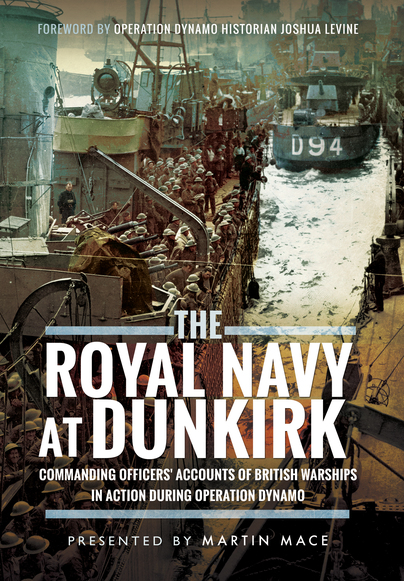 THE ROYAL NAVY AT DUNKIRK
Commanding Officers' Reports of British Warships in Action During Operation Dynamo
Presented by Martin Mace
Frontline Books
ISBN: 978 1 47388 672 8