This is a book after my own heart. I left it sitting on the shelf for a bit too long as I waded through other projects until it caught my eye again a short time ago. I am really glad I picked it up. Brian Best introduces us to many of the great and not so well known correspondents of the Second World War who were tasked with telling the public a version of the truth acceptable to Allied governments through good times and bad.
Where this book works is because the author looks at journalism from across the English-speaking world. British and US journalism dominates although it would be accurate to say that many of the great writers from Down Under were working for the British and Commonwealth press during an era when the practice of pooling and syndication went truly global. He seeks out the greats and the not so well known and gives them all equal billing. So we get Ernie Pyle and Richard Dimbleby alongside other giants such as Alan Moorehead and Chester Wilmot. We find Cornelius Ryan, Walter Cronkite and Edward Murrow at work and meet some of the greats whose wider recognition has faded a little – best illustrated by George Steer of The Times who brought the horror of Guernica to worldwide attention. The piratical Ernest Hemingway is seen at his best and worst, while the great female correspondents such as Martha Gellhorn and Virginia Cowles are not ignored.
While a number of photographers are recorded, this really is a book about writers. While he is a 'no brainer' inclusion, Robert Capa has an almost iconic place in history but he was far from alone in his field and he has been somewhat saddled with a mythical status for the sixty odd years since he stood on a landmine in Indo China. I have a strong interest in the war photographers and would like to see a volume like this concentrating on them. But don't take this as a criticism of this book. The author has created a vibrant history that flows well as it informs and entertains and this is all we can ask from a book in my opinion.
An area where information always seems sketchy is the world of censorship and propaganda. The two make any story about war journalism a dodgy road to navigate without due care. We know that shameless propaganda wasn't just confined to the Nazis or Soviet Russia. It had a role to play and for the sake of balance we need to understand that there was plenty of manipulation in Western reportage. I know more about censorship in terms of photography and, believe me; the censors did not make things easy, often making decisions that seem baffling.
Controlling bad news was always a major priority and events such as Operation Market Garden offer good examples of reports being twisted to ignore the inconvenient truth of what was happening in Arnhem while highlighting the successful capture of the bridges at Nijmegen as if they were the principal objective. This happened in countless cases even as the Allies swept into the Reich, so we can safely assume that the early years of repeated disasters were dealt with in carefully measured tones of positivity. But you cannot polish a turd and we know that dressing up defeat can only work so well. Lincoln's adage about fooling people has never lost currency.
Mr Best takes us through the major fronts and campaigns of the war and we flit comfortably from Europe to the Far East and back again without losing our threads. A book like this will always be a little episodic, but the author is careful to smooth over the join, making this a genuinely pleasing read.
It is surprising how many journalists paid for the quest for big stories with their lives. I think we have to respect them for their courage and we will always owe them a debt of thanks for the reportage they left us. But Mr Best does the right thing when he ends the book with a long quotation from Eric Sevareid of CBS
who recognised that while journalists and fighting men witnessed the same events their motivations for being there were entirely different and thus their perceptions would be different, too.
Journalists and photographers had feelings. Richard Dimbleby described his experience at Bergen-Belsen as the worst day of his life, while the photographer Bill Tetlow; whose work I have been revisiting at my day job, just stopped taking pictures after one or two frames. He had seen and recorded enough.
This excellent book is an essential read for students of the history of journalism. It can also fill in gaps for anyone with a wider interest in the Second World War.
I have said before that as the big stories get done to death it is the small stuff once used to make footnotes that becomes the new hunting ground for historians. The story has widened and appetites for a more in depth history of the war will hopefully continue to fuel solid pieces of work like this one. Recommended.
Reviewed by Mark Barnes for War History Online.
REPORTING THE SECOND WORLD WAR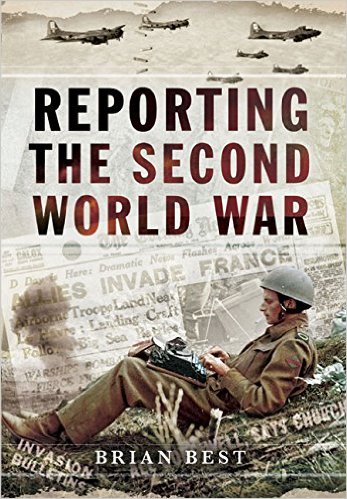 The Battle For Truth
By Brian Best
Pen & Sword Military
ISBN: 978 1 47383 420 0