Oswald Boelcke's untimely death as a result of a mid-air collision was, without question, an immense loss to German military aviation during the First World War. He was the man who wrote the instruction manual for air combat and much of his dicta passed down to the modern era.
Boelcke was loved and respected by friend and foe alike, and his death caused a wave of sorrow in Germany and beyond.  The achievements of his greatest student, Manfred von Richthofen, may have overshadowed him, but the Red Baron never forgot his master.  There seems little doubt that fate took away a man who may well have achieved a century or more victories during the war.  But it was not to be.
This new biography by RG Head is a mixture of reverence and analysis. The author sets out to underline the importance of Boelcke to the history of air warfare while attempting to show us the man.  Discovering anything in depth about him is not the easiest task, despite the existence of contemporary biographies written just after his death and other material to draw upon. Needless to say, it was the destruction of the Second World War that robbed us of so many artefacts and documents from the First World War.  Much of the archive of Boelcke's service life and even one of his preserved aircraft were lost in the storm of Allied bombing just two decades after his death.
The author is a retired senior air force officer whose experiences of fighter combat and tactics help give him the foundation to write this book. Like many people he holds a tremendous respect for all the men who flew combat aircraft during the Great War, quite correctly identifying them as pioneers.  Of course, some of them were standout pilots and warriors who could combine a cool head and offensive spirit with a gift for flying.  These men became the great aces of the war, and their nationality makes little difference from this distance. Men like Oswald Boelcke and Lanoe Hawker were the people who studied their job and in Boelcke's case made it into something of an art.
Mr. Head compares the tactics of the major belligerents and the policies and philosophy of their commanders.  The Germans were always more proactive while the British seem to be reactive.  Boelcke and his peers were given space to develop their theories and put them into practice; a factor we see was not so easy for their French opponents and even less so for the British who paid in blood for the rigidity of their generals and failure to improve training and tactics. The gift of hindsight is a wonderful thing, but the blinkered path to Bloody April in 1917 when the Royal Flying Corps lost air superiority and far too many men and machines seems almost inevitable.
Brilliant as he was as a leader and fighter pilot, Oswald Boelcke was still a real person. He was a somewhat shy man who lived simply.  He rarely drank or smoked and shunned the trappings of fame unlike his friend and rival Max Immelmann.  Boelcke liked the ladies and was impressed by his contacts with royals and aristocrats, but it seems to have been more from a sense of disbelief at his rise to greatness rather than arrogance.  Oswald Boelcke was an officer and a gentleman.
Mr. Head's book is crammed with facts and impressions. It is written almost in a conversational style as if he was giving a talk over a decent gin and tonic to a few chums in a cosy bar. He digresses at times and repeats a few details, but the effect is to make the book feel very much that it is aimed directly at you, the reader. The author has written all this just for you.
I met the author at Shuttleworth, and he was all I expect from a retired brigadier general of the United States Air Force. He has heaps of character and that very American thing it is hard to quantify that you do not find in the English.  I like his book very much. It does have random moments and the odd tangent to enjoy, but the cut and thrust are all there.  The author loves his subject matter and this shines through his writing. This book honours Oswald Boelcke.  While I wouldn't hope for anything less, there is never a cast iron guarantee it would work out like that.
Thankfully, RG Head has achieved what he set out to do. Other Great War fighter pilot books will be much more dry and perhaps more disciplined. This one seems very personal and the style and presentation works.  Oswald Boelcke would probably read it with a wry smile.  Not because he is still famous, but because he got things right and his dicta have survived the test of time.  He really was the father of air combat.
Reviewed by Mark Barnes for War History Online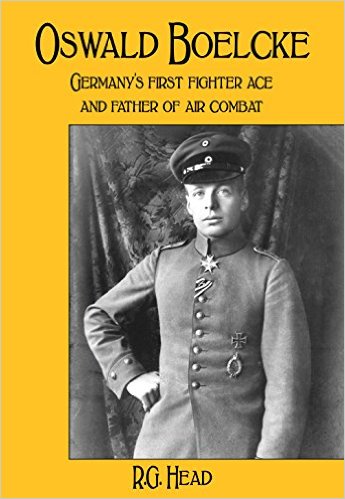 OSWALD BOELCKE
Germany's First Fighter Ace and Father of Air Combat
By RG Head
Grub Street
ISBN: 9 781 910690 23 9